See samples of fellow planners' reunion invitations and registration forms.
Click into any of the images for a larger view. Most are pdf files.
Family Reunion Invitations
Just starting out and wondering who to invite? Several of our podcasts will help solve that reunion planning dilemma. Listen to "Who do you invite to a reunion anyway?" Then consider "The art of the loving Invitation" and "The opening letter."
Invitation Examples
Arce
Butler
Coe
Craft
Curtis-Butler
Cheatham
Daniel Webster Smith
Govier
Grand
Kearney–Moore 
McNair-Brazil-Scott
Neal
Palmer
Rosebeary
Saffore-Scyffore
Schumacher
Seidemann
Thayer
Wilfer
Winstead

See many more example of reunion invitations on Reunions magazine's Pinterest page invitation board.
---
Class Reunion Invitations
Brandywine High School
Channelview High School
Eau Gallie High, class of 1965
E.C. Clement/Hunter Hills Class Reunion
John H. Francis Polytechnic High School
Kankakee Senior High School, class of 1965
Kewaskum High School
Red Rock Reunion
---

---
Louisville Family Reunion Planning Guide Forms – Click here to download.
These forms are generously shared by the Louisville (Kentucky) Convention and Visitors Bureau.
We are often asked for forms to use during reunion organization and these seem to answer many of those requests. They are from the CVBs How to Planning Guide for Family Reunions & Gatherings in Louisville. The CVB also does reunion planning workshops which, if your reunion will be in Louisville, we urge you to attend; details here.
---
POSTCARDS to announce and remind

When you set your reunion date, send a Save the Date card to everyone. Then, when members are not returning registrations, send Time is Running Out cards. 
Order online or call 414-263-4567
Two message formats for the back of card, pre-printed or custom.
You order and fill out and prepare cards for mailing. 
You fill-in the blank $15 per 100 or 20¢ each
(Shipping & Handling: $5.00 for 100-199, $10.00 for 200+)
Order online or call 414-263-4567
You order and we personalize your message
We fill-in the message $45 per 100 or 50¢ each
(enter number of sets of 100)
Order online or call 414-263-4567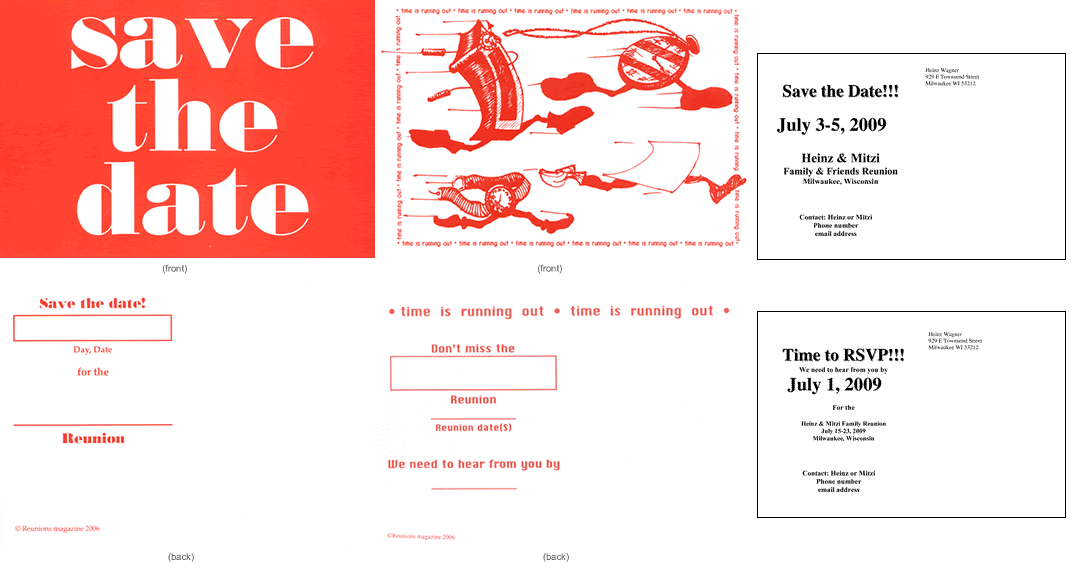 ---
Does anyone send out invitations anymore?
I just realized that I've seen very few mailed invitations to reunions this year. When I do workshops I urge electronic communication as swifter and cheaper. But I'm beginning to think that no one is "sending" invitations any more. Prove me wrong! Please put Reunions magazine (PO Box 11727, Milwaukee WI 53211) on your invitation list so we can see how you are engaging your members. We would also like to share your ideas with other reunions. See some of the collection we already have.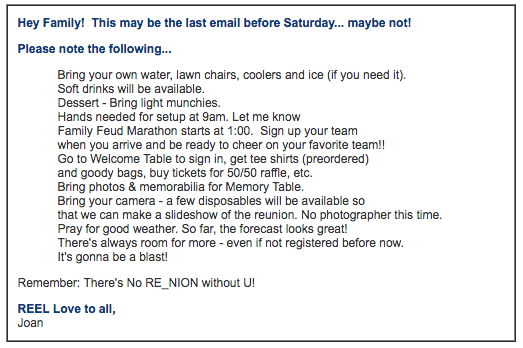 Joan Waters
Curtis-Butler Family Reunion
---