See samples of fellow planners' reunion invitations and registration forms.
Click into any of the images for a larger view.
 Most are pdf files.
Family Reunion Invitations
Just starting out and wondering who to invite? Several of our podcasts will help solve that reunion planning dilemma. Listen to "Who do you invite to a reunion anyway?" Then consider "The art of the loving Invitation" and "The opening letter."
Invitation Examples
Arce
Agee Miller Mayo Dungy
Austin-Withey
Baez
Bell Ransom
Bunker
Cline
Coe
Craft
Curtis-Butler
Cheatham
Daniel Webster Smith

DeShazor/DeShazer/DeShazier/DeShazor (DDDD) Family Reunion

DEWEJID

Fuller

Govier
Grand
Groshek
Guindon
Jacques Family of Somerset
Kearney–Moore 
King
Massey
McNair-Brazil-Scott
Neal
Palmer
Rosebeary
Saffore-Scyffore
Schumacher
Seidemann
Thayer
Wilfer
Winstead

See many more example of reunion invitations on Reunions magazine's Pinterest page invitation board.

---
Class Reunion Invitations
Brandywine High School
Channelview High School
Eau Gallie High, class of 1965
E.C. Clement/Hunter Hills Class Reunion
John H. Francis Polytechnic High School
Kankakee Senior High School, class of 1965
Kewaskum High School
Mar Vista High School, class of 1967 – The is Class of 1967 Mar Vista High School, Imperial Beach, California. It is a beach high school, so all the references to the surf. These were added to a private group site Facebook page and changed regularly until the last week when there was a new post each day.
Ralph J Bunche Elementary – Flint, Michigan
Red Rock Reunion

---
Military Reunions Invitations
Army Hawkers
TACAMO
USS Hammerberg
USS John Young, DD-973
---


---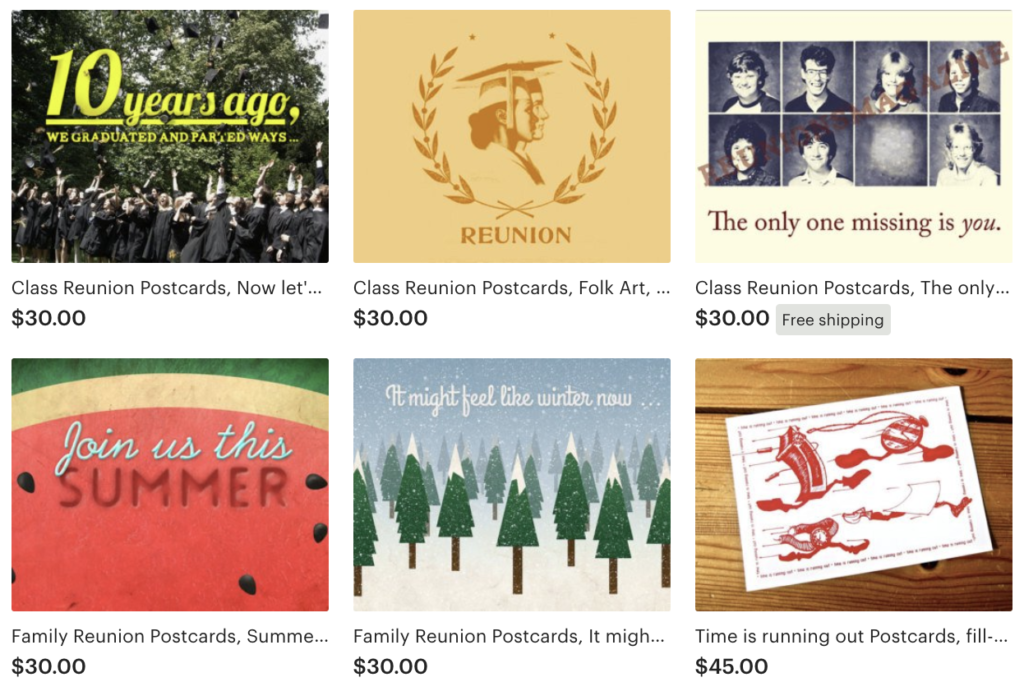 ---
Does anyone send out invitations anymore?
I just realized that I've seen very few mailed invitations to reunions this year. When I do workshops I urge electronic communication as swifter and cheaper. But I'm beginning to think that no one is "sending" invitations any more. Prove me wrong! Please put Reunions magazine (PO Box 11727, Milwaukee WI 53211) on your invitation list so we can see how you are engaging your members. We would also like to share your ideas with other reunions. See some of the collection we already have.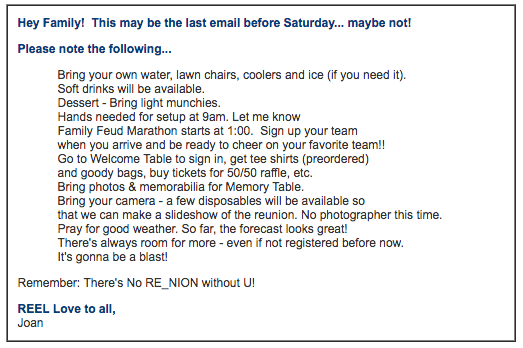 Joan Waters
Curtis-Butler Family Reunion
---