Planning a reunion?

Listen to these insightful reunion planning tips and advice from Edith Wagner, editor of Reunions Magazine. Use the links below to subscribe or listen!
We no longer have an 800 number, so if you would like to call us, please use 414-263-4567.
What topics would you like to know more about? Let us know! Email [email protected]
---
Episodes
---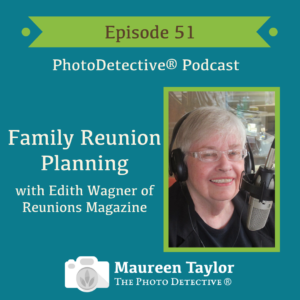 The Photo Detective
Episode 51: Family Reunion Planning with Edith Wagner of Reunions Magazine
Does your family get together for family reunions? My husband's family does. Every other year the clan gathers and a key part of the planning revolves around activities. We usually have a set schedule of what happens when. It's part tradition and part common sense planning.
My guest today is one organized woman. She's the editor of Reunions Magazine. While genealogists think in terms of family reunions there are a whole lot of different types of reunions from class reunions to military gatherings. She'll share tips and techniques to make your reunion a success. Use the links in the show notes to find resources to help you plan one for your group.
[stextbox id="info"]Family Reunion Photos — Maureen Taylor, the Photo Detective, offers clues to solve your family reunion photo mysteries. Listen to her podcast.[/stextbox]
---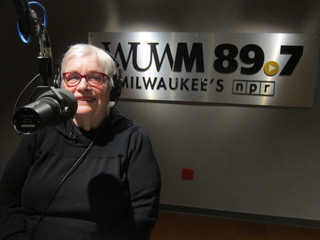 Has facebook affected class reunions?
Edith Wagner, Reunions magazine editor, was on the call from WUWM in Milwaukee, Wisconsin, to Maritime Noon on Canadian Broadcasting. Bob Murphy hosts a lively call-in discussion on  about whether or not Facebook is affecting class reunion attendance. Note: the discussion starts after a delightful story about high school kids raising money to restore a flag pole in a war memorial.
---
---
Tis the season for family reunions. We'll look at the health and significance of those extended family get-togethers.
http://onpoint.legacy.wbur.org/2013/07/30/family-reunions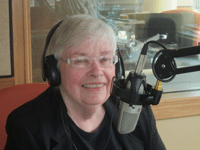 Edith Wagner, On Point guest – July 30, 2013
---
GENEABLOGGERS RADIO – SHOW NOTES FOR FRIDAY, JULY 22, 2011
Stress-free family reunion by Relationships360 with Tiffany Williams-Jallow and Reunions magazine editor, Edith Wagner.
---
Preserving Family Memories: Get-Togethers!
"Preserving Family Memories", a series on the What Really Matters podcast, shares ways to invent new family traditions, strengthen the family identity and preserve the moments with photos to last a lifetime.
In this most recent episode, "Get Togethers", Edith Wagner shares ways that reunions have adapted to the times and how they can be small and simple, or large or lavish, but they all bring families or groups of friends together.  The appealing nature of this show is the casual conversation between Vicky, Jen and Edith as they join the new generation of reunions and share their stories.
---