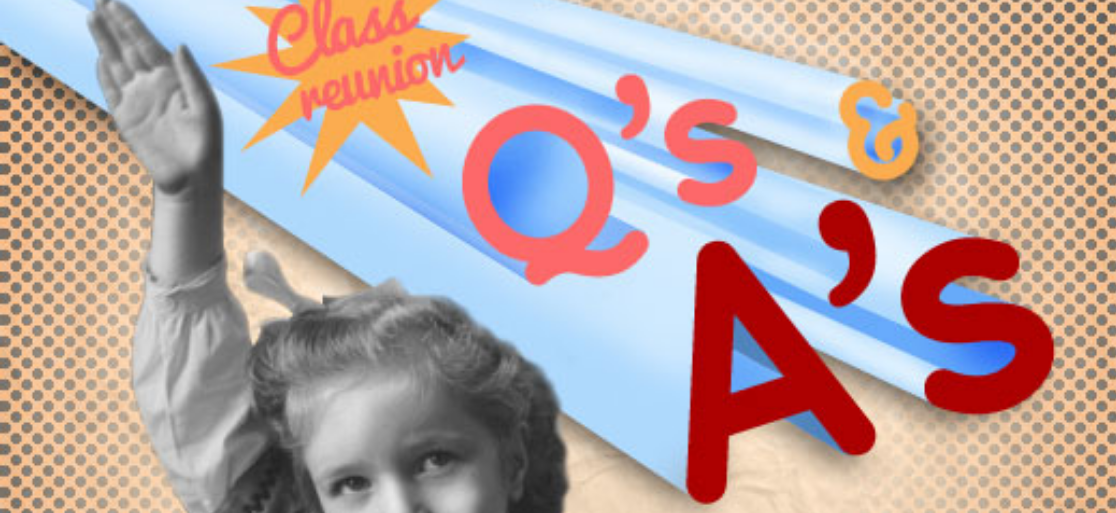 Q? and A! s are questions and answers from reunion organizers. How would you have answered? And if you are stumped about some reunion organizing detail, we certainly encourage you to ask for help. Our answers often refer you to pages of our web site where many questions turned into articles or were answered in articles.
Each year, particularly during reunion season (between Memorial Day and Labor Day), I receive many questions from desperate folks who have discovered a last-minute task. Requests for toasts, invocations and welcome words are among the most regular questions. If you are looking for such words, take a look at the summer 2000 issue of Reunions magazine.
Here are answers to some additional frequent questions, and I hope these help save you the time of having to wonder.
---
Q?
Larry E. Montague, President of The Montague Millennium Reunion, Memphis, Tennessee, was planning a large family reunion. Under normal circumstances he would have been able to handle a project of this magnitude, but unfortunately health problems made it difficult to follow through with everything that needed to be done, so he asked this questions: How can I find someone who manages family reunions
A!
I urge you to survey your own family for capable assistants and perhaps even some leaders to be groomed so that you can be an honored and revered guest at your own reunion! You were wise to be working over a year in advance which certainly helped recruit family members because they realized that they still had time to get things done.
Montague had not said if the reunion was at home or away. In either case, direction is also probably available from the convention and visitors bureau in the city where it's going to be. In addition, most cities and many vacation areas have companies called "destination managers" who will see to the details of your reunion. Many cities have party planners, and even wedding planners can probably be enticed into a reunion during a slow period. Finally, many hotels/resorts have a person in their sales department designated as a reunion specialist who can take care of many of your needs.
---
Q?
Theresa McSpedon wrote this question: what are some new ways to help ease the financial burden of travel for family members living far away?
A!
There are lots of possibilities:
One family that meets on the east coast has east coast members paying for hotel rooms of the west coast members who have to fly out.
Do auctions or raffles at the reunion to offset some reunion expenses to lower the cost for everyone.
If your reunion is every year, perhaps planning a reunion every other year would allow some members extra time to save for the trip and expenses. Also, don't always expect distant members to be able to afford every year.
---
Q?
Jamila Z. Sloan, Jones Family Reunion, San Leandro, California, asked how to get more family to show up each year and more members interested in planning reunions. She wrote, Our family has an annual reunion around Kings County, California. Fresno, Visalia and Lemoore have hosted our reunions. We choose locations where family members live and were raised. Reunions last one or three days when we go camping.
"We plan with a Family Reunion Committee. We auction a family quilt every year and recently started a newsletter. I have added an information page to my homepage, with pictures of past reunions. We organize children's games and have started a Youth Committee. Reunion responsibility used to be the draw of a name out of the hat to choose the reunion head but we hope to have elections soon."
A!
This may be a good news, bad news response. The good news is that Sloan seems to be doing everything right! She started out asking how to get more attendance then wrote her own answer by listing what she does which is very thorough and obviously has many fans. She should be proud of what she's accomplished and satisfied that she obviously has members who are as enthusiastic as she.
Congratulations on your obvious success: enjoy it!
For members who do not attend, her newsletter and new committees may help. "Peer pressure" might also help. Ask brothers, sisters and cousins to contact their peers who aren't coming, ask why and encourage them. If they don't come, have a super time with those who continue to come. Use your enthusiasm to recruit cousins and encourage them to start taking responsibility for the reunion.
---
Q?
Jacquelyn Robinson, Oak Park, Illinois, wrote, "I organize the Barren Family Reunion each year in Morvin, Alabama. Our connection to the land is so important that we won't consider moving the reunion. Efforts to change the date (fourth weekend in July) meet with significant resistance. The problem is it's hot as heck in Alabama in July. Morvin is a tiny town of less than 1,000 people and there is no public facility to accommodate us. Any suggestions for dealing with the heat at our family picnic?"
A!
Reunions magazine has never before been asked about how to combat heat. But something tells me someone somewhere has solved the problem. Have you tried tents or generators for fans? By the way, it's hot as heck in Wisconsin in July too! There are probably not many places to escape except to Australia where it's winter
---
Q?
Eula Forsythe, Waring-Gelsthorpe Family Reunion, e-mailed, "I had never met my first cousins, scattered around the world years ago. In 1994 I decided to have a reunion. We did and it worked. They came from everywhere. The first year I made a booklet of family history highlights. In 1996 I produced a great family cookbook with help from everyone, everywhere! The next year I scanned baby pictures of ones attending. For our reunion next year I hope to create a remembrance. I think they expect it now! I am so fortunate to have an abundance of pot-holders and hankies of my grandmothers all new – hand-made with love. Thought that might be neat for me to add for the kids down the line. I'd like to send something home with everyone. Do you have any suggestions? Please help!!!"
A!
Hand fashioned pot-holders and hankies from grandmother is a SPECTACULAR idea! Perhaps some handwritten/copied stories to go with these treasures would be a nice addition.
Forsythe continues that members of her Waring-Gelsthorpe Family Reunion "appreciate what I do so much – that makes it fun! I seem to be the spoke on the wheel! I love it and several of our kids came to our last reunion uniting the next generation!"
You are very lucky to recognize that. Often many families don't recognize even a small fraction of the work it takes to pull off a truly successful reunion.
---
Q?
Joyce Wicks, McElroy/Peltier/Yarberry/Maples/McMahan/Orr/Ore/Fleming/Large/Byrd/ Atchley and More Reunion wrote, "We've had two family reunions. The first was a big success. Over 100 people came. The second, two years later, was nice but only half the number of people came. It is like pulling teeth to get people to participate or even to come. Most of the older members of our family have passed away. We cousins are getting older too. Please, give me some tips on how to make our next reunion interesting and appealing to all. I need some kind of structure too and tips on how to pass this on to others. I'm getting burned out because of lack of interest. I really don't want to see our reunions die already."
A!
Yours is not an uncommon problem nor is it one that can't be overcome. You don't say what was different from the first to the second reunion. Were there differences? If not, perhaps that's one thing to consider. Activities that intrigue might be part of what you should consider.
Were kids a focus? Usually families with kids are very interested if there are clearly activities to make kids happy.
But perhaps most importantly … like I am trying to convince my best friend … is that the number of people who attend is not nearly as important as that those who do have a terrific time. Those who don't attend will surely get the message that they missed something wonderful.
Also, if you're burning out, are you doing it alone? Get others involved with tasks that they can do, love to do, are particularly good at or have a talent or skill. Delegate. Flatter your family by recognizing and utilizing their talents. Then, be sure to honor and acknowledge them in newsletters, on fliers and invitations and at the reunion. After that, when you ask again, they'll say yes. You may even get volunteers who say they can do it better than anyone else: let them!
If there are more people involved in details, there will be more ownership of the reunion. For each person helping you, there is a family so your numbers already go up and everyone who "owns" the reunion will be talking to others.
---

---
Q?
I'm planning my parents' fiftieth wedding anniversary reunion for family and close friends. I'd like to put together a memory book, requesting thoughts, wishes, stories, and pictures from guests. Any tips?
A!
Start early. Talk to people right away to get them thinking. Send a letter that makes all your wishes, desires and limitations clear. Emphasize a deadline. Include a stamped self- addressed envelope to persons who would have a problem assembling them. Be specific with some folks who either have special pictures or special experiences – ask them to include those stories or copies of those pictures. People that might have such information are members of their wedding party and early neighbors. Follow up. Follow up. Follow up. Don't paste anything down until you have everything but do lay it out as much as possible. Follow up. Follow up. Follow up. Good luck.
---
Q?
Patricia Atkins, Round Lake, Illinois, Hamblin Family Reunion, wrote: "What mystifies us most is how to get family members to respond whether or not they will be attending."
A!
You're not alone in this dilemma, so we're always looking for solutions. These are just some.
Offer an incentive (a small percentage off cost/fee) for early registration.
Plan a prize or recognition at the reunion for the first registration received.
Send a list of who's responded and who's not … shame sometimes works too!
Never talk with family members without mentioning reunion registrations/responses.
Get others working with you to get their responses in.
Interestingly, I've discovered that people don't routinely RSVP any more. But that still doesn't make it right!
---
Q?
George and Phebe Jane Wolford had a lot of children, two or three raised big families and stayed in Ohio. The other children moved out of state or had few or no dependents. There are over 200 descendants and we are lucky to get fifty to attend the reunion. Descendants are moving and getting married and it is hard to keep a directory. There might be only two people attending the reunion with the surname of Wolford.
A!
With people scattering, it becomes more important to have reunions but perhaps not each year. Or have some special celebrations that will entice those who've moved away back for a visit. Ask them what they want to do. Sounds like you may need to revisit how you're organizing your reunions. That's a challenge, but can be great fun if you include lots of others in your exploration about what to do.
Plan something different or special that will attract the attention of your family … and perhaps attract others attention as well. Get more people involved in planning and you'll easily have more than two people at your reunion. But there's also nothing wrong with having a reunion, no matter how small, with those who really want to come. Then, send a summary afterward that lets those not in attendance know they were missed. And what they missed. Let us know how you progress! Good luck.
---
Q?
Diana Burkhart, Mount Vernon, Ohio, organizer of the Wolford Family Reunion, poses some interesting questions. "How do I get more people to attend the reunion? It is dying and may not continue much longer. This will be the 64th year."
"There is a conflict about where to have the reunion. Many want the reunion to be in Shelby, Ohio, which is where the majority of the Wolford descendants live. About four or five years ago we decided to have the reunion in Mount Vernon, near George and Phebe Jane Wolford's homestead where reunions were previously held."
A!
It is fundamental to decide where the reunion is going to be. How about alternating between the two places; one year in Shelby, the next in Mount Vernon?
---
Q?
Ilse de la Puente, Vogtmann Family Reunion, asked how one "gets local businesses to help sponsor a four-day family reunion."
A!
The only way we know is to ask. Carefully fashion a letter about your reunion, list the benefits of your reunion to the businesses … why they would want to be involved with your reunion. Include a bit of reunion history, what's special about your reunion and about your family. After writing your letter, find out who at the company would most likely make the decision. Either ask for an appointment or send a letter with a request for an appointment. In any case, you must write your request to leave after a meeting or to mail. Then, carry copies to replace in case their copy gets lost or misplaced. It is essential to follow up with a phone call about a week later.
---
Q?
Sharon Hill, New Orleans, e-mailed: "I just recently found your web site on reunions. My family and I are having our first annual reunion in Western New York. I am not sure how many people will be coming yet. My sister very kindly volunteered me for the game selection for adults and children. Our family isn't very large – about 30 people. There is only one elderly person, probably eight people between 40 – 60, eight children under 20 and some babies. I do not have children and am at a loss for games. I would like fun games and not too complicated, not too much preparation or props. I live in New Orleans and will have to transport any items that will be required. Unfortunately, I am starting late so need to get right going with ideas."
A!
You're right! You're starting late. You don't say how long the reunion will be and for how long you need to entertain people. Are the games for everyone or just the kids? What facilities do you have at your disposal? Swimming? hiking? museums? touring? Check back issues; particularly summer issues for ice breakers and kids' stuff. Ask someone you know who is an elementary teacher for ideas to entertain kids. Check your local library (probably your best bet at this late date). Is there a genealogist or family historian? Any historical things for everyone to enjoy? Any ethnic items to include? Do you need to consider weather? Hiking in good weather? Museums in bad? Hope this gets you going. EW
---
Q?
Renita Wigfall e-mailed:" I'm in search of a poem or story to be read at my family reunion. I am seeking something rather profound. Any suggestions?"
A!
Sorry we don't have anything specific but would suggest you dig deep in family legend or tradition to find your inspiration.
Since we know nothing about the family you're speaking to, we suggest that you look at what their interests and concerns are. The future? Their strengths? Their creativity and determination? What inspires you? It will probably inspire your audience as well.
How about saluting special family members? The oldest and youngest … not the usual prizes but something about each: the history of the oldest and the future of the youngest. Or salute the achievements of family members old and young; who's learned to walk or graduated or gotten an award or honor?
Something from your favorite book or author? the Bible? Shakespeare? Robert Frost?
If you question your family's enthusiasm, perhaps you should concentrate on humor and leave 'em laughing. There must be lots of funny family stories.
What are your favorite family memories? Share them. Get others thinking. Pose questions for members to contemplate. Challenge them. Charge them up.
---
Q?
Dave e-mailed "Where can I find a place that sells genealogical games for family reunions?"
A!
Great question! I think there are some family history games in regular stores; Generations, LifeStories, Reminiscing. Questions and Ancestors can be ordered from Conestoga Book Service, Box 7, West Willow PA 17583. Or make up your own games – word games, crossword puzzles. Make a list of questions about family history – it's a great way for kids to learn about their ancestors.
Check online genealogy book stores. Maybe www.familytreemaker.com will have some information in their online magazine's regular reunion columns. See our Activities page for games too.
It's not specifically about genealogy, but try Adrienne Anderson's book Fun and Games for Families.
Please let us know what you find!
Thanks for causing me to think!
---
Q?
Kevin and Kelly Mansberger wrote: "This year at our family reunion my mother-in-law and I have the adult games and we are in need of some new ideas that a group of older family may enjoy taking part in as well as the younger members. Open to any ideas that you may have, and looking forward to hearing from you – thank you!"
A!
What are everyones' interests and considerations?
Are they athletic? Have tournaments of golf, softball, volleyball with medals for the winners, of course.
Are they sedentary? How about board games: use your favorites.
Are they into the Fourth of July games that are silly and keep everyone laughing? Sack race, three legged races, water-filled balloon toss.
Are they into family history? Make up family history trivia. Questions that everyone can answer, questions that can probably only be answered by some, questions for specific and all ages, questions that will illuminate, educate and intrigue.
Are they adventurous?
How about a treasure or scavenger hunt?
Was that what you had in mind?
You didn't mention genealogy games specifically, but there are some family history games in regular stores; Generations, LifeStories, Reminiscing.
You probably can only get Questions and Ancestors from Conestoga Book Service, Box 7, West Willow PA 17583.
Visit our games or make up some of your own – word games, crossword puzzles.
Also check Adrienne Anderson's Fun and Games for Families; probably in your library.
---
Reunion advice
Dear Abby dispenses advice to a reader whose husband refuses to attend a family reunion because he doesn't approve of his mother-in-law's choice of a decades younger boyfriend. The reader hasn't seen brothers, sister, nieces and nephews for six years and wants to go. Abby advises that the reader tell her husband he'll be missed, but she will attend anyway because as adults we should not judge, lest we also be judged.
---
Submit your solutions!
I was recently in Flint, Michigan, for a meeting with reunion organizers presented by the Flint Area Convention and Visitors Bureau (CVB). What a delight!
The concerns of reunion organizers, I find, are universal. These are reunion topics I hope to develop some dialogue about … and encourage your input if these are issues you deal with. Everyone battles the financial monster: how to pay for the reunion, how to raise money to help pay, how to be affordable for members on fixed incomes. In Flint many families reported having auctions, raffles and white elephant sales for which all members donate items. Many were concerned about raising money to pay for reunion space, food, activities and scholarships. Others order t-shirts and souvenirs or develop a cookbook or make a quilt to sell. Everyone was very interested in corporate gifts which require careful planning and a well conceived and written letter.
Another dilemma faced by most organizers is how to involve members in their late teens and 20s who seem to fall away from family activities during that time. One woman reported that her family always includes a strong contingent of young committee members. The "kids" have a say in the program so it will attract younger members (dancing, shopping, hanging out, parties). A pair of young twenty-something cousins stopped to talk with me about their reunion, which, because they decided to invite another side of the family, were told they should organize the whole reunion. They were a positively determined pair whom I know will succeed. (Also see "How to involve the hip hop generation")
What always impresses me at these occasions is how dedicated reunion organizers are. How eager to learn about new ideas. One audience member mentioned a fairly simple game that was described in one of our earlier issues. She was asked over and over to explain by people who were writing copious notes for themselves. Reunion organizers are wonderfully generous with their ideas, suggestions and willingness to share.
If you're thinking about a reunion in or near Flint, Michigan, I encourage you to contact the Flint Area Convention and Visitors Bureau, 519 S. Saginaw St, Flint MI 48502-1802; 810-232-8900. They have an impressive list of services to assist you.
---
Looking for Awards and Prizes?
Adria Lopour, Colorado Springs, Colorado, is thinking way ahead for fun prize ideas for a 20-year high school reunion. She feels this is a part of the reunion that could really use some help because "Our first three reunions were BORING."
She searched the web and found a few great ideas but wants lots more. When she asked, we said we'd ask our readers for suggestions-but only if she shared the ones she's already collected. These are the ideas Adria already has, plus appropriate gifts for these awards.
Most gray hair
Least hair (prize: a comb)
Most changed
Farthest traveled
Most kids (prize: a bottle of aspirin)
Lives closest to the school (prize: a world map)
Most dangerous job (prize: a will kit or visit to local attorney)
Most recent baby
Lived in the most places
Most recent grandparent
Most or highest degrees (who couldn't stop going to school?)
Most eligible
Most exciting or interesting job
Classmates who have served in the military
If you know of any reunion organizing events, please e-mail us. EW