Apps for reunions
Sending a local map to attendees is always a good idea. Most convention and visitors bureaus (CVB) offer maps, usually at no cost, for distribution to your members. Now some CVBs offer free apps that show off their destination. In Virginia, for example, there are apps for the entire state, as well as Fairfax County, Lynchburg and Williamsburg. Ask if your destination has an app to download.
Connecting generations on the cheap
Use food for more than the obvious nourishment. Assign multi generational teams from different family branches to prepare and serve meals. Assign everyone to food duty either one day or one meal during the reunion. Teams can also be same generations; cousins, aunts, uncles or grandparents.
The potluck may be one of the big reunion boons that comes out of hard economic times.
Tisha Amerson of Gray, Georgia, says the Sullivan Family orders barbecue and asks everyone to bring desserts.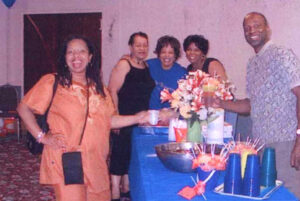 Joan Curtis Waters, Charlotte Hall, Maryland, is a master at finding freebies and bargains for the Curtis-Butler Family Reunion. They meet at a member's home on what they call "The White House Lawn." The family's name is White. They will borrow a large tent (from Waters' workplace) for free!
They solicit family donations (sponsorships) which netted $500 last year. Waters solicits door prizes from local restaurants and other businesses (limo company, spas, photographers) and asks for goodies from family business owners.
They plan a potluck meal (sides and desserts) and sometimes a dessert contest or theme.
They are using electronic communication more — saves postage for mailings.
And finally, Waters calls on a family DJ for music free!
Ask adolescents and teenagers to interview elders (using audio and/or video tape) to build a family history archive. Include questions that are of particular interest to the young interviewers; tell me about your school days, extracurricular activities, how you met grandma/grandpa, what did you do on dates, were in the military? did you fight in a war?
Also ask young people to tape themselves to listen back at family reunions 25 or 50 years from now! Some young interviewers may be able to use tapes for school projects as well.
Assemble mixed teams for games and sports; goofy Olympics for silly prizes or serious sports tournaments for reunion bragging rights. Reunions are perfect times for grandpa to teach his grandkids to fish or play golf.
Ask elders to lead a tour of the family cemetery and recall stories about ancestors buried there. Some story tellers like to dress in period costumes and include stories about history current when the ancestors lived.
To ensure out-of-town members can come to the reunion, consider their travel costs as their contribution. If they fly or drive, their transportation will still cost more than local members' potluck items. Out-of-towners likely want to contribute in other ways, too, which you can take advantage of.
Examples
The Sullivans who buy plates/plasticware/napkins/cups in bulk for two years have done a spaghetti dinner where they prepared the spaghetti and ordered Olive Garden salad with dressing. There are no decorations because the reunion is outside. Amerson has a pool and kids create their own games. It was cheap, wonderful and generated lots of compliments.
Lovine Moss of Rock Hill, South Carolina, says members of the Moss Family Reunion bring well-filled baskets of food which are set out on two to three eight-foot tables and another two tables loaded with desserts. One cousin makes biscuits for the whole crowd while her husband makes at least 10 gallons of tea. Members also bring goodie baskets for door prizes.
Mary Garavaglia of Sterling Heights, Michigan, reports that the Kilpatrick Family Reunion meets every two years in North Carolina. All printed matter was done by family members and the reunion pays the cost of ink and paper.
The Kilpatricks have used an air-conditioned Boys and Girls Club dining hall where the cost is very reasonable. The food is all homemade. Some members bring a dish, others buy food, like roast chicken or deli food. It's also a good time to pass around family recipes. There's always one dish everyone ooohhhss and aaahhhs over.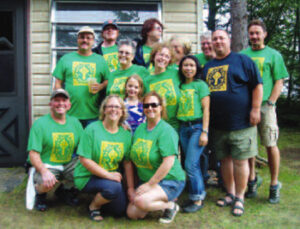 Sharon Rogers of Eagle River, Wisconsin, says the Hatton/Quinn Family Reunion every three years, gives them plenty of time to pick up bargains. They all chip in and bring something for the picnic, however, their kitty pays for meat they grill at the park. The meat money comes out of an account from the previous reunion. They are always looking for deals on decorations, prizes, printing paper for the invites, etc.
Potluck
One of the first things that comes to mind for saving is potluck, which can be simple or elegant. Find a hall space with kitchen (church, school, community center, park building or park space) and get local family members fired up to bring their very best dishes. Perhaps pay for and provide meat or have some parts of the meal catered while the rest is potluck. This reduces your costs to the cost of the space and whatever else you decide to include. Potluck also eliminates the cost of gratuities and taxes.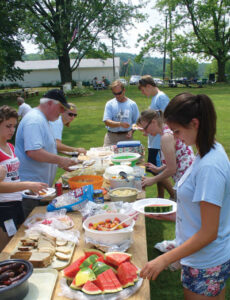 Do exactly the same for your picnic. Make a big deal about food that's contributed. Salute grandma's peach cobbler and make a big deal about Uncle Andrew's barbecue. Ask for favorites. Then, when you're promoting the reunion, you can also promote the fact that Aunt Kirsten's Death by Chocolate cake will be there for the first person who registers (and, seriously, be sure to reserve slices for the first to register). Chocolate can entice anyone.
If you must eat out
Rather than a standard banquet facility, find buffet restaurants that have meeting space. Everyone pays for their own meal OR you charge a flat rate for a meal that does not have the standard gratuity requirements. Of course, you'll want to tip the servers who hover and help, but again, not the gratuity of a banquet, and you will still have your meeting space and privacy.
Final food thoughts
Serve substantial hors d'oeuvres instead of a plated meal. Or shrink portions — AND the size of dishes, cups and glasses — to limit consumption.
Examples
Anne Petrous of New Baltimore, Michigan, describes her Harder Family Reunion as pretty simple, but everyone has a good time. They must, because they come back every year, Anne adds. One family member is an AMVET, so they get a nice discount on using the AMVET hall—inside and out—with a covered pavilion ($150 for the day). The hall has a small swing set for kids to play on, and a horseshoe pit. A huge grill is used to barbecue chicken and cook burgers and hot dogs. Everyone brings a side dish or dessert to share. Most of the supplies and prizes are purchased at the Dollar Store. During the "family meeting" they add up all the costs, including postage, and everyone donates to cover the costs. It averages out to $5 for "singles" and $15 for "families."
One person is in charge of games, and last year, there were also games for the adults. Anne says that reunions don't have to be expensive; "if ours was, we would not be having them. We all 'chip in.' Our family has had a yearly reunion for over 60 years! It also helps to have the reunion on the same day every year!"
Lisa Alzo of Ithaca, New York, says the ALAFFFA Family Reunion is pretty frugal and doesn't have unnecessary expenses. They planned one big catered meal (two hot dishes, cold cuts and salads) in the middle of the afternoon instead of lunch and dinner. Family members bring cookies or snacks like fruit and veggies and dips. Activities are low-cost because one cousin, who is a teacher, is quite creative. The biggest expense is the venue, which they reserve a year in advance and requires an alcohol permit to serve beer.

Freebies for your reunion
While supplies last, back/remainder issues of Reunions magazine are FREE for the asking. Magazines are FREE, packing and shipping is minimal. Contact Karla to learn what it will cost; [email protected] or 414-263-4567. And be sure to ask your convention and visitors bureau about their services and goodies they can share.
Listen for more free stuff!
Listen to "How to fill a reunion goodie bag," a podcast about ideas for your goodie/welcome reunion bags.