The traveling Quilt
by Wanda MacDougall Pace
The quilt was never finished, but we know who made it and why it was never finished. Descendants of the quilter still keep the treasured heirloom in memory of the much-loved woman whose hands created it. Forty-two squares of red embroidery on off-white background compose the muslin quilt top, with a red border around each square and a red border around the whole. One square done by a daughter shows an outline of "Mother's Hand, 1893. The hand was of Jane Augusta Phillips Ames, who died before the quilt could be finished.
Jane Phillips married Stephen Ames just as the Civil War ended and began their life in Greenfield, Michigan. Stephen's quest for a better life eventually led him through Michigan, Iowa, and finally to a homestead in Seven Oaks, Oklahoma in 1894. The trip was made in covered wagons with nine of their 13 children. Shortly after Stephen left for supplies and to file their claim on the land, Jane became seriously ill and died of pneumonia during a bitter winter storm.
Many families disintegrate after the death of a mother, but Stephen kept his family together. While looking for warm clothes for her sisters, the eldest daughter Emma discovered a few precious possessions Jane had placed at the bottom of a trunk: her diary, her Bible, pictures, letters and the unfinished quilt, wrapped to protect them from the dust and dampness of travel.
An Ames daughter and an Ames son married into the Shreck family, so first, second and double cousins have a unique family bond. Ames-Shreck reunions have been held for many years, reinforcing the family closeness.
The two big families held a reunion recently in a picturesque wooded campground in New Mexico's Sangre de Cristo Mountains. Excited relatives gathered for meals in a dining hall where hugs and laughter mingled with children's chatter and the promising aroma of delicious food.
Evening brought a different kind of sharing – songs, stories, skits and recitations. As trustee of the antique quilt top, I took it to the reunion and displayed it for all to see and touch and take pictures, and I read my story Touching Yesterday, a part of which follows:
I see her sitting by a window on an autumn afternoon, the sunlight falling over her shoulder, her dark hair streaked with silver. Afternoon is the only time she can sew. The oil lamp is not bright enough during the evening hours. Her eldest daughter sits at her feet. Jane has a sewing basket and two stacks of quilt squares beside her, some finished and some waiting to be embroidered. She shows Emma how to achieve this artistry. In her hand the small needle deftly goes in and out of the material. The tiny stitches evidence her skill. A seamstress for many years, she wove towels for Henry Ford's mother when they lived on adjoining farms in Greenfield, Michigan.
I'm grateful previous generations took good care of the unfinished quilt to keep alive the memory of one they held so dear. My mother gave it to me and several years passed before I realized it was more than an unfinished quilt, but also a tangible piece of family history. At the last Ames-Shreck reunion I shared this much-traveled heirloom with family members and found many others appreciate this visible connection to the past as much as I. Now it is my turn to take good care of it for generations to come. I believe its traveling days may be over.
About the author
Wanda MacDougall Pace was raised in Colorado and southern California. A lifelong love of reading turned into a love of writing at an early age, but time and opportunity came later. Now a mother and grandmother, she finds rich lore in the history of past generations.
---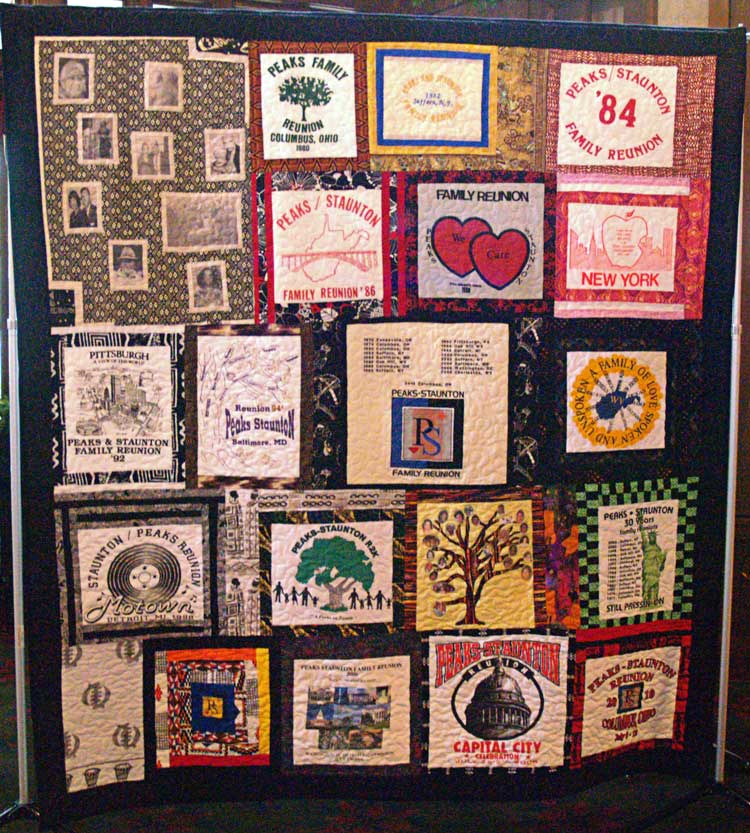 ---
Bicentennial Quilters sixth reunion
by Mary Jean Baker
It's 1976 – The Nation's Bicentennial!
We are all young, stay-at-home mothers with two to six children each. We need a support group, but also feel we should do something constructive.
The Maple City Quilt Club was born. Some knew how to quilt and others were anxious to learn this suddenly popular, old-time craft. As children grew older, quilters returned to day jobs and the group disbanded, but friendships remained active.
Over 25 years later, a Quilters Reunion became a reality as one of the members opened her up-north cabin to former Maple City Quilters.
The summer of 2005 marks the sixth annual Quilters Reunion. Ten of the original 16 members anxiously await the July week. Cars loaded with sewing machines, stashes of fabric, and plenty of food to last the week, will arrive on a Sunday evening.
Our annual orientation includes each member's plans for what to quilt during the week. Some bring unfinished items, others await an advanced quilt lesson and learn how to do something new and fun. Every camper makes the pin-cushion of the year which has included "make-dos (a pin-cushion fashioned on a candlestick), lady bug and flower pin-cushions and several others.
Beach walks and trips to the fabric store and local antique shops are always on the agenda. Each day by mid-afternoon sewing machines are whirling as baby quilts, jackets, rug hooking, table runners and other neat quilted objects are being created.
Everyone brings a craft lesson to teach. We have learned the fine art of folding and assembling photo albums and folded, stamped baskets. We've picked and dried wild flowers and weeds, then decoupaged them onto a tile to create a coaster. One year everyone learned to make pillowcases using three fabrics.
By the end of the week, all projects are displayed and photographed. A weary but happy quilter sadly hugs everyone good-bye until another quilt reunion rolls around.
About the author
Mary Jean Baker is a Michigan based freelance writer whose hobbies include quilting, button collecting and gardening. She writes for Auction Exchange/Collectors News newspaper, and has appeared in Reunions magazine, Lutheran Women, Autograph Collector and Michigan History.
---
More Reunion Fundraising
by Edith Wagner
Paying for your reunion may be among your most creative challenges. There are many reasons why you may want to raise money, from paying for basics to the altruistic reason of helping younger family members attend college. Planning fundraisers will require time to develop properly. When done well, fundraisers can be both entertaining and profitable. The best fundraisers are ones that are not only profitable but also contribute to the enjoyment of the reunion. Long term projects require extra time to plan. These include soliciting corporate support, decorating and making quilts, collecting recipes and producing cookbooks and many other publishing projects such as directories, memory and history books. In this article, we'll focus on quilts and cookbooks.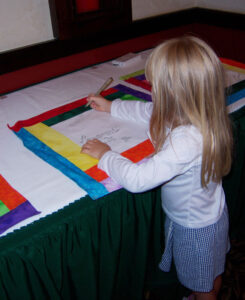 Reunion Quilts
"We are proud of our quilts and pleased they allow us to encourage our young to pursue higher education." So wrote Opalene Mitchell, Palo Alto, California, whose brainchild resulted in such overwhelming family involvement that the Carter-Jordan-Pennington Family Reunion raised $3,000 for scholarships. Only one quilt was planned. Enormous interest increased the number to four. Then, enough painted, appliquéd, embroidered, computer-scanned, cross-stitched squares arrived to make six quilts. The intrinsic value of the quilts is in family history and memorials, not dollar value.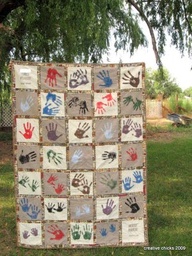 Quilts are traditionally embroidered, appliquéd or patched pieces of fabric. Modern materials and technology have broadened the scope of quilt making and enable non-stitchers to participate. Color Xeroxes can be printed on heat transfer material (commonly used for making t-shirts) and ironed onto fabric. You can use slides, photographs, drawings or any small picture. For best results the transfer can be fused to the fabric with a dry mount press. Many copy shops which do Xerox transfers will also apply the image to your fabric. Textile paints are machine washable and recommend working on natural fibers. Some paints come in tubes for drawing or writing, others come in jars for brushing onto the fabric. With the popularity of hand decorated t-shirts, new products are rapidly being developed for working on fabric.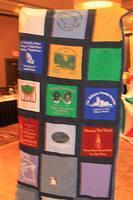 Modern materials and technology have broadened the scope of quilt making and enable non-stitchers to participate.
Check art, craft and fabric stores for new products and ideas. Below are themes and techniques for unique reunion quilts that can be combined with old techniques and patterns or used to create something completely new.
Try traditional patterns relevant to your group, such as Pennsylvania Dutch patterns.
Signature quilts record the names of family members. Each person stitches or paints his/her name on panels to be sewn together.
Story quilts are an African American tradition that adapt well for fundraisers. One of the most famous, "The Creation of the Animals" by Harriet Powers, has appliquéd squares depicting a biblical tale. This idea works well for long distance quilt making. Each member could make a square to be stitched together later.
Other story quilts are traditional for Hmong and Chilean families. The Hmongs of Laos make story quilts that have one continuous story embroidered across a single fabric panel. Chilean women make appliquéd tapestries about everyday life similar to the Hmongs with the addition of three dimensional stuffed figures.
Symbolic quilts depict organization logos, family crests, military insignia, school mascots, etc.
Ancestor quilts display the names or pictures of antecedents and could be used with story-telling to relay a family's history.
Album quilts with photographs of members or baby pictures make unique, novelty items.
Gravestone rubbings can be reduced by a printer onto high contrast photo paper. The black and white image can be changed into color by a color Xerox machine.
Children's drawings can be Xeroxed and transferred onto one color fabric and alternated with squares of a different color. This would make a particularly good family fund-raiser. The youngsters could tell the story of their ancestors, depict their homes, families, friends, pets and ancestors.
Pulling Together a Quilt
It may be wise to present your quilt idea at one reunion and the finished quilt at the next reunion. One person must coordinate the details. Distribute muslin squares with instructions about size and materials. Expect to do some prodding to get all your squares submitted. Recruit quilt sewer(s) early and provide materials they'll need with enough time to have the quilt finished for the reunion. Most experienced sewers can tell you how much time they'll need.
Here's how Opalene Mitchell's family carried out their quilt project: Reunion area chairpersons distributed and collected muslin squares for assembly. Designs included a family cake recipe, doilies brought by slave in the underground railroad, an award emblem from an early space shuttle mission, sports, hobbies, portraits, infant hand prints, buttons from a grandmother, material from grandchildren's clothes and much, much more. Each quilt had an envelope in back with quilt committee names, a record of who made each patch and what it commemorates. Each square immortalizes some event, experience or person. Going beyond the traditional uses of quilts, the committee also photographed the quilts and then made stationery, puzzles and posters to sell.