From the Montague Family Reunion brochure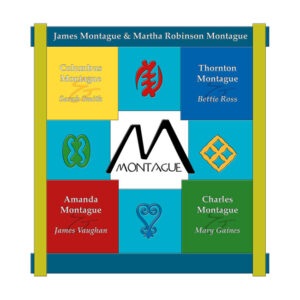 The genealogical research that has led to the organization of this reunion has revealed a huge family with more than one thousand direct descendsants of James and Martha Montague discovered to date. These descendants span seven generations and live across the United States. The common thread of being a Montague descendant brings us together into a wonderful mosaic that we call the Montague Family Quilt. This reunion will celebrate the family and the quilt as descendants of James and Martha Montague. Thus, the theme for the reunion is "Gathering to Celebrate the Montague Family Quilt."
The images that appear on the quilt logo are adinkra symbols from the Akan people of Ghana. The symbols' multi-layered meanings express the mores and values of Akan culture. The images on the quilt reflect the reunion theme and Montague family values.
Nkonsonkonson (corn-song-corn-song) is a symbol of unity, interdependence and cooperation. It means that "those who share common blood relations never break apart.
Sankofa (sang-ko-fah) is an Akan word that is literally translated "go back and fetch it. It represents the principle that there is wisdom in learning from the past to build the future.
Gye Nyame (jeh N-yah-mee) is a symbol of the omnipotence, omnipresence and immortality of God.
Eban (eh-ban) means safety, security and love. A symbolic fence, it represents the protection from outside elements that the family offers.
Submitted by Bessida White, Richmond, Virginia.
---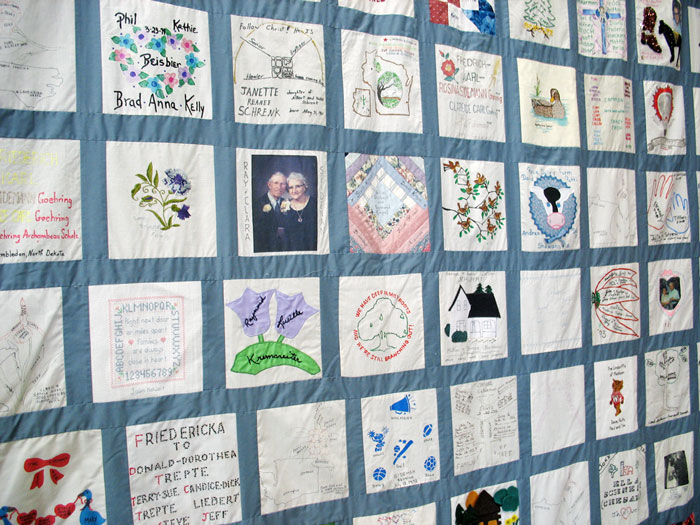 ---
Reunion celebrates 100th wedding anniversary
The 100th anniversary of Frank Darga and Rose Wojt's wedding was celebrated by their descendants at a special reunion in Posen, Michigan. We all went to Mass at St. Casimir's Catholic Church, where a mock wedding was celebrated.
There was lots of dancing and celebrating. An anniversary dance celebrated the couple married longest, Leo and Celia Darga, have been married sixty years.
Sandy Montague, Grand Blanc, Michigan, made a family quilt with photos of Rose and Frank, their marriage certificate, photos of their children, and wedding photos of their sons and daughters. A 50/50 drawing was held and the other half of the money was used to purchase cemetery markers for some stones that had been damaged or misplaced in the Posen cemetery. The quilt was raffled off and won by Wally Wesolowski from Pennsylvania. His mother, Gladys, is the oldest living grandchild of Rose and Frank Darga.
Everyone wore t-shirts that each family designed. Each family had a different color; for example, if you saw royal blue shirts you knew the wearer was from the Pauline Darga Idalski family.
Reunions are held every three to five years (unless there's a special event to celebrate, like Frank and Rose's anniversary). A reunion committee with a member of each immediate family meets about three times before each reunion. It is a very special event and family members really make an effort to attend. There were 345 members present this year, down a little because it was later in summer than in previous years.

Reported by Carol Idalski, from Charlotte, Michigan.