Create a cookbook … with Love
by Mary Thiele Fobian
A very popular project for family reunions — often undertaken as a fundraising effort — is the creation of a family cookbook. If you have such an endeavor in mind, check out HeritageCookbook.com. This online service automates the challenging aspects of format, layout and printing, so you can devote your time and attention to gathering recipes and generating participation by family members.
I'll get to the nitty-gritty about the process, but first I want to expose a shocking fact: HeritageCookbook.com was originated by Susan Love — a very "present" woman who will answer your email and questions, take your phone calls and actually address your issues! Furthermore, she's interested in your cookbook's "back story," your reunion or group, and the reason you want to create a cookbook. When I tested the website, I was surprised and very pleased with the personal service. Love listens to feedback from users and actually makes changes and improvements.
After 16 years as a professional fundraiser, Susan Love developed HeritageCookbook.com to help others create their own effective fundraising cookbooks. Using the website and communicating with Susan by email and telephone, it's very clear she loves what she's doing.
Try it out!
First visit the website and give it a "test drive"—easily done, without financial obligation. Go to HeritageCookbook.com, click on "Free Trial" tab and follow the prompts.
Yes, it is possible to build a cookbook in four weeks, if you are organized in advance. If you're thinking of a longer-term project, you may be interested in a membership: $29.95 for two months, $39.95 for four months or $59.95 for a full year. You can author a cookbook by yourself or collect contributions from others of recipes, pictures and stories. One person should have ultimate control over what recipes, stories and images are included and format used. Call yourself the editor-in-chief.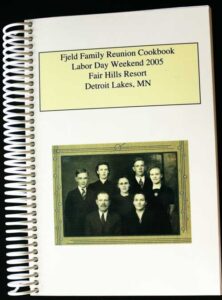 Using HeritageCookbook.com, you don't need to worry about whether all the recipe submitters are using the right font, the correct size, identical margins or the same format. This is all automated.
As you enter each recipe, you select in which section it should appear. Sections include the familiar "Appetizers, Soups, Salads, Beverages, etc.," seen in most cookbooks. Recipes can appear on one or two pages; or a one-page recipe can appear on a right-hand page, accompanied by a story and/or image on the facing left-hand page. In the final book, recipes automatically appear in alphabetical order within each section.
Uploading images is a snap: just follow the prompts. Grandma's Oatmeal Cookie recipe can appear opposite a photo of Grandma captioned with your recollections of the warm fuzzies of being in her cozy, fragrant kitchen, munching on a cookie still warm from the oven and sipping a frosty glass of milk.
Images aren't restricted to photos. A school that used HeritageCookbook.com accompanied each recipe with artwork created by the student whose family submitted the recipe, captioned with remarks from the student—heartwarming "keepsakes" like, "My mom and dad make yummy spaghetti … My mom and dad are the best parents in the world."
You can put any image you choose (photo or artwork) on the front cover, as many pictures as you like inside (no extra cost), and add extra pages at the front and/or back of the book. The possibilities are endless: family tree charts, family stories, special photos.
A "Helpful Resources" tab at the website leads you to lots of food-related information, including Love's own list of Standard Cooking Measurements, which you are welcome to use in your own cookbook. This is just one of the many offerings that come under the umbrella of "Free Stuff (without a lot of strings attached)." Once you've finished entering recipes, uploading photos and writing captions, you can preview the cookbook online. Love recommends that you print a draft from this preview feature and proofread it carefully.
The finished product is printed on high-quality paper and bound with a good, sturdy spiral. The spiral binding allows the book to lie flat—and stay open at the right page — while the cook concocts one of the wonderful family recipes. Recipes, stories and images are intended to be passed from generation to generation, and the quality of HeritageCookbook.com materials stands up to that measure.
Your final cost combines the number of pages in each cookbook and how many copies you order. You can order from five (the minimum order) to thousands of copies.
HeritageCookbook.com will ship anywhere. Anywhere! And it's not a matter of waiting weeks and weeks — more like several days.
About the author
Mary Thiele Fobian is an "almost-retired" writer/editor who now owns and operates Genealogical & Historical Research in Pacific Grove, California. Contact [email protected]
---
Pantry Pleasures – Generations of Home Cooking
by Joan Waters
The Curtis/Butler Family cookbook fundraising project was a great success. The cookbook was dedicated to the memory of departed family members, and invites all to taste a bit of our family tradition.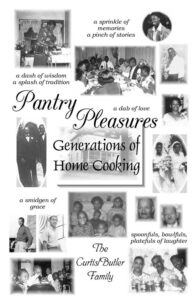 This collection of over 100 family favorites leaves you with a sense of the rich heritage instilled in the Curtis/Butler family to be passed from generation to generation. Well-sprinkled among the flavorful recipes, there are Scripture verses, and Quotable Quotes that many of us heard over the years, especially from family matriarch Annie Curtis (my mother). Our fondest memories would not be complete without a few pictures scattered throughout the cookbook. The Black Family Pledge, by Dr. Maya Angelou, is featured on the back cover.
The Curtis and Butler families became forever entwined by the marriage of (my parents) Bernard Curtis and Annie V. Butler. Brief family descriptions are included and 1947 trivia, the year my parents married. Both families are deeply rooted in historic St. Mary's County, Maryland (about 40 miles south of Washington DC).
This was the first fundraising project for our family. It was a long-distance project. My niece, Juanita Curtis Kelsaw, Indianapolis, Indiana, designed the cookbook cover and layout. My daughter Jill and I compiled and typed recipes, scanned photos and emailed everything to Juanita who sent the final project to the publisher. We raised $300 for our 2003 Family Reunion!
This is feedback we received about the cookbook:
"…You and your family really did a fantastic job putting this together. I truly enjoyed reading the stories and the recipes are also great. I will be trying some of these for Thanksgiving… Thank you so much for inviting me to share your family memories. What an honor… Anyone who has the privilege to read your stories is truly blessed."
"I was very happy to see the Sour Cream Pound Cake recipe on page 95. It sounds so much like the pound cake my mother used to make for me every year on my birthday. I lost my mother 19 years ago, and have not had this cake since, because I did not have the recipe. I knew most of the ingredients, but did not know how to put them all together. It is so important to pass on family recipes…"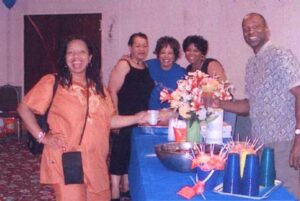 One said: "… I just had to send you a "pat" on the back, a hug, a congratulations for completing your family recipe book. This is a beautiful book you and your family put together. I really enjoyed the stories. I particularly liked your story about you and your grandfather and your grandmothers "What Is This World Coming To," it is an eye opener. I can tell there was a lot of love put into this book… By the way y'all forgot one thing in the recipe book … PEACH COBBLER! I need a good recipe for peach cobbler."
A co-worker of mine was so excited to get her cookbook. She tried the recipe for Crusty Corn Casserole from Monica Gloster and loved it!! and brought me a sample to taste. She told me that tears came to her eyes as she read the stories and saw the pictures.
From start to finish, the project took about four months. Most of the time was spent in getting recipes from family members (three months).
We solicited recipes, stories, pictures and advance orders from family members via mail and email. Since folks ordered up front, there was no money out of pocket.
My 14-year-old daughter and I typed recipes and stories, categorized them and emailed them to my niece. I scanned photos and emailed them along with the back cover poem, dedication page, etc. She formatted everything and submitted it to the publisher.
We highly recommend Walters Cookbooks in MN. They were so helpful!
About the author
Joan Curtis Waters lives and works in Southern Maryland, and calls herself a "Family-aholic." She has been reunion coordinator for the Curtis/Butler Family since 1985, and spearheaded their family cookbook project. Joan is studying Communication at the College of Southern Maryland.