Cookbook for the ages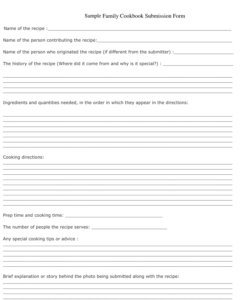 Many family cookbooks are tributes to ancestors who contributed to the family's sustenance. Madison's Ancestors, Family & Friends is a unique collection of family recipes, dedicated to the youngest member of The Willis Connection, the name they give their reunion. The book was shared by Madison's proud grandfather, Franklin Willis of Los Angeles, California. Willis points out that many recipes are named for ancestors and many from the 1800s are from the life-long collection of Madison's great-grandmother, Ruth Willis, who died four years before Madison was born in 1999. Madison says, "The recipes are a legacy that (Ruth) left for all of us to enjoy."
Madison's cookbook production is relatively simple for others wishing to replicate the method. A nice bright yellow and red cover helps. An introduction to the family fills the inside front cover. Recipes start off immediately on the inside right-facing page. Pages are not numbered and recipes are not categorized, nor are they in any particular order. There is no table of contents nor an index, which simplifies proofing. Recipes are easy and fun to read and many sound yummy. Recipes are typed onto horizontal pages which are assembled, folded in half with a self cover, with only one staple to secure the book.
This would be an inexpensive way to produce a collection of family recipes and most "quick print" shops can provide all the reproduction services you'll need.
A recipe for preserving family history
In an article in The Christian Science Monitor, Elizabeth Lund wrote that by creating family cookbooks, an increasing number of Americans are creating a lasting bridge—a document that will tell the family tales through their favorite meals. The great appeal of family cookbooks is that they are one part history, one part nostalgia, and one part good eating.
The availability of computers has helped fuel the trend. Even people without design skills can use a simple word processing program. Or they can turn to the Internet, where dozens of websites offer tips and shortcuts.
Develop an organized system for handling recipes and flow of information.
Keep recipes in one place.
Decide how to divide the cookbook.
Test recipes beforehand and make notes or adjustments. (For example, many recipes from the early 1900s call for a "glass" of liquid.)
Make sure recipes are explicit enough that even beginning cooks can use them.
Provide enough caption information for pictures so future generations will understand each photo and who is in it.
Include letters or other relevant items to tell the family story.
Gather recipes and stories while elderly relatives are alive. Otherwise, some favorites may be lost.
Proofread, proofread, proofread—but if a typo does slip by, don't get too upset.
While family cookbooks may aim to feed and comfort many people, their lasting value may come from the fact that they are often modern-day versions of the family Bible—the book in which the family's history is recorded. It may someday be the only connection between the past and the present, the New World and the Old.
---
Organization is key cookbook ingredient
The more organized your cookbook is the more likely it will create a more positive experience. Much work goes into assembling a cookbook, gathering recipes, compiling, organizing and finalizing design. Using computer software furnished by the publisher can save production time and money, cut 20 days off the publisher's typical 60-day production schedule, and reduce per-cookbook cost.
Pricing is important. If the price for 200 copies of a soft cover cookbook is $2.50 per copy, sell for $7. If the price for a 3-ring, hardcover cookbook with 1,000 recipes and 3,000 copies produced is over $7 per copy, sell for $10 to $20. Per-book price falls as the number of books you print increases.
Custom covers, hard covers, a three-ring binder design, custom content dividers, personal pages to introduce the book, notes that accompany recipes and sections of helpful tips all cost more to include.
Cookbook success
"After self-publishing our National Gideon Macon Society Cookbook in December 2003, the demand was so great that we are going into our second printing," reported Pat Macon, Springdale, Arkansas. "There will be new sections that will please the entire family. One family member wrote, 'It is not just a cookbook but a family heirloom.' We are very proud of it as it is like nothing that anyone could imagine before its printing."
The first Toomer Family Cookbook was a smashing success and sold out quickly. Many commented that the recipes were quick, easy and offered a variety to choose from. The new 2nd hardcover edition will include all types of recipes and cost $15. They also offer gift certificates.
The Benrud Heritage Cookbook compiled by Tim Olson sells for $9.00 at the reunion. For those not attending $11.00 is added to mail in the US and $13 for mail to Canada or foreign countries.

… way to go
Vicki Boss developed a cookbook for her growing family reunion and asked relatives to contribute recipes. Then she found a cookbook publishers and an array of options.
Boss ordered 200 books (minimum is 100) with laminated paperback covers and coil binding. Each was 100 pages and included 50 recipes. She paid $3 each and sold them for $15, including shipping. She sold more than 100 copies and will continue selling them at future reunions. Including the usual reunion participation fees and the cookbook sales, Boss raised about $3,200 to fund the reunion.
Found in the Providence, Rhode Island, News Journal