by Jacky Runice
Help On The Web
When you undertake Christmas dinner for five to ten people, it's a manageable mission. When your college student invites frat brothers (with bellies enlarged by keggers) and the in-laws invite their in-laws, admit it—you start asking for jell-o molds and help in the kitchen. It's the same system with reunions. When I think about how I experience stress planning, coordinating and implementing just a trip for a family of five, with adults, teenagers and a rambunctious third-grader, I can't imagine organizing a gathering for 20, 30 or 100 people, without help. Plenty of businesses hear your yelps for help and are ready to provide the trimmings for your reunion entrée.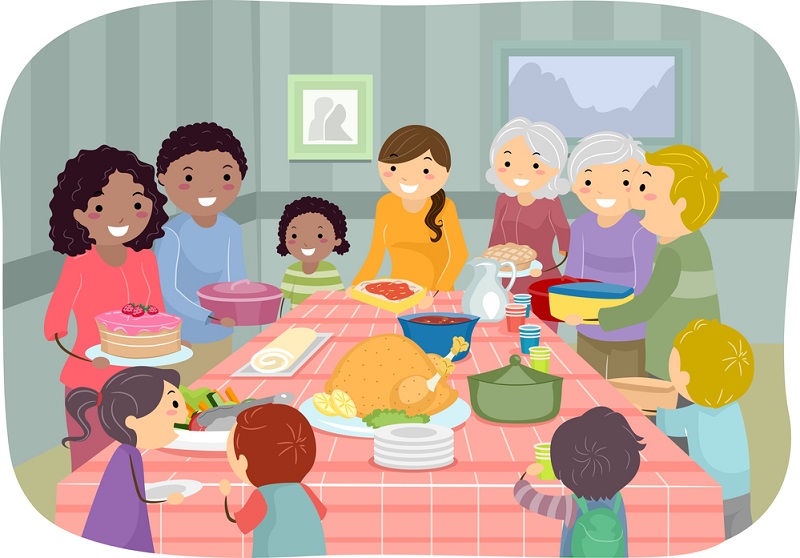 You know how to find immediate family or army buddies, but how do you cast a net wide enough so you're not spending hours searching the web for remote relatives and friends? Switchboard.com provides free access to over 105 million residential listings. With over 148 million internet users in the US, searching online to find friends, classmates, veterans or family members is a convenient and effective source for locating people and businesses nationwide. "Not only can switchboard.com help friends find old buddies or families locate lost loved ones, but you can use additional resources to plan reunion details—free and from the comfort of home," explained Michele Greenberg, Corporate Communications Manager of Switchboard Inc. Switchboard.com helps reunion planners find people: search by name and city/state to locate phone numbers and addresses, or reverse search by entering a phone number. Check out Switchboard's Stories section for reunited family stories. The website's integration of TurboTrip's hotel booking system lets you instantly make reservations on thousands of hotel/motel listings nationwide. It's easy to search by category and location to find car rentals, airports and tourist information. Need a caterer, florist, or party supply store? Business phone numbers allow you to call in advance for hours or weekly specials. Save time by locating the best route to your meeting place and print directions in a snap to include with invitations.
You've found them and getting there won't be half the fun if you're flying. Consumer studies rate Orbitz.com tops in ease of use, and Orbitz is the first travel site to allow small groups and larger families to purchase up to nine tickets at a time so users won't have to worry about booking everyone on the same flight! This upgrade saves time and assures that family members will be seated together. The company's new site design and exclusive features make it easier than ever to find and book the best flights at the lowest costs, and to obtain flight times, plane changes and number of airline stops. It takes only three clicks to book air tickets and hotel rooms, just four clicks to also rent a car. Plus, travel websites like Orbitz and individual airline sites offer last-minute discount fares.
Con Hitchcock
Con Hitchcock, chairman of Orbitz's Consumer Advisory Board, has more tips. Book flights scheduled for off-peak hours and days. Fares may be lower if you avoid early-morning or late-afternoon airport "rush hours." The cheapest last-minute travel time is often a Saturday morning departure returning Monday or Tuesday. Expand your search to include smaller airports if you're traveling to or from a major city served by multiple airports (e.g., Chicago Midway, Oakland Airport, Baltimore-Washington). Bargains may not be available if you limit yourself to principal airports. Finally, book on sites with 800-customer service numbers in case of questions or problems. For more information, visit www.orbitz.com.
Of course, the first and best resource for anything to do with reunions is this very magazine and it's extremely helpful website www.reunionsmag.com. The only publication on the planet for all planners — military, family, class and any other permutation of reunion — Reunions magazine features resources, tips, ideas and advice from journalists as well as those out in the trenches — other reunion planners. The magazine and website match planners with destinations, facilities and suppliers who are eager to help create a successful meeting. Take a look at the extras, such as creative ideas about games, activities and traditions that will enhance your reunion. The website, updated regularly, takes you from "Getting Started" to how to share your winning gathering with the rest of us. Honestly, how many websites actually encourage you to print pages right from the site in order to share with your committee members? Reunions magazine is all about helping you achieve memorable, exciting meetings that enrich the lives of every family member, veteran, class mate or friend who takes this remarkable journey with you.
Help From CVBs
Smart Convention and Visitors Bureaus (CVB) are expanding websites to ensure smooth planning and a successful event. For example, the Sarasota, Florida, CVB offers a separate meetings website (www.SarasotaMeetings.com). "It's easy and efficient for all planners to utilize," said Jennifer Huber, Sales & Marketing Director of the Sarasota CVB. "Planners can use it to find available area accommodations, facilities and services. Families can rent out the Stardust Event Center (a roller rink), hold a pizza party and skate away if they'd like," she said. "The planner can contact the properties directly or complete an online request for proposal (RFP) form which is automatically distributed to CVB members. Planners can request a meeting planner guide, with information to help them plan their stay." Jenny S. Martin, Public Relations Manager of the Sarasota CVB, is excited about the area's terrific meeting venues. The Colony Beach & Tennis Resort on Longboat Key has an impressive new venue at the resort, as well as a meetings and events coordinator (800-4-COLONY). "The Hyatt Sarasota has a wonderful meeting facility. In fact, a group recently celebrated their 25th anniversary and marked 25 consecutive years of meetings at the Hyatt Sarasota. They do events of all sizes, big and small—this week they have a group of 1,200 coming," according to Martin. The Radisson Lido Beach recently underwent a $25 million renovation, now offering 5,800 square feet of flexible meeting space, including a 3,000 square-foot ballroom that accommodates up to 300 guests—great for military reunions! For details, surf to www.SarasotaFL.org.
CVB Reunion Planning Workshops
Many CVBs offer planning workshops that introduce their services and those of their hospitality members: rather like one-stop-shopping! Most are free and well worth your time to attend.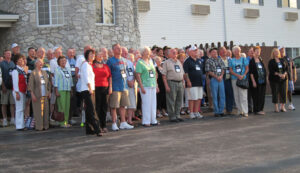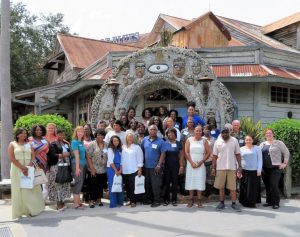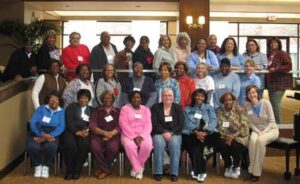 Try Skiing
Ski resorts are fabulous reunion sites and they needn't be cost-prohibitive. Julie Chandler, Breckenridge Ski Resort Lodging and Hospitality, plans about 30 reunions every year for groups of 20 to 100 people. Chandler's money-saving and reunion tips include:
Avoid weekends (Friday and Saturday night) and have a weekday reunion. Crowds are smaller and rates are lower.
Take advantage of Colorado's beauty. Take a hike. Hikes range from beginner to advanced and they are free.
Book group activities to take advantage of group discounts.
Plan a potluck picnic.
To create a memorable family reunion Chandler suggests:
Send a schedule to the family members prior to arrival so they will be properly prepared. For example, family members will know they need to bring jeans for horseback riding, a swim suit and strap sandals for rafting and good shoes for hiking.
Make family reunion t-shirts—great for group pictures.
Plan a theme party and have everyone bring appropriate attire. Examples are: Hawaiian night, cowboy night, '70s disco night, hippie night. A dress-up party is always a great icebreaker and fun for all ages.
Few skiers or hikers in your clan? Choose art gallery tours, hot air balloon or gondola rides, Breckenridge Recreation Center, paddleboat rides on Maggie Pond, rides on the Georgetown Train, fly fishing, rock climbing, ATV tours, bike rides and skating on the bike path, mini-golf, horse drawn carriage rides or massage and spa treatments. Take a look at what's in store for your Colorado gathering by riding to www.breckenridge.com.
Try The Beach
If the beach is more your style, there are thousands of miles of shoreline in this great land, but you need an area and resort keen on groups, that knows how to help create special gatherings. A perfect destination for all sizes of reunions is Kiawah Island Resorts. Kiawah Island Golf Resort accommodates 20 to 25 reunions yearly. Choose from a plethora of activities—ten miles of beachfront, golf, tennis, bicycling, ocean seining (fishing with nets), children's programs, casino nights, wacky beach Olympics, night-glow putting, gator watches and sunset oyster roasts. "One of our clients contacted us about their recent family reunion and said they'll have all their reunions at Kiawah for the variety of accommodations, family activities for all ages and the Mingo Point Oyster Roast, which she said was the highlight of their reunion," beamed Marty Couch, Director of Group Sales. " It defines what the Low Country is all about—great people, great times, and memories that last forever." Kiawah is just 21 miles south of historic Charleston, South Carolina, and the Kiawah Island Golf Resort is a private 10,000-acre resort island of outstanding beauty. "With 10 miles of unobstructed beach, five 18-hole championship golf courses (including one five-star and three four-star as listed in Golf Digest's "Places to Play"), two world-class tennis centers, Kiawah Island offers something for everyone," Couch said. "Our new hotel, The Sanctuary, opening in Spring 2004, will be the most extraordinary oceanfront hotel built on the east coast in the past 20 years. The Sanctuary will have 255 rooms, 18,000 square feet of function space and a beautiful 13,000-square foot spa appealing to the most discerning customer." Take a look at what's in store for your reunion at www.kiawahresort.com or call 800-576-1570.
Try Cruising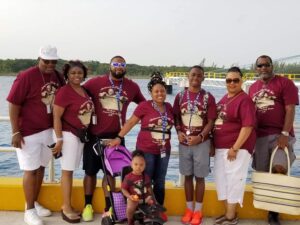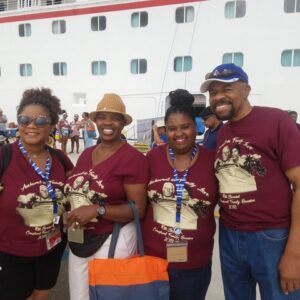 Destination reunions are increasingly popular and according to a recent survey by the American Society of Travel Agents (ASTA), at least two-thirds of agents who booked travel for family reunions within the past year cited cruises as the most popular destination. Just as there are countless ski and beach resorts, cruise choices are mind-boggling for the planner. The simple solution is to research those that go the extra nautical mile for reunions. Royal Caribbean International recently introduced a new program, Royal Reunions, designed to enhance family and group gatherings. Dan Hanrahan, Senior Vice President, Marketing and Sales, for Royal Caribbean commented, "Cruising is an ideal choice for both small and large groups that want to travel together, and our new Royal Reunions program takes group travel to a new level with additional amenities and activities that make a special event even more enjoyable and memorable."
The ships offer all the successful reunion components — activities for all ages, group dining, nearby or adjoining rooms, an award-winning Adventure Ocean kids program, shopping and entertainment—all neatly bundled into a convenient and affordable package. The new Royal Reunions program offers two reunion packages. The standard Royal Reunions package includes fun touches like festive stateroom door decorations, a welcome aboard letter from the captain, special Royal Reunions logo gifts, a group photo for each member and a personalized farewell cake the last evening of the cruise. Guests also get a choice between passes to the Aqua Park at one of Royal Caribbean's private beach destinations or a special Sports Deck pass that allows holders to go to the head of the line. All groups are invited to compete in a Daily Reunion Challenge that has them matching wits with other reunion groups onboard.
The Royal Reunions Elite package includes the standard package's amenities and adds organized group activities run by the ship's cruise staff and daily VIP treats delivered to each member's stateroom.
Royal Reunions packages are available to groups booking eight or more staterooms at an additional $50 per person for the standard package, and $100 per person for Royal Reunions Elite. Royal Reunions packages can be enjoyed on all of Royal Caribbean's Voyager-class ships, with plans to take the plan fleet-wide with additional package options. Visit www.royalcaribbean.com or call 800-327-6700.
Choosing your reunion place can be easy for some but rather complicated for others. Share your experiences; particularly those that you think would be of interest or helpful to others who are organizing reunions.
From the YMCA of the Rockies, the Continental Divide is a must see, at 10,759 feet.