Planning t-shirts for your reunion?
Jack Raymond, Varsity Graphics, who was asked for his expert advice about ordering t-shirts, said, "Order at least a month ahead … decide on color of shirts, sizes and what you want on the shirt. It's typically THE SMITH FAMILY REUNION with the date and place. We've put outlines of states where the reunion is to be held with a star marking the exact place on the map. Best is to contact the t-shirt company to discuss ideas."
T-shirt tips
More is better. The more t-shirts you order, the better the price per shirt.
Often, family members don't order a t-shirt, but want one when they see them. So always order extras; you'll likely sell them.
Smaller children's sizes (smaller then 8) or very large adult sizes may require a second set of screens. So even though there are some really small kids, order the smallest (standard) size you can without incurring extra charges. Considering how fast kids grow, they can wear them longer.
Larger t-shirts (XXL and above) cost more than do sizes up to XL.
Tracing the family tee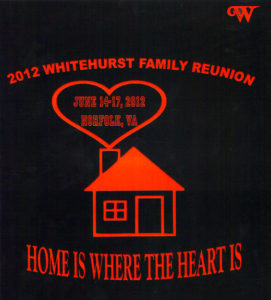 According to reporter Jeff Daniel in the St. Louis Post-Dispatch, Karen Mack, University City, Missouri, indulges in gene fashion. "That's gene as in genealogy," writes Daniel, "a word that serves as the theoretical fabric of the family reunion t-shirt."
Daniel continues, "Those who follow and study reunions can't pinpoint when the tee tradition began, but they make a case that it followed a larger mid-1970s trend: the undershirt's explosion into full-fledged sloganeering outerwear.
"We all started wearing t-shirts in the '70s," says Edith Wagner, editor of Reunions magazine, "I'd say that's probably when families started creating them for reunions as well."
Downtown Imprints in St. Louis says family reunion t-shirts translate into brisk business. A sign in the store's front window proclaims that reunion t-shirts are the shop's specialty. The rest of the window space is dominated by colorful examples of family reunion t-shirts. Sales manager Nicole Lang estimated in June there were 200 orders for family events, with the number of shirts in each order ranging from 30 to several hundred. The price per shirt usually falls between $4.80 and $5.80.
Many silk-screening and printing businesses allow families to choose from standard designs or submit their own creations.
When the creative spark is handled well, says Ione Vargus, PhD, founder of Temple University's Family Reunion Institute, the results are often something quite special. Vargus adds that the shirts serve as a way of expressing family pride and a sense of personal identity. "Families can express themselves in so many ways through these shirts," she says, mentioning designs that take creative twists on the family tree or a state logo. "And the more reunions that take place, the more creative these designs become." In a way, the decorated clothing works as a kind of folk art.
The reunion t-shirt is more than a cotton swatch and a dab of ink. Quite a bit of planning goes into the process. Who does the design? Will it be kept inside the family? What colors will be used? These become big decisions because the host often has the attitude of "I want to have the best reunion ever." And that includes a good t-shirt. And a winning shirt often results in a wearable one, a clothing item that manages to make its way out of the stack of old t-shirts in your bottom drawer.
"If I wear a reunion t-shirt," concludes Karen Mack, who has coordinated family get-togethers for more than 25 years, "it's almost guaranteed that someone will notice."
From a story by Jeff Daniel in the St. Louis Post-Dispatch, St. Louis, Missouri.