Planning t-shirts for your reunion?
Jack Raymond, Varsity Graphics, who was asked for his expert advice about ordering t-shirts, said, "Order at least a month ahead … decide on color of shirts, sizes and what you want on the shirt. It's typically THE SMITH FAMILY REUNION with the date and place. We've put outlines of states where the reunion is to be held with a star marking the exact place on the map. Best is to contact the t-shirt company to discuss ideas."
T-shirt tips
More is better. The more t-shirts you order, the better the price per shirt.
Often, family members don't order a t-shirt, but want one when they see them. So always order extras; you'll likely sell them.
Smaller children's sizes (smaller then 8) or very large adult sizes may require a second set of screens. So even though there are some really small kids, order the smallest (standard) size you can without incurring extra charges. Considering how fast kids grow, they can wear them longer.
Larger t-shirts (XXL and above) cost more than do sizes up to XL.
Booker T Washington High School Class of 1960 Sails on Reunions
We have sailed to many places on our cruises: the Eastern and Western Caribbean, Hawaiian Islands, and Inside and Outside Passages of Alaska. We have sailed on many cruise lines including Princess, Norwegian, Carnival and the most recent reunion on MSC Cruises.
We've had shirts that showed where we traveled on our reunion trips. In addition we've used some interesting mottos on the shirts. For example: "Cruising into the New Millennium" and "Striving for Excellence Past, Present and Future."
Our shirts are proudly worn at reunions or when we're requested to by classmate's families at their funerals.
Shared by Anita W. Crawford, New Orleans, Louisiana.
Tracing the family tree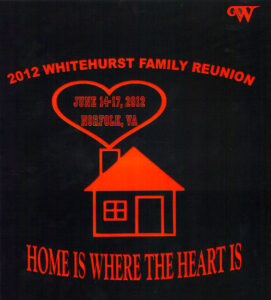 According to reporter Jeff Daniel in the St. Louis Post-Dispatch, Karen Mack, University City, Missouri, indulges in gene fashion. "That's gene as in genealogy," writes Daniel, "a word that serves as the theoretical fabric of the family reunion t-shirt."
Daniel continues, "Those who follow and study reunions can't pinpoint when the tee tradition began, but they make a case that it followed a larger mid-1970s trend: the undershirt's explosion into full-fledged sloganeering outerwear.
"We all started wearing t-shirts in the '70s," says Edith Wagner, editor of Reunions magazine, "I'd say that's probably when families started creating them for reunions as well."
Downtown Imprints in St. Louis says family reunion t-shirts translate into brisk business. A sign in the store's front window proclaims that reunion t-shirts are the shop's specialty. The rest of the window space is dominated by colorful examples of family reunion t-shirts. Sales manager Nicole Lang estimated in June there were 200 orders for family events, with the number of shirts in each order ranging from 30 to several hundred. The price per shirt usually falls between $4.80 and $5.80.
Many silk-screening and printing businesses allow families to choose from standard designs or submit their own creations.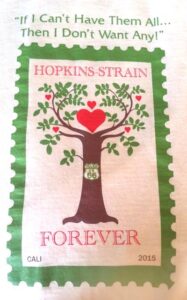 When the creative spark is handled well, says Ione Vargus, PhD, founder of Temple University's Family Reunion Institute, the results are often something quite special. Vargus adds that the shirts serve as a way of expressing family pride and a sense of personal identity. "Families can express themselves in so many ways through these shirts," she says, mentioning designs that take creative twists on the family tree or a state logo. "And the more reunions that take place, the more creative these designs become." In a way, the decorated clothing works as a kind of folk art.
The reunion t-shirt is more than a cotton swatch and a dab of ink. Quite a bit of planning goes into the process. Who does the design? Will it be kept inside the family? What colors will be used? These become big decisions because the host often has the attitude of "I want to have the best reunion ever." And that includes a good t-shirt. And a winning shirt often results in a wearable one, a clothing item that manages to make its way out of the stack of old t-shirts in your bottom drawer.
"If I wear a reunion t-shirt," concludes Karen Mack, who has coordinated family get-togethers for more than 25 years, "it's almost guaranteed that someone will notice."
From a story by Jeff Daniel in the St. Louis Post-Dispatch, St. Louis, Missouri.
Dual duty: use reunion souvenirs and keepsakes to raise money
By Megan Moyer
Outfitting your reunion
T-shirts are a long-time reunion staple. They characterize unity and pride and are not complicated to coordinate. Collect everyone's size, decide on t-shirt color(s) and design and find an experienced company that provides great service and quality, and fits your budget and timeframe. We contacted two companies that specialize in imprintable reunion clothing, Graystone Graphics and Hollopoint Design. Both have several standard family reunion designs, Graystone also has standard class and military reunion and genealogy designs. Their designs are customizable and both companies can also work with your artwork.
Decisions, decisions
Choosing t-shirt design and color(s) are the toughest decisions. The least expensive t-shirt colors are white, ash gray or natural which also happen to be the best backgrounds for colorful designs.
Listen to the experts as you make these changes. Michael Waite of Hollopoint Design says, "Don't choose t-shirt and design colors that are too close in value, like royal blue and warm reds. Although they're different colors, the values are so close that when used together, they tend to blend and detail is lost. Contrast is key, light with dark is best. White is the best canvas for full- and multi-color graphics."
At reunions of large families, different color t-shirts are often used to identify branches or generations. The Orth Family Reunion is every other year in Farmington, New Mexico, for great-grandma Orth's children, grandchildren and great-grandchildren. They order their reunion t-shirts from Hollopoint. In the past they ordered different color shirts for the families of each of grandma's six children. But there never seemed to be enough acceptable choices and someone always got stuck with a color they didn't like. New color choices offered by shirt manufacturers eased that problem. To avoid the hassle altogether, the Orths thought about using one color for everyone.
Hollopoint suggested a different shirt color for each of the four Orth generations. Embroidery threads are easily changed to complement different colors. Grandma got a white sweatshirt (she likes to stay warm), and her children and their spouses (the second generation) got indigo blue t-shirts. Grandchildren and their spouses (third generation) were outfitted in earth-toned green t-shirts and great-grandchildren (fourth generation) chased around in stone-washed navy blue. Babies drooled onto embroidered bibs.
So many to choose from
When it comes to reunion designs, both companies offer several standards, viewable on their web sites. They can be personalized with your family name, logo, reunion date, location or any other information. They can also use your original design. Many families choose photos of ancestors or a family tree.
Another alternative and truly unique keepsake is to print family members' signatures in a design. Screenprinting signatures is Graystone Graphics specialty and most requested service. Signature Designs give every family member a feeling of involvement and kinship. Graystone offers signature sheets online. Ramona Stites of Graystone suggests, "If collecting signatures prior to your event isn't possible, a good alternative is to typeset family members names. It still creates a sense of union."
The details
Collect everyone's sizes and keep track of them so there is no confusion when it's distribution time. Michael Waite of Hollopoint suggests, "You will invariably need to guess a size for one or more members, so guess big. T-shirts are typically worn oversize, they're a casual-comfort garment, so loose is best. Going a size bigger is also common for outfitting growing kids."
Prices can range from $6.50 to $13.00 for t-shirts, $10.00 to $20.00 for sweatshirts. Ask about set-up fees and minimum order quantity. Then determine what you will charge members to raise reunion funds.
Turnaround time for an order on average is two to three weeks. Check with the company to ensure the color(s) you choose are available and ask for the company's requirements if you are customizing a design or providing original artwork.
Hollopoint Design and Graystone Graphics both offer other imprintable alternatives — tote and duffel bags, aprons, hats, golf shirts and long-sleeve t-shirts.