Carver High quilt is a stitch in time
Laura Harris spent five years stitching a quilt to commemorate the 50th anniversary of the closing of Phoenix's all-Black Carver High School.
Her plan was to commemorate each year in the life of the high school through individual squares. Harris, 83, called on alumni to help guide every stitch and square.
The Carver quilt measures about 6 1/2 feet square and is a precious cloth scrapbook. Each square tells a story of what they remember and loved about the school. Harris had old black-and-white portraits of teachers and students printed onto some squares.
The school's motto is inscribed in thread on one square: "We strive not to equal but to excel. This motto filtered through the lives of the students.
For 1949—the year Earlie Cochran Washington graduated—she used needle and thread to draw a memory and stitched a cow. Another square is dedicated to cotton.
Cecil Scott provided Harris with a square that captured the flavor of the school cafeteria's coconut crème and lemon meringue pies, worthy of a place on the quilt. Scott piled his stitches to conjure up a luscious piece of coconut cream pie. His square is for 1945, the year he graduated.
As chairman for the Phoenix Monarchs Alumni Association, Scott's group bought its old high school in 1996. It is now the George Washington Carver Museum and Cultural Center, showcasing African-American culture in Arizona.
From a story by Angela Pancrazio in the Arizona Republic, Phoenix, Arizona.
---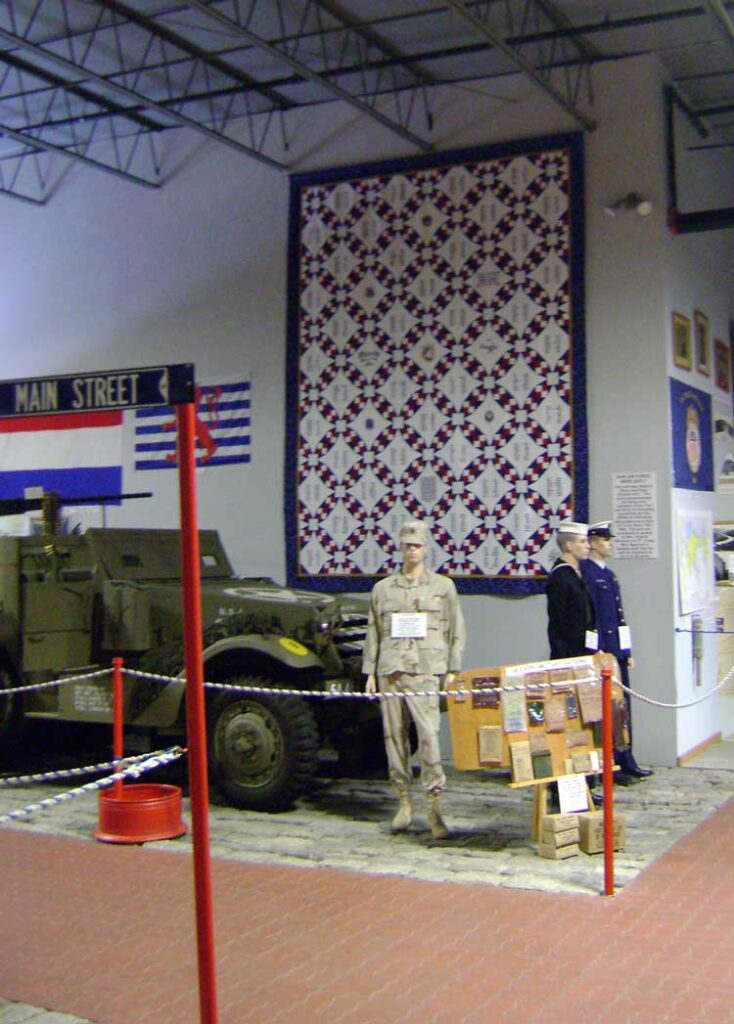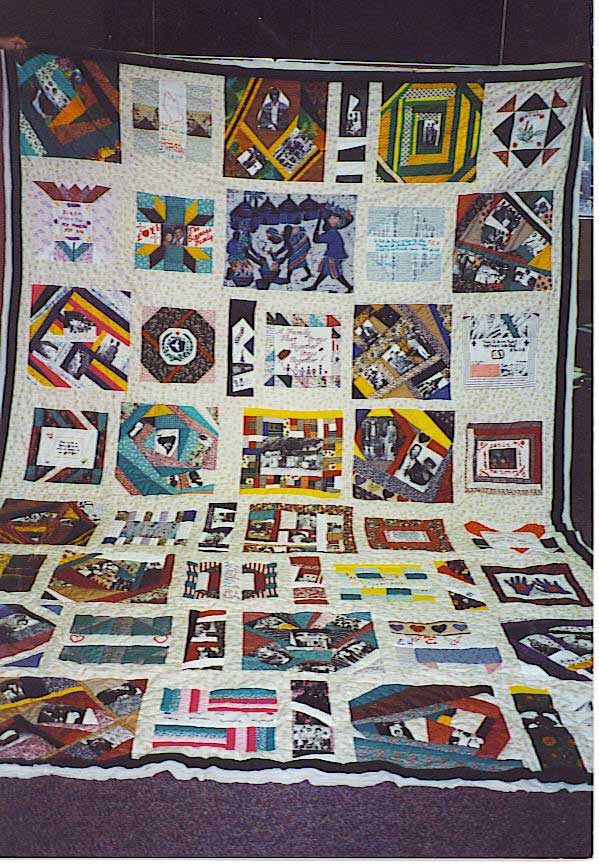 ---
This says it all.
(Poem by Karen Wilson)
It's the second week of quilt camp
With Fabric all around.
There's fabric on the table,
The chairs, the beds, the ground.
We sew when we get up at dawn,
And sew until we drop
We sew when we can't see a stitch,
But we can't "seam to stop.
When we get tired of sewing,
There are other things to do
Go for a walk, or read a book,
Or talk with a friend or two!
It's the second week of quilt camp,
Our fabric just doesn't look the same
We've made jackets to wear,
And dolls that have two names.
Cases for our pillow,
A quilt since nineteen eighty three,
And blocks from last year's "Shop Hop,
A shirt for our "Queen Bee.
The second week of quilt camp,
The end is drawing near.
Our piles should be getting smaller,
But this is not the case, I fear.
The food has been great,
The trips to town.
Next week it's back to normal.
The reunion has been written down.
---
A Mountain Quiltfest™ returns to Pigeon Forge
Pigeon Forge, Tennessee, a top Southeast tourist destination, hosts its annual A Mountain Quiltfest™ in March. Quilters and crafters come for the multi-category quilt show and more than 70 instructional classes and seminars.
Vendors on-site have a variety of quilt- and craft-related items, including dozens of patterns and miles of fabric.
Admission is free. Fees are charged for classes and seminars which are filled on a first-come, first-served basis.
Contact 865-429-7350 or visit www.mypigeonforge.com.

Quilted reward
Many reunion quilts we hear about are used for fundraising purposes … for general funds to help pay for the reunion or to raise money for scholarships. So, we were delighted to learn this new twist. Sydney Gine's annual family reunion tradition is to have the host family provide six inch quilt squares to each family to decorate. Family seamstresses turn the squares into a finished quilt given as a reward to the hosts. Fine remembrance!
reported by Meg Cox, Princeton NJ