Q?
Please forward some fun activities for our banquet.  Last two reunion banquets were boring. Sit, eat, someone gets up and talks, pass out t-shirts and it's over. Please help.
Mary Nightingale, Overland Park, Kansas, Smith Family Reunion
A!
Try some of these ideas from other reunions.[/stextbox]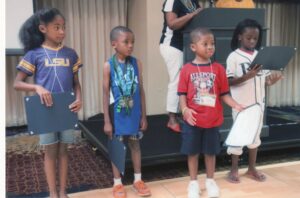 Announce lots of happy news! Make the presentations entertaining. New members (births and marriage), graduations, new jobs, promotions, scholarships, honors, news, and sadly, deaths. Announcements should involve lots of members who have to either come to the front of the room or stand to be recognized.
Announce prizes (oldest, youngest, farthest, etc.) with funny read that you explain (for laughs).
Announce winners of games and tournaments (golf, dominoes, tennis, tug-o-war).
Honor military members with a presentation or an honor guard.
Talent show: start during dessert before everyone gets up to leave! This is a great opportunity to share talents with family. What more appreciative audience? Perhaps more important, it's an opportunity for the little kiddos to show off their piano (or other instrument) recital tunes or wear a tutu before she grows out of it or read a poem s/he wrote! It's also a time when teen or young adult cousins can perform funny or historic skits/plays. Or any member wishing to display a talent. Time limits depend upon how many want to perform. Lots of participation will certainly curtail the boredom.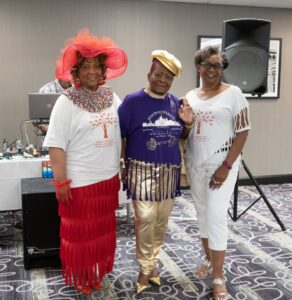 Many families hold fashion shows of all ages wishing to show off their special duds! Check out this video from the Johnson-Barnes Family Reunion!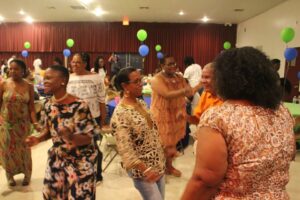 If your family is predominantly one ethnicity, provide background during your gathering/cocktail hour and dinner and dancing after. Celebrate ethnic music and dance. Teach the dances to members who don't know them. Or if you're many ethnicities, commit to celebrating them all over the years and use them as themes for food, activities and decorations.
How about a "panel" of elders telling stories about their youth or dating or school: subjects that will delight their grand/great-grandchildren and probably entertain their own children, too.
Stage a TV game show (with cheering sections and silly prizes): Wheel of Fortune, Jeopardy, Family Feud.

Hold an auction to raise money for scholarships, or to help some members attend the reunion or for philanthropy. Auctions can include serious items (family heirlooms or made by family members) and fun/funny items. Be sure there are items for adults and children. Allow kids to bid for their own items. Display items throughout the reunion, promoting the auction as something to look forward to at the banquet. Also encourage (adult) bidders to realize this is a family project and to expect to be generous: the goal is to raise money, not to find a bargain!
Hold a raffle. One for adults. One for kids. Display/promote prize(s) and sell tickets before the banquet. This is a fundraiser so you'll need to be clear about where the money is going. When it comes time to draw numbers, ask kids to do the drawing.
How about this idea? Plan ahead. Take lots of pictures, audio and video for your family/reunion history. Then, display photos, play audio, and show the videos at your next reunion! Maybe even at the banquet.
If you promote any of these in advance of your banquet, you'll give everyone something to look forward to … to anticipate. Then, you will also have their attention, which is what you may not have had going for you before.
Oh, yes, if your banquet is not formal, ask everyone to wear their t-shirts and take pictures.
I realize it is usually the duty of the reunion chairperson to chair the banquet but, if I were you, I'd engage the most gregarious, animated, funny, dedicated family member as Master/Mistress of Ceremonies MC for the event. Even consider a young member, because if s/he is good, the adults will be impressed and the kids will be engaged: it's one of them. And on behalf of the chairperson: this could be a way of preparing kids to take over the reunion someday. After all, they are the future of your reunion!