Planning a Banquet
We learn much from the people who organize meetings for a living. Reunion organizers are close cousins to these professionals who have to go through all the same steps to make a memorable event happen. These are some questions professional meeting planners keep in mind when planning a banquet: not an everyday affair for most reunion organizers.
The Event
-Determine a purpose for your banquet. Is it also an awards ceremony or social event?
-Develop a seating chart that encourages mingling at each table.
-Will the banquet have a theme? Decide whether to incorporate the theme into invitations, promotion materials, giveaways or decorations.
-What is expected attendance? Inform caterer of numbers.
The Budget
-Is there a room rental fee?
-Are there federal, state and local taxes?
-Are there gratuity service charges? Many properties routinely have an 18% mandatory gratuity surcharge for food functions.
-What is the overtime rate for staff?
-Before agreeing to published prices, negotiate a discount based on the overall dollar value of your reunion – particularly if you are also reserving sleeping and meeting rooms.
-If contracting more than six months ahead, get, in writing, the percentage above current food and beverage prices you will be charged.
-Are decorating and floral arrangements included in the room rental fee?
-Will musicians, entertainment or a keynote speaker be required?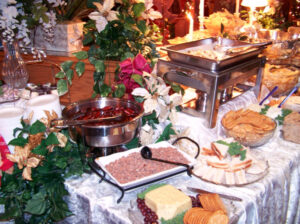 The Menu
-What are your group's tastes? Are they willing to try ethnic cuisines? Or are they a traditional meat and potatoes crowd?
-Discuss your budget with the caterer.
-Share menus from past reunions and point out what went well and what did not.
-If you plan to incorporate a theme, discuss it in detail. Some foods, chocolates, for example, can be custom-designed.
-Ask for suggestions of local dishes that represent the banquet's location.
-If at all possible, meet with the executive chef and ask for suggestions.
-To avoid offending guests with special dietary or religious restrictions, ask for alternative entree selections.
-Typically a choice of a vegetarian or seafood dish should be offered.
-Incorporate seasonal fruits and vegetables in your menu selection.
-Once you have agreed to a menu, stick to it. Changes will result in higher costs, even surcharges.
-Sign off on food and beverage details at least ten days prior to your reunion and give the caterer a final headcount at least 48 hours in advance.
The Drinks
-Are alcohol and other beverages included or is it cash-bar service?
-Confirm beverage pricing with the caterer. Consider paying on consumption rather than per-person price.
-Ask the caterer for consumption guidelines. Basic beverage guidelines are one drink per person, per hour; six to seven glasses of wine per liter bottle; 20 cocktails per liter of liquor.
-Ask the caterer to suggest champagne and dinner wines that compliment the menu and stay within your budget.