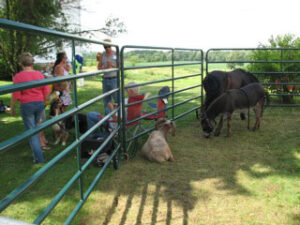 After a huge meal at a family reunion, when the adults are too tired for more strenuous activity, how about a silent auction for the children?
Instead of bidding money, children are given questions to think about and answer. These are some of the questions we've included. What I like best about my dad. What can I do to help an older person? List three things you will do for your family next week and why you want to do them. Why my mother is special. What I like best about my Grandpa. Why I like to go to my Grandma's house.
If our questions seem too serious, ask about funny experiences involving one or more relatives, what they would like to do at the next family reunion. Enforce a time limit for writing answers and one for judges to reach their decision.
Choose an auctioneer; no previous experience necessary. The person should be able to keep things moving, state auction rules, present items, and announce judges' decisions. Judges may include parents, grandparents, aunts, uncles or cousins. Five is a good number.
Adults definitely need to sit among the children. Younger children may need adult help to answer a question and to write a bid.
Auction items may be provided by out-of-town relatives, or each family can furnish one. Our auction items, often educational, but always fun, have included stars for the ceiling of a child's room, a kaleidoscope, board games, a butterfly kit, books, drawing sets, a compass, and a video.
Auction items must have value to the bidders. The items should be unusual and desirable, but need not be expensive.
There must be at least one item for each child. A child who receives one of the first awards may help hand prizes to other winners. When it's all over, swapping is perfectly legal.
What do children remember about the Silent Auction? A nephew said, "I had never thought about those kinds of questions before. I guess I took my family for granted." A niece said, "I didn't think I could write something good enough to get the prize I really wanted."
Parents enjoy a glimpse of a child's wisdom which they had never seen but had tried to instill at home and at family reunions.
About the author
Anna M. Miller is a graduate of the University of Iowa with a master's in education from Indiana University. She worked in Korea as a lay missionary and has written many stories for children about Korea. She has worked in a Settlement House, YWCA, as a camp counselor as well as in teaching, counseling, and writing.