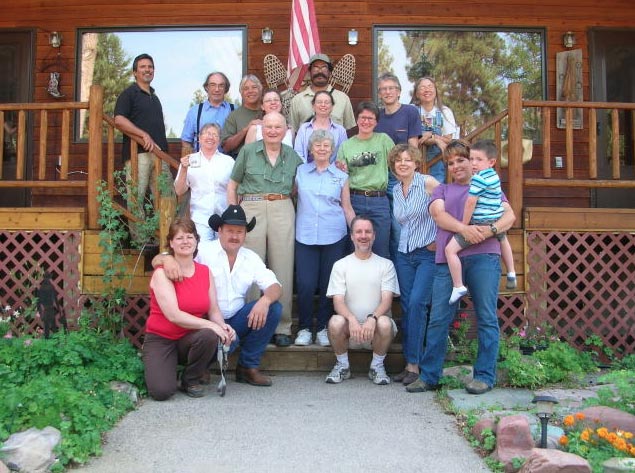 Since the capacity is 25, Montana's Rich Ranch sees reunion groups typically booking the entire homestead. Imagine having your very own spread from which to enjoy the scenic Blackfoot River valley of western Montana! Located in the Rocky Mountains, the ranch is in the midst of abundant lakes and streams (which are accessible to fish by car or horse) and it's 11 miles from the town of Seeley Lake, year-round population about 2,500, offering guests a unique small town setting. Although in its 12th year operating as a guest ranch, Rich Ranch is celebrating its 50th year of outfitting in the Bob Marshall wilderness.
It was Kathy Germann's first visit to Rich Ranch so she wasn't sure whether the staff did anything "special" for the Meyer-Brown reunion, but "I can assure you that the experience there was very special," the Madison, Wisconsin, resident explained. "Their hospitality is five-star; they were exceptionally welcoming and accommodating for our group. Their service was superb, from managing different arrival times of family from across the country, to comfortable, clean, well-appointed lodging facilities, to adapting menus to a wide range of dietary needs. Our family varies significantly in our interests and physical abilities, and the Riches went out of their way to find activities that addressed our different needs, always with a focus on what we all might be able to do together. Daily family meetings, facilitated by Jack Rich, supported our group in structuring our activities and making decisions with ease, not necessarily an easy task!" It was the first time the blended family of 14 spent concentrated time together. "We're a bit unique in that Dad (Ray) and Mom (Marion) met and fell in love at age 75 after their spouses passed away. They have been together for almost five years and last December two of us thought it might be fun to get the whole family together for a week and the Rich Ranch became our destination," she said. The clan took in a performance by a local singer/songwriter, fishing, riding lessons, trail rides, a covered wagon ride, overnight fishing/riding/camping trip, inner tube float down the river, whitewater rafting, raft float trip, a visit to a taxidermist, hot-tubbing, bird watching, visiting a fire tower, viewing alpine flowers, lots of singing & storytelling–culminating in songs and s'mores around the campfire the final evening.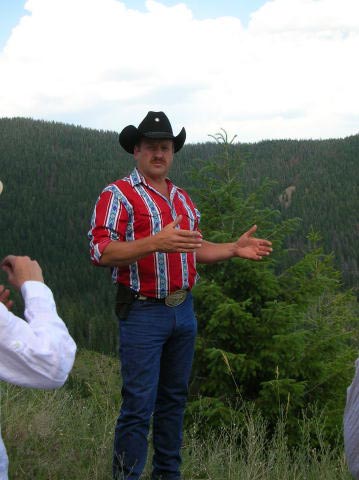 After you explore and decide it's perfect for your next gathering, hosts Jack and Belinda Rich will help assign lodging by sending a diagram of the layout of cabins/lodge rooms. "We also send a vacation planner for more detailed information to provide us with specifics; special dietary needs or preferences, riding abilities and other interests," explained Melinda Rich. "We can help them plan additional off-ranch activities such as float trips, rodeos or car tours. We provide information about nearby service providers such as car rentals and pre- or post-trip lodging, Glacier National Park information (guests often plan to visit, before or after their stay with us). Our scheduling is very flexible, which helps in the planning of the week's activities. We love families and offer a supervised children's program in the mornings. The parents love this."
One of Rich Ranch's most popular rides is the Alpine lakes ride which saunters to the wilderness boundary, then guests fish the lakes and return to the lodge for dinner. The ranch borders the Bob Marshall Wilderness and you might choose an overnight pack trip option. In addition to horseback riding and fishing, you might want to consider horse-drawn wagon rides, Ghost Town tour, local artist tour, Bison Range tour, campfire night with entertainment and mountain biking. Want more? There is a fishing pond, an outdoor arena, horseshoes, roping practice, archery, basketball court, hot tubs and table games including pool and foosball. Why choose Rich Ranch? "There is something that you experience at the Rich Ranch that you won't get just anywhere–and that's family," explained Germann. "Not only are they the fifth generation to live on Montana land, they exemplify the best of what a family can be. It's hard work to run a guest ranch, to be functioning 24/7, with your home open to complete strangers. They do it remarkably well! Their love and respect for each other is easily observed in their interactions. Amidst all the hard work, there's an abundance of laughter and joy and hugs. They not only open their home, they open their hearts to their guests and to each other. It's impressive to see an extended family function so well and providing such great service–it's a real pleasure to be in their company." Wrangle yourself over to richranch.com or call 800-532-4350 to get details on your reunion home on the range.