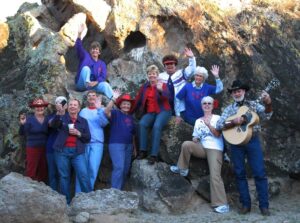 Rex and Flora Long have traveled from their home in West Hills, California, to the Flying E Ranch in Wickenburg, Arizona, for the past ten years. "We started going to the "E" for our 40th anniversary, went every year since and recently celebrated our 50th there," Flora said. "Our four children and their spouses, five grandkids, various friends and their families have joined us every year for the last six years, and even though we see each other often during the year we all
look forward to going again. The ranch activities are a good fit for all ages, whether taking a mid-day snooze, swimming, trail rides or hiking. The girls in the family like it there because "no one has to cook or clean up" which is a major plus for a group (16 or so) like ours."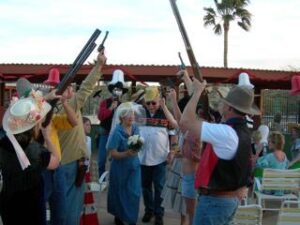 Flying E has been in operation for over 60 years and enjoys a very high guest return rate. According to Andrea Taylor, General Manager, some guests are returning for the 53rd visit and some families have been coming for over 35 years. "Our guest ranch is a perfect place for a family reunion, as our ranch is only 17 rooms, and our dining room is set up to serve meals family style. Our main activity is horseback riding and we take out two rides a day Monday through Saturday and one ride on Sunday. We offer beginning, intermediate and advance rides, all led by our great wranglers. Team Penning gives our guests the opportunity to work the cattle in the arena and experience the horse and rider connection while penning cattle. Let's not forget the ever-loved cow patty toss competition that gives the winner bragging rights and an 'I Won The Cow Patty Toss' t-shirt to wear with pride," she laughed.
Flying E offers a heated swimming pool with Jacuzzi, an exercise room with sauna, shuffleboard, horseshoe pit, lighted tennis courts, basketball and volleyball courts and miles of hiking. "We have a large barn with a dance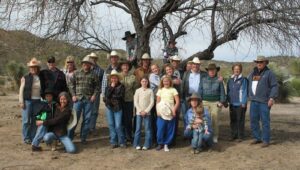 floor on the top, where we host line dancing or square dancing for larger groups," Taylor said. "Best of all are our breakfast, lunch and dinner cookouts on the desert. These are offered at different times of year, depending on weather and guests in house. What better way to plan a family reunion than to have all of these activities to enjoy, and breakfast, lunch and dinner prepared by great ranch cooks. When you come to the Flying E Ranch, all you have to do is eat, sleep, ride and relax." For the Longs' 50th anniversary, Taylor and her crew arranged a Western-style wedding with a hay ride, barn dance and cookout. Like the Longs, groups return to Flying E over and over again. "For instance, our Thanksgiving guests come from California, Illinois, Kansas and New Mexico, and look forward to seeing each other at that time of year, to catch up on children, grandchildren and life in general," Taylor explained. "These are the kinds of guests who have become our Flying E Family. We also offer our cowgirl weekend the first weekend in March, which has become a great get-together for several gals who are good friends from the St. Louis/Chicago areas. We even host a Red Hat group of ladies from the Phoenix area every April."