In reunion land we tend to think of Branson, Missouri, as a military reunion place, which it certainly is. However, I visited specifically to learn whether it is also a family reunion destination and can report with a resounding "yes, it is!" In fact, Branson is a reunion place extraordinaire.
Located nearly at the center of the US, Branson is less than a day's drive for one-third of Americans. It is nestled in the lakeside beauty of the Ozark Mountains and is an affordable, wholesome family entertainment capital that emphasizes fun, comfort and the feeling of being right at home. The community embodies essential American values such as patriotism, faith, courage and generosity of spirit in a warm, inviting atmosphere that is truly genuine and heartfelt.
Branson's whole purpose is to welcome tourists, so it's an easy place to be drawn into … quickly. I am fascinated by how an area got a little water and still maintains an oasis. Their ability to draw both entertainment and an audience is world-class.
Someone, somewhere, decided Branson was going to have a ton of shows and attractions to draw visitors to their city. They call themselves the Live Music Capital of the World, which cannot be disputed, with more than 50 theatres and over 100 shows that you can enjoy morning, afternoon and evening. If shows are your thing, and you want to see many of them, you may never see sunlight! One of the advantages of Branson shows is that many appeal to the young adults who might need an extra incentive to attend a family reunion.
But first, let's look at all the things for families to do. Dogwood Canyon Nature Park is a 2,200-acre preserve in the heart of the Ozarks, on the Missouri-Arkansas border just south of Branson. There is hiking, biking, horseback and ATV riding. Payne Stewart Golf Club is a tribute to a Missouri native and favorite son. Or try the Shepherd of the Hills Vigilante ZipRider that travels a half mile at speeds reaching 50 mph.
The Branson area is full of unexpected surprises. An example of one of the best is Bonniebrook (roseoneill.org), in nearby Walnut Shade, Missouri, the home and studio of Rose O'Neill, famous illustrator and creator of Kewpie dolls, who are 100 this year. O'Neill was a women's rights activist, wealthy entrepreneur and reputably one of the five most beautiful women in the world at her time. Her home and studio are lovingly restored, and staff and docents (especially Susan Scott) are passionate about O'Neill and her history. Add it to your program and expect to be enchanted!
The College of the Ozarks (cofo.edu), aka Hard Work U, in nearby Point Lookout, Missouri, is great place to visit, especially if your family includes young people thinking about college. Request a student guide who will show you the working mill, greenhouses, beautiful Williams Chapel, the working dairy and ice cream shop, all staffed by students working their way through school. No loans for these students, though tips for guides are always welcome. In fact, they have accommodations for reunions and for banquets!
The Branson Auto Museum (bransonmuseum.com) features more than 100 cool cars, from a 1924 Chevrolet Sedan Delivery to a 2010 Camaro SS, and at least one car for most of the years in between. The Hollywood Wax Museum (hollywoodwaxmuseum.com/branson) is the only wax museum devoted entirely to celebrity figures so faithfully recreated that you'd swear they are alive.
The Titanic (titanicbranson.com) lives on in an exhibit of that fateful voyage. Feel the spirit of the passengers in galleries of over 400 personal and private artifacts.
The Veterans Memorial Museum (veteransmemorialmuseum.com) is a national tribute to the brave men and women who defended our liberties during the 20th century and is one of my favorite military museums.
Riding the Ducks (branson.ridetheducks.com) is an essential Branson activity. Amphibious vehicles offer an exciting land and water adventure, with a splashdown in the lake.
Silver Dollar City theme park evolved around the entrance to Marvel Cave, 300 feet (600 stairs) below the surface, one of nature's great wonders. Silver Dollar City entertains families with events throughout the year. Step back in time to an 1880s craft village filled with the best crafts persons and artisans at work, thrill rides, family attractions and festivals. musical performances, street performers and Silver Dollar City's Culinary & Craft School. Silver Dollar City also is known for delectable home style meals at restaurants throughout the park.
Live shows and artisans keep everyone's attention: chip carver, potter, broom maker, candy maker, glass blowers, furniture maker, blacksmith, candle maker. All their crafts are for sale. Visit silverdollarcity.com. Group rates are available.
[columns]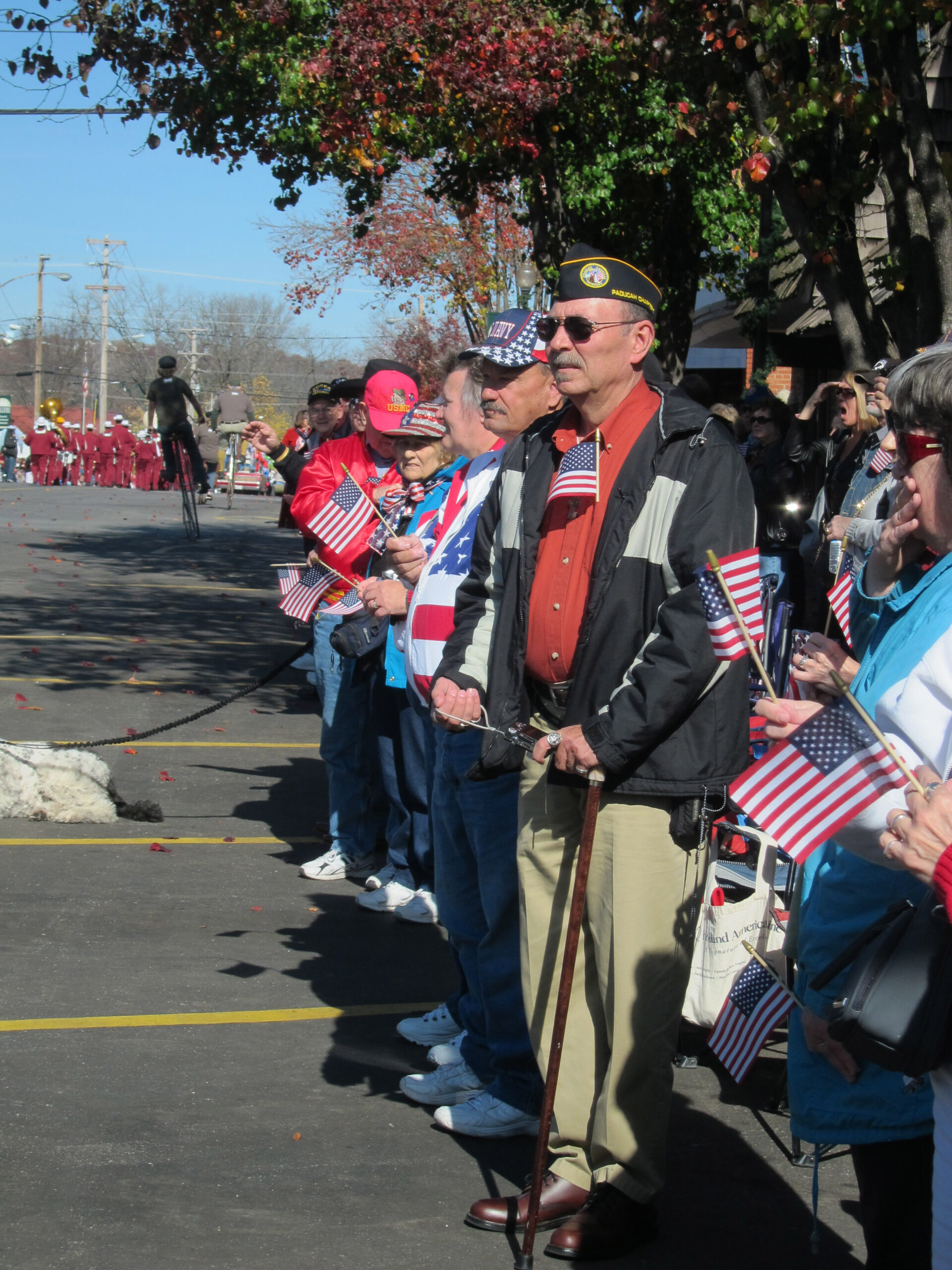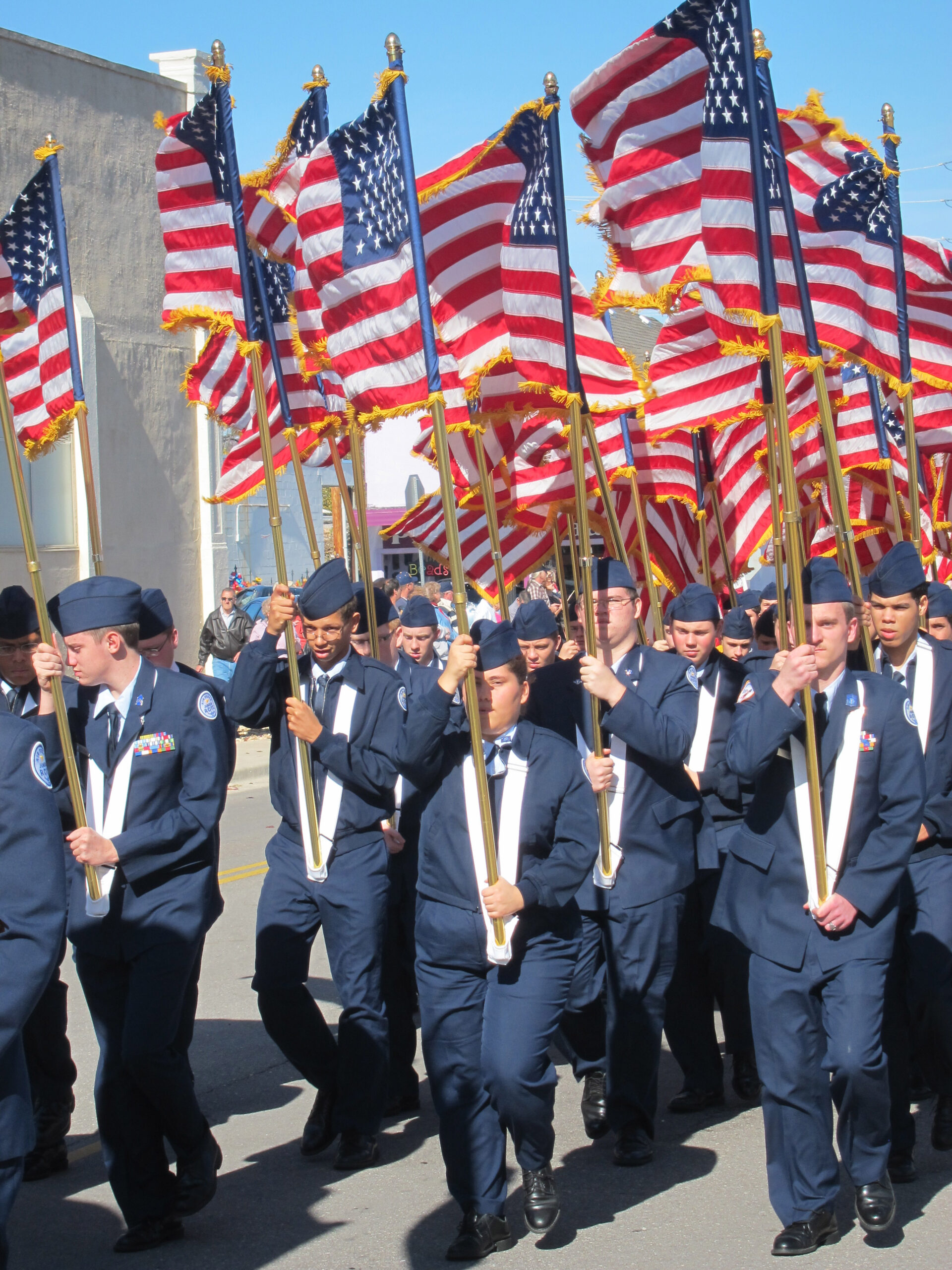 [/columns]

Branson, Missouri, may be America's most veteran-friendly town. Branson salutes veterans and active-duty armed forces year-round. If you're lucky enough to be there on Veterans Day, you'll also enjoy a spectacular parade of honor.
Shows BY families FOR families
See families like the Presleys, the Hughes Brothers, the Lennon Sisters (yes, the same ones who were a staple of the Lawrence Welk Show), the Brett Family, the Haygoods (seven brothers, one sister) and SIX (six Knudsen brothers, no instruments!), and the Mabe family Baldknobbers, who have been entertaining for over 50 years. In fact, the Baldknobbers original costumes and instruments were accepted into the Smithsonian Institution's National Museum of American History's permanent collection.
But those are just the performing families; what about the other shows? Many are must-sees for the whole family, and at top of that list is Dolly Parton's Dixie Stampede Dinner Attraction. But, be forewarned, a delicious four-course dinner extravaganza is all eaten with your fingers; no forks!
Sight & Sound Theatres offers original productions of Bible stories. The Beijing Circus and The Legend of Kung Fu wows audiences with traditional martial arts skills, aerial ballet, dance and music. Its cast of 65 performers makes it is one of the largest theatrical productions in Branson.
Shoji Tabuchi, Jim Stafford, Andy Williams, Chubby Checker still doing "The Twist" and Legends in Concert at Dick Clark's American Bandstand Theater just scratch the surface of show choices in Branson.
The Hiltons of Branson
www.hiltonsofbranson.com
Hilton Branson Convention Center
200 East Main Street
Branson, MO 65616
417-336-5400 (phone)
The Hilton of Branson adjoins the new Branson Convention Center, and is in the heart of Historic Downtown on Lake Taneycomo, just minutes from theatres, outlet malls, golf courses, Table Rock Lake, Silver Dollar City and numerous attractions.
Eating is good in Branson
The Hilton of Branson's Level 2 Steakhouse is exceptional, with specialties of aged corn-fed midwest beef, heritage Missouri pork, locally grown produce and signature desserts.
Andy Williams' Moon River Grill includes many recipes from Andy's mother's own cookbook. The chicken pot pie is a special feature (yum).
Plan a meal at The Keeter Center at The College of The Ozarks. The culinary staff of students at Dobyns Dining Room offer something for every taste.
The Showboat Branson Belle plies the crystal clear waters of Table Rock Lake during a two-hour early evening dinner cruise, which includes an excellent dinner and the best in Branson shows.
Your starting point for all things Branson!
Branson/Lakes Area Chamber of Commerce and CVB
Visit www.ExploreBranson.com or call 800-296-0463.
About the author
Edith Wagner is editor of Reunions magazine.