by Roberta McLoud, Reunions magazine sales associate
In early November I was the guest of the Southern Nevada Regional Office of the Las Vegas Convention and Visitors Bureau in Laughlin, Nevada. I looked forward to being in the sunshine and learning what Laughlin had to offer reunion planners. I went with the misconception that Laughlin would be perfect just for military and class reunions. Laughlin does honor, support and respect military families but there are endless activities for family and friend reunions as well.
Known for its gaming and water recreation, Laughlin, Nevada, is a perfect reunion destination. Laughlin is much more than casinos. Laughlin has a small town feel in an uptown location. There are so many things for reunion members to see and do. Outdoor enthusiasts will love all the beautiful natural spots Laughlin has to offer. History buffs will enjoy many sightseeing spots.
If you fly to Laughlin it is an easy 90-minute drive from the McCarran Airport in Las Vegas where many car rental agencies are easily accessible.
Prefer to let someone do the driving? There are ground shuttle companies happy to assist in getting you to Laughlin. For each shuttle company reservations are required.
Mills Tours

928-763-0022
877-454-3734

Aloha Airport Express
Tri-State Shuttle

928-704-9000
800-801-8687
I used Mills Tours. Drivers were prompt, courteous and the ride was comfortable.
Note: There are also special inclusive charter flights to Laughlin from many US cities announced about 3 months in advance. The Riverside and Harrah's Casinos sponsor them. For more information visit the hotel's websites. www.riversideresort.com or https://www.caesars.com/harrahs-laughlin
Complimentary Package when you Book your reunion with Visit Laughlin
Planners who book their reunion at https://www.visitlaughlin.com/ will receive the following rewards and incentives.
Up to a $150 credit at your Extended Destinations host hotel toward your VIP room upgrade, hospitality room rental, or hotel catering during your reunion for reunions booked by June 30, 2020.
Complimentary assistance submitting your Request for Proposal (RFP) and throughout the booking process.
Complimentary destination site inspections and FAM tours for reunion planner (max 2 ppl)
Complimentary fun books and show guides
Complimentary registration bags for reunion attendees
Contact list of local service providers and local media
Complimentary promotional materials, including content and images for reunion newsletters and website
Custom-designed itineraries for your reunion and suggested spouse programs
Complimentary color guard
Guest speaker assistance
Complimentary badge holder for all attendees (while supplies last)
Contact the Southern Nevada Regional Office/LVCVA at 877-685-2845; ask for Meg or Cherie to start your planning process today, Go to visitlaughlin.com/meetings-groups/ and enter promo code MRFO20 to qualify for all the inclusions.
Military reunions in Laughlin
Laughlin honors, respects and celebrates veterans every day. Examples of ways military groups can feel this respect include R.E.D. Fridays (Remember Everyone Deployed until they come home). Casino employees, residents and visitors don red t-shirts supporting the troops. The American Legion post is very committed to support military families, veterans, those currently enlisted and the community at large. Laughlin is ready to host your military reunion.
As you are planning your reunion make sure you contact the Richard Springston American Legion Post #60. The post has a bar with gaming, full kitchen, and a dining/meeting hall. Space can be reserved for reunions. The post is open 24/7 and assists Veterans and anyone in the community through donations, food, clothing or other needs. I met Pamela Walker, Commander of the Post and recipient of the Spirit of Nevada 2019 Award. She is passionate about all she does at the post and is ready to help you schedule reunion events. American Legion Post #60, 1510 Bruce Woodbury Drive, Laughlin NV 89029, 702-299-1510; www.post60laughlin.com. Contact Pamela Walker at 501-326-1959, [email protected]
Family reunions in Laughlin
Laughlin has many activities for families both in hotel casinos and in the surrounding area. You will see family groups wherever you go in Laughlin and surrounding communities.
Reunion activities out and about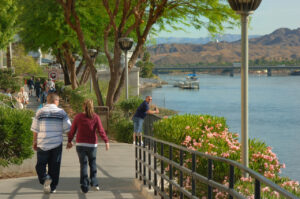 Laughlin River Walk
Laughlin is a very safe and walkable city. Make sure to spend some time on the Laughlin River Walk. It's a great way to get from one casino to others. Benches invite you to sit and enjoy the scenery, watch the boats go by and listen to live music from casinos. Don't feel like walking? Catch the River Passage Water Taxi to get to the casinos as well. riverpassagewatertaxi.com/ride_the_water_taxi
Laughlin River Tours
Laughlin River Tours offers a river experience with a 90-minute narrated scenic tour on the 112-passenger Celebration Steam Boat. Charter special tours. Reservations call 702-298-1047 or 800-228-9825; https://laughlinrivertours.com/
Don Laughlin's Classic Car Collection
Classic Cars your thing? Don Laughlin's Classic Car Collection features over 80 of the world's most gorgeous, distinctive, well-kept autos in Don Laughlin's Riverside Casino and Resort. Free. 1650 S Casino Drive, Laughlin, NV 89029 800-227-3849; riversideresort.com/don-laughlins-classic-car-museum/
Laughlin Ranch Golf Club
Laughlin Ranch Golf Club is a true oasis in the desert ready to pamper you. Experience a first-class golf, dining and spa experience in a beautiful desert location. Plan a reunion golf outing, reserve the spa for you and your reunion members, enjoy handcrafted food and handcrafted cocktails at The Ranch Bar & Grill. For golf contact Kevin White, Head Golf Professional, 928-754-1403, [email protected]. Spa can be reserved for groups. Contact Shauna Keener, Events Sales Manager, 928-404-6006; [email protected] 1360 William Hardy Dr. Bullhead City, AZ 86429 866-684-4653 www.laughlinranch.com
London Bridge Jet Boat Tours
London Bridge Jet Boat Tours Travel 58 miles of the Colorado River from Laughlin to Lake Havasu, Arizona. See breathtaking desert views, mountains and wildlife. I was pleasantly surprised to see the desert and arid mountains against the backdrop of the river, beautiful! This is an all day trip. You will be on the jet boat a total of 4 hours. Spend an enjoyable 2-hour layover at the famous London Bridge in Lake Havasu City, yes Lake Havasu had a portion of the London Bridge installed in their lakeside city in the 1960s. While at Lake Havasu plan to dine, shop and sightsee. Reservations required for London Bridge Jet Boat Tours 888-505-3545. https://laughlinboattours.com/
Harrah's Casino and Edgewater Casino
Boats leave from Harrah's Casino and Edgewater Casino daily at 9:30 a.m.
Shugrue's Restaurant and Brewery
While in Lake Havasu City, I ate at Shugrue's Restaurant and Brewery overlooking the London Bridge and Bridgewater channel. Make sure you order some of their wonderful baked goods, baked on site. Shugrue's is at 1425 N McCulloch Blvd, Lake Havasu, AZ 86403, 928-453-1400, shugrueslakehavasu.com.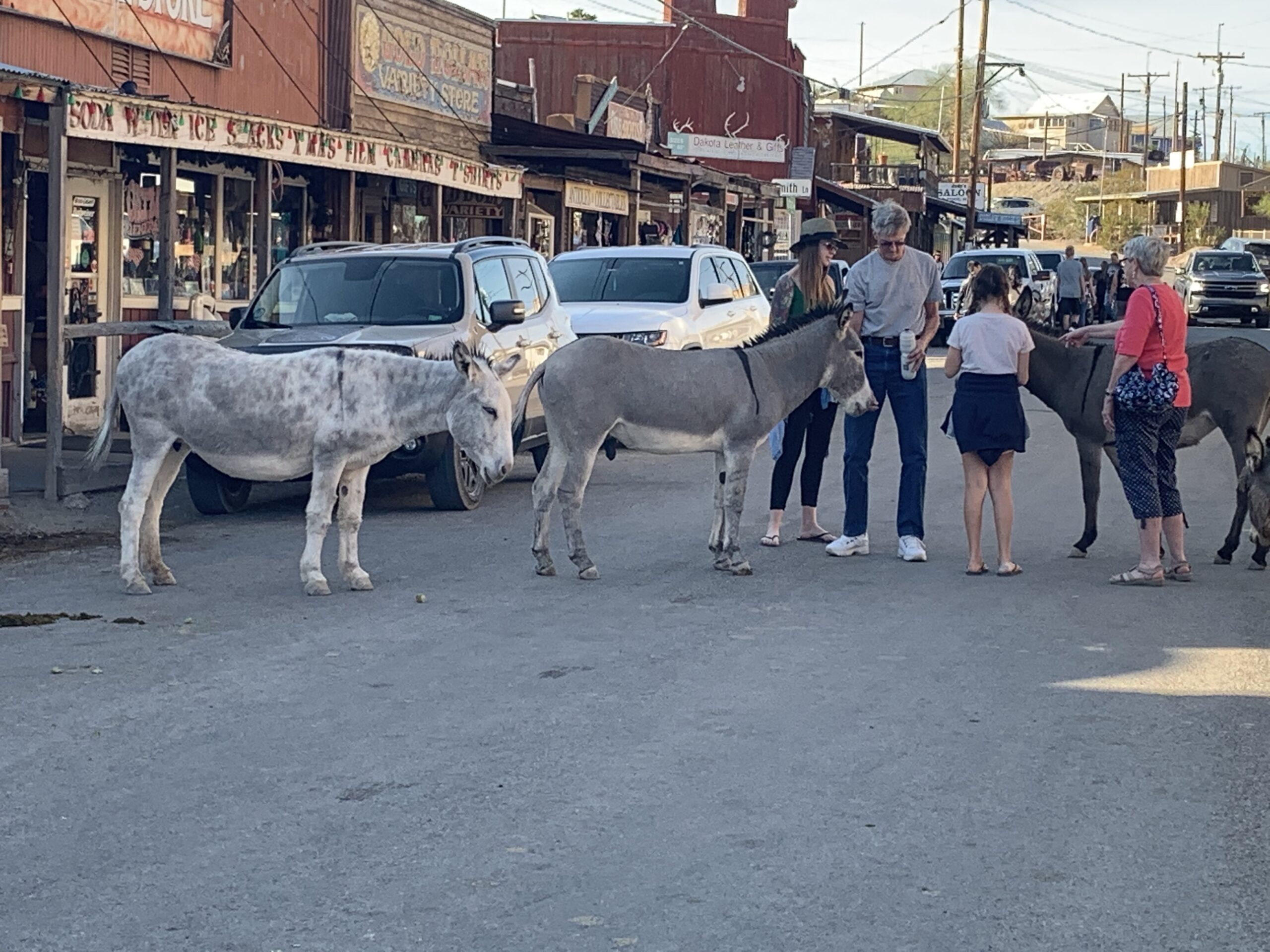 Oatman, Arizona
Oatman, Arizona, walk through America's Old West History and meet the donkeys. This 1906 tent camp flourished and thrived as a gold mining center until 1942. Residents take pride in keeping the town as authentic as possible, giving visitors a look back into history and showing the Wild West as it really was. Residents have adopted a herd of wild donkeys that are anything but wild. Buy a bag of donkey chow ($1) to feed the donkeys, who have the right of way on the main street. Located on historic Route 66, this family-friendly town features shops, restaurants, staged gunfights and wild burros. Oatman is about 30 minutes from Laughlin by car.
Laughlin Tours
Laughlin Tours offers Oatman Combo Tour to Oatman, RT 66 Visitor Center & Museum & Black Mountains Scenic Drive. Fall and winter tours; no summer tours. Laughlin Tours, 702-420-5345, LaughlinTours.com
UTVs Oui Experience
I also explored the desert in UTVs Oui Experience. See the wonders of the desert at the adrenaline level you desire. Owners Jake and Ani take good care of you. All tours are private. Choose from whole day of you driving a UTV or the Full House Experience 3 hours of you driving. Looking for something to do with children? Pirate Adventure, created especially for children it's a pirate treasure hunt in the middle of the desert. Solve the challenges and find the treasure. OUI Experience, 763-218-8422, [email protected]; https://www.ouiexperience.com/
Colorado River Museum
Colorado River Museum Discover more about the Colorado River, the surrounding area and its history. Visit 1947 one room Lil' Red School House. Open September-June. Knowledgeable volunteers staff this museum and are ready to tell a story, answer your questions and speak about the history of the area. 1239 Highway 95, Bullhead City, AZ 928-754-3399, coloradoriverhistoricalsociety.org.
Lodging and Dining in Laughlin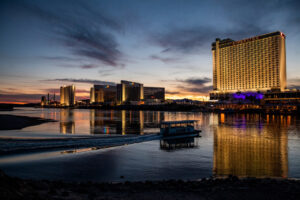 With 12 casinos in Laughlin, all along the river walk, your lodging choices are endless.
Don Laughlin's Riverside Resort
Laughlin's first casino, Don Laughlin's Riverside Resort welcomes groups and families. Be sure to ask about the history of this casino. 1,404 hotel & executive rooms, over 14,000 feet of meeting and banquet space, Nevada style gaming, bingo, 7 restaurants, 2 nightclubs, 34-lane bowling center, USS Riverside Tour Boat, Classic Car Collections, Video Arcades, Laser Tag, Movie Theater, Spa, Fitness Center, 2 pools (one for adults and one for families), 740 space RV Park and supervised children's play area. The meeting rooms and banquet hall were my favorite, large windows look out over the beautiful Colorado River. Dine at the Prime Rib Room, Prime rib carved at your table. Don Laughlin's Riverside Resort, 1650 South Casino Drive, Laughlin, NV, 89029 702-298-2535, 800-227-3849, Riversideresort.com.
Harrah's Laughlin Riverfront and Private Beach Resort
Harrah's Laughlin Riverfront and Private Beach Resort is a family, group friendly casino and hotel. 1,500 rooms, 170 suites, 7,000 feet of meeting and banquet space, Nevada style gaming, 9 restaurants, 2 outdoor swimming pools, 72 space RV park, arcade, salon & day spa, health club and shopping. Families will appreciate the family tower with family pool, arcade and food court. There are picnic tables and small watercraft rentals. Harrah's Laughlin Riverfront and Private Beach Resort, 2900 S Casino Drive, Laughlin, NV 89029, 702-298-6855, 800-342-7724, https://www.caesars.com/harrahs-laughlin.
Aquarius Casino Resort
Aquarius Casino Resort has 1,907 rooms, 95 one and two bedroom suites, food and lodging specials, 9 restaurants, Specialty buffets are served on the weekends, 30,000 square feet of meeting space including 6 meeting rooms and a 20,000 square foot pavilion, Splash Bar for group functions and private parties, Nevada style gaming, resort pool with family and adult only hours, fitness center, special rates for groups, contact group sales at 800-292-3711. 1900 S Casino Drive, Laughlin, NV, 702-298-5111.
Laughlin River Lodge Hotel & Casino
Laughlin River Lodge Hotel & Casino, 24-hour gaming, food and spirits, 720 guest rooms, 5 themed 2 bedroom, 2 bath family suites, 7 restaurants, Nevada style gaming, outdoor pool with adult only hours and family hours fitness center, Strike Bowl with bowling, kids play area, scrabble, shuffle board, ice cream & good eats, arcade, Gamers PC Alley and a Beach open sunrise to sunset. The Bighorn Café is family friendly, has live music on the weekends and delicious entrees. 2700 S Casino Drive, Laughlin, NV 89029, 702-298-2242; laughlinriverlodge.com.
Tropicana Laughlin
Tropicana Laughlin caters to the adult traveler with an all-adult tower, 1,500 newly renovated rooms, 11,250 square feet of meeting space with the Pavilion Theater and 3 meeting rooms, Nevada style casinos, 5 award winning restaurants, Victory Plaza, a picnic style block party venue featuring down-home BBQ cooking, outdoor pool, live entertainment and a night club. Group rates available, 800-782-9946. 2121 Casino Drive Laughlin, NV 89029; 702-298-4200; Troplaughlin.com.
Pioneer Hotel & Gambling Hall
Old West charm, new west excitement. Contact Jesse, Banquet and wedding coordinator, 702-298-2970; [email protected]
Bumbleberry Flats
Dine at Bumbleberry Flats, southern comfort food and beer taps at your table. 800-634-3469; 2200 S Casino Dr, Laughlin, NV 89029; 702-298-2442 LaughlinPioneer.com; laughlinpioneer.com/restaurant.php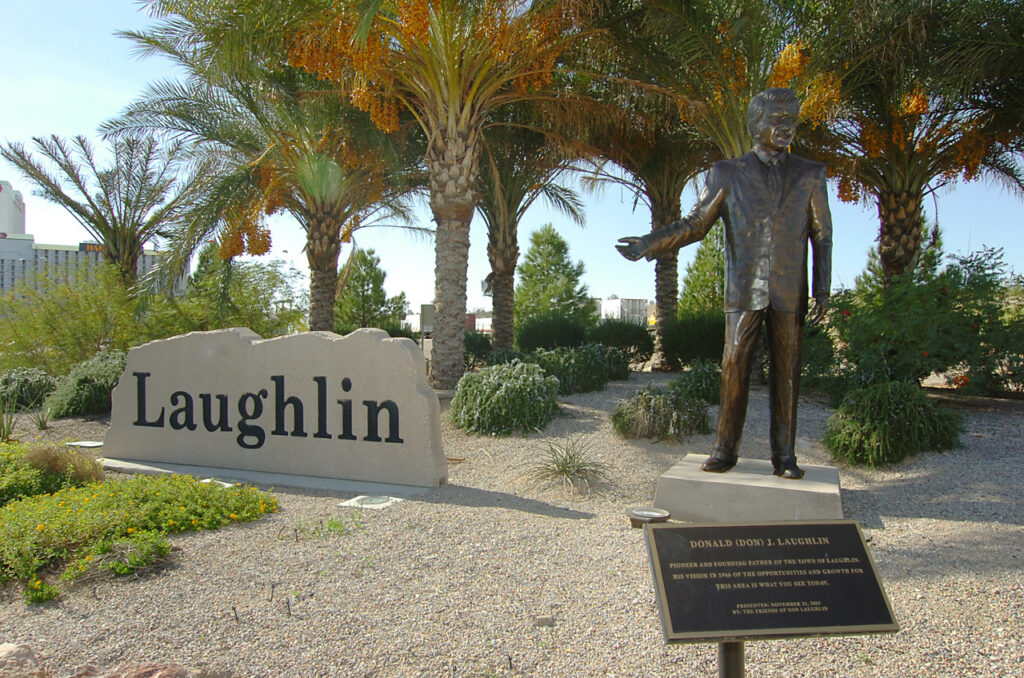 Laughlin NV will surprise you with all it has to offer reunions.
For even more information go to www.visitlaughlin.com
1555 S Casino Drive Laughlin, NV 89029
702-298-3321