The following is a kudo from Tony West for the USS Decatur Association.
Subject: Well Done, John Baker…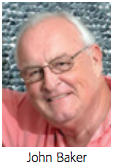 Bravo Zulu to John Baker. He fronted the recent Alaskan reunion cruise for our USS Decatur Association. He continuously stepped up for us and went over and above many times. Every time we had a problem, John responded to it and rectified all situations. He lined up all the "puzzle pieces" and brought them all to convergence, creating a very positive experience for all my sailors. John is personable and charismatic. He is a perfect fit to interact with Navy groups. Pelle Fredriksson, Captain of the Norwegian Jewel, was made an honorary association member. He spent a lot of time with us answering our questions. That event was a great experience for all my sailors and should be standard operating procedure for all Navy reunion cruises. I'll proactively post this message to other reunion forums and hope it will generate business for Holiday Cruises & Tours, and that groups will "by-name" request John Baker as their lead. Thanks, Tony West, USS Decatur Association
Contact John Baker of Holiday Cruises and Tours at [email protected].