Branson Honors Military Personnel Past and Present With a Weeklong Celebration
Branson, Missouri – Branson salutes veterans and active-duty members of the armed forces every day of the year, but the entire month of November is especially dedicated to celebrating the service, commitment and ultimate sacrifice made by military personnel past and present. Veterans and active-duty personnel from all branches of the military and from all wars, conflicts and peacetime service are always appreciated in Branson; throughout November, though, they'll be specially honored with extra-VIP treatment.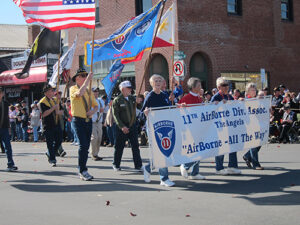 This year, the annual Branson Veterans' Homecoming celebration takes place from November 5 through November 11. Tens of thousands of veterans, their friends and family members arrive in Branson each November for a week of camaraderie. During Homecoming week, Branson is filled with commemorative events, tribute shows, military reunions and more. The celebration culminates in a big Veterans Day Parade, which is held in historic downtown Branson … always beginning at the eleventh minute after the eleventh hour on the eleventh day of the eleventh month.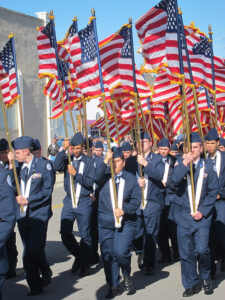 The town-wide commitment to honoring veterans is something Branson's tourism community holds dear, and area attractions, restaurants, museums and other businesses have become famous for showing their gratitude in a variety of ways. No matter what time of year, most of the town's signature shows recognize veterans, military personnel and their families with special patriotic numbers, acknowledgment and applause from the audience. All year round – but especially in November – visitors will see military personnel and veterans vacationing here with their families, and they're always greeted by salutes, handshakes and calls of, "Thank you for your service."
It should come as no surprise that this town pays tributes to veterans, as so many of its tourism-related businesses – shows, attractions, restaurants, hotels and more – are owned or operated by military families who know just how good it feels to be appreciated.
Here's a sampling of this year's Veterans' Week events:
Shindigs Welcome Home, November 5: A free welcome-home celebration for all veterans at the Jim Stafford Theatre.
Military Film Festival, November 6-9: The Branson IMAX Entertainment Complex will host a military film festival with free admission for veterans and $5 for the general public. Seating will begin at 8 a.m. each morning, with the film showing at 8:30 a.m.
WWII Veterans Honored, November 6: The Branson Veterans Task Force will honor World War II veterans in the Dayroom at Veterans Village.
Navy Memorial Service, November 8 at 9 a.m.: The memorial service takes place at the Grand Pavilion at Westgate Branson Woods Resort, with coffee and entertainment beginning at 8:30 a.m.
Korean War Veterans Honored, November 8 in the Dayroom at Veterans Village.
Tree Lighting, November 8: The fifth annual Spirit of Branson Tree Lighting Ceremony takes place at 5 p.m. at Westgate Branson Woods Resort.
Military Gala and Banquet, November 10: The 22nd annual Military Gala & Banquet takes place at Chateau on the Lake with dinner, dancing, fireworks, and USMC birthday cake ($55 per person, reservations required).
Veterans Day Parade, November 11: The annual Veterans Day Parade takes place in downtown Branson, starting at 11:11 a.m.
To see the full event lineup for this year's Homecoming celebration, for more information or to start planning your visit to the area, please visit www.explorebranson.com/veterans.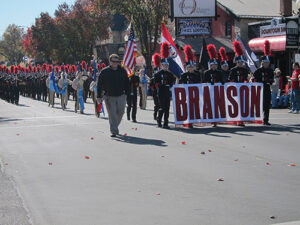 About Branson, Missouri
Branson is a one-of-a-kind family vacation destination nestled in the lakeside beauty of the Ozark Mountains with dozens of live performance theaters; three pristine lakes; championship golf courses; an international award-winning theme park; family attractions and museums; a Historic Downtown district; shopping galore; a full range of dining options; and a host of hotels, motels, resorts, RV parks, campgrounds, and meeting and convention facilities. Branson is located less than one day's drive for a third of the United States' population. It's also accessible via flights to the Branson Airport (BKG) and nearby Springfield-Branson National Airport (SGF). Call 1-877-BRANSON for help planning your next vacation, convention or reunion. See more at http://www.explorebranson.com