Water, whether ocean, lake or chlorinated pool, is practically a prerequisite for a successful reunion, especially for families. Families used to be content with an on-site pool that had (maybe) a diving board at the deep end or at the very least, some kind of hole in the ground with water. The Wisconsin Dells area super-sized the hotel pool and transformed it into a waterpark — more of a theme park than a mere swim and the Dells isn't about to hand over its crown as the nation's waterpark capital.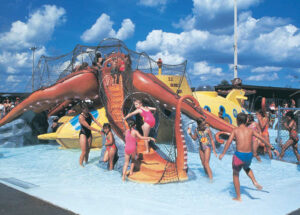 The 18-square mile Midwest vacation hot spot boasts Noah's Ark, America's largest waterpark, spanning 70 acres; Kalahari Resort and Convention Center, the largest indoor waterpark in the nation; and the country's largest waterpark resort, Family Land and Bay of Dreams at Treasure Island Waterpark Resort. And those are only the biggest ones. Wilderness Hotel and Golf Resort's indoor and outdoor waterpark space combined equals six football fields. Great Wolf offers 70,000 sq. ft. of waterpark plus a 20,000 sq. ft.
indoor dry interactive play area. With the addition and expansion of many indoor waterpark facilities, visitors keep coming even in off-peak months (September to April) as well as summer. Wisconsin Dells snags the title for most indoor waterparks on the planet with 17.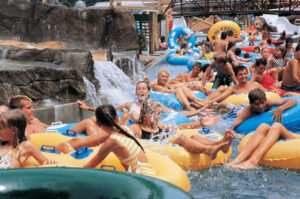 With close to 8,000 guest rooms, the Wisconsin Dells Visitors & Convention Bureau offers much to reunion groups. The Kalahari Resort and Convention Center has it all: the nation's largest indoor waterpark, fitness center, huge arcade for kids, a ten-screen cinema, restaurants, day spa and 12 room styles plus three Royal Presidential Suites. All 378 African-inspired guest rooms and suites feature a sizeable list of complimentary amenities such as microwave, refrigerator, tables and chairs and coffeemakers. The Kalahari's Convention Center accommodates large and small meetings, parties and banquets in its more than 45,000 sq. ft. of flexible meeting space. The indoor waterpark can entertain up to 4,000 guests year-round with America's longest indoor lazy river, family raft rides, an uphill water roller coaster, a kid's play area, five whirlpool spas, wave pool and an adult only current channel and lap pool. Contact Kalahari at 877-253-5466; www.kalahariresort.com
If your group prefers a more pastoral experience, consider a traffic secluded resort. Then, purchase day passes to waterparks at Kalahari, Bay of Dreams, Family Land, Riverview Park and Waterworld or the big daddy of waterparks — Noah's Ark. "America's Largest Waterpark" celebrated 25 years of water fun in 2003. The World Waterpark Association crowns Noah's Ark the largest because of the number of water activities it offers. Noah's Ark, open 100 days a year, adds a new ride a year or so to maintain its title. Contact 608-254-6351 or swim over to www.noahsarkwaterpark.com. Noah's Ark is owned by, believe it, the Waterman family!
Many families gather at Baker's Sunset Bay Resort and sample Dells' waterparks and other attractions. Located on five wooded acres overlooking gentle Lake Delton, the family-owned resort features the largest beach on the lake, free rowboats for an afternoon of fishing, volleyball, horseshoes, ping pong and more. Spend some time poolside or rent a pontoon boat for cruising Lake Delton. Cottages, suites and spacious family rooms come with air conditioning, heat and cable-color TV. Most have fully equipped kitchens and private balconies. A meeting room with a full kitchen is also available for reunions.
Jack and Dona Albee, Wauwatosa, Wisconsin, spent quite a bit of time on the internet visiting the Dells to look for the best place to spend their weekend reunion. "We finally arrived at Sunset Resort and found it met all our desires. It was a nice, family oriented place away from the Dells' usual glitter with a beach that has seashells in the very early morning before they are scooped up, a good size indoor pool for inclement weather, barbecue grills everywhere, lots of sand and green areas as well," Mr. Albee explained. For a special evening of brats and beverages, the 35 of us had a large grassy area with a couple picnic tables and grills. The brats, potato salad and condiments were ordered from a local market Sunset Resort recommended." Albee family members traveled from California, Arizona, Montana, Colorado and Texas to meet in the Dells. "In the evening after the sun went down, Sunset Resort lit its bonfire," Albee said. "It is actually a pit where they put dry logs surrounded by a deck and benches all around — a great place to relax, tell a few stories and have a Dells' good time." Some members did some rock climbing at nearby Devils Lake while others went to the Circus Museum at Baraboo. Nearly everyone took in a tour of Wisconsin Dells Glacial Park and the Lower Dells region of the Wisconsin River aboard the Dells Army Ducks – those amphibious vehicles that tour via land and water. Contact Baker's Sunset Bay Resort at 800-435-6515; www.sunsetbayresort.com.
Secluded on 12 scenic, wooded acres, only eight blocks from the center of the Dells downtown area, Meadowbrook Resort hosts over 100 family reunions every year. It offers two and three-bedroom cabins with kitchens and fireplaces, a meeting room with full kitchen and seating for up to 100 people (with the option of expanding to accommodate 200), an outdoor patio, perfect for a barbecue and sing-a-long and a covered grand gazebo ideal for an outdoor function. The resort has an indoor swimming pool and themed slides, a zero-depth pool with an attached parent whirlpool and water play and spray features. One large family, with children, parents, and grandparents scattered across the country and overseas, had been unable to spend Christmas together for some years. They found Meadowbrook's peaceful setting an ideal place to bring their gifts, decorate the tree and celebrate Christmas — in July. Call for special Group Rates at 877-993-3557.
For help with your reunion in Wisconsin Dells, call the Convention & Visitors Bureau at 800-223-3557 or visit to www.wisdells.com.
More waterparks
Just south of Traverse City, Michigan, Great Wolf Lodge, a sister of the Dells property, boasts Michigan's largest indoor waterpark at 38,000 square feet. There are eight waterslides, five pools, two whirlpools and a $1 million interactive Treehouse Water Fort. The kids can chlorinate to their heart's content and the whole family will have the beaches, cherries, lighthouses and golf of northern Michigan. Call 866-478-9653 or slide over to www.greatwolflodge.com.
Paradise Landing, smack dab in the Hilton Milwaukee City Center, offers seven waterslides, a Sharkless Lagoon and a Kiddy Pool that's ideal for toddlers. Guests of the Hilton Milwaukee City Center also enjoy special discounts at Milwaukee area attractions such as Discovery World Museum, IMAX, Betty Brinn Children's Museum and more. Milwaukee has incredible summer festivals, a first-rate art museum and professional baseball and basketball. Call 877-543-7785 or take a virtual tour of the indoor park at www.paradiselanding.com.
Stay at The Grand Harbor Resort and Waterpark on the Mississippi River at The Port of Dubuque, home of Iowa's first themed indoor waterpark. The resort is an integral part of "America's river" featuring the Mississippi River Discovery Center and Aquarium, National Rivers Hall of Fame, Mississippi Riverwalk, Star Brewery Amphitheater and the River's Edge Plaza. There are 194 guest rooms with 31 spacious suites with magnificent views of either the city or the Mississippi River. Every room includes a mini-refrigerator, microwave, coffee maker, hair dryer, and more convenient amenities for families. The Waterpark, 25,000 square feet indoors, features the Huck Finn II with waterslide, water cannons, squirt guns, a lazy river, pools, two giant whirlpools, a giant bucket that dumps nearly 800 gallons of water every 15 minutes, and many family-oriented aquatic activities. Call 866-690-4006 for more information.
Combine serial shopping at the Mall of America with a visit to The Wild Mountain Water Park, Alpine Slides & Go-Karts near Taylors Falls, Minnesota, (www.wildmountain.com). Less than an hour's drive from the Twin Cities, the outdoor park offers Big Country, an inner tube adventure floating you from pond to pond through nine connecting chutes; the Black Hole, a speed slide sending you hurtling under-ground and spitting you out with a splash; a fully enclosed hydro tube for a tunnel of wet and wild fun; an open flume waterslide with plenty of speed and curves; a lazy river ride and a kiddie park. Particularly beneficial to families, tickets are available for unlimited access to everything in the park or for single rides and you are welcome to bring in a picnic lunch. In addition, ride the German-made Alpine Slides stretching 1,700 feet from the top of the mountain, with a gorgeous view of the St. Croix River Valley, to the bottom of the hill. Call 800-447-4958 for more information.
About the author
Journalist/Editor Jacky Runice has penned a weekly travel column for Chicago's Daily Herald since 1994 and writes about travel and dining for USAToday.com; CBS Local Chicago; and Examiner.com. She expands her repertoire at Kane, Lake and McHenry County (IL) Magazines with articles about everything from healthy living to technology. A former Chicago radio talk show host, Jacky has three grown children who have inherited her love of sampling new cultures, countries and cuisine.