Since we all know family life is like a roller coaster ride with its ups, downs, sudden turns and heads bumping together, why not go with the flow and consider a family reunion around a theme park vacation? Planning a reunion is no trip to Hollywood, but with the help of theme park group planners, it could be a trip to Dollywood … or Disney or Cedar Point or Universal Studios Escape.
Okay, okay. I know you're thinking: "our clan consists of more than hormonal high schoolers and squirts who want to test the newest death ride at NauseaWorld." Today's theme parks offer music, magic and animal shows, breathtaking stunt programs, colorful parades, picnic areas, fine dining and yes, plenty of rides that will make you look like your driver's license picture.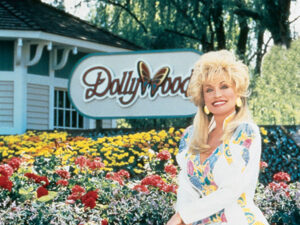 Eastern Tennessee's Dollywood boasts location, location, location. It's surrounded by the nation's most visited Great Smoky Mountains National Park. Toddlers to grannies can wander through the new Dreamland Forest, a colossal treehouse featuring interactive games and gizmos. Daredevils should head to the Tennessee Tornado, a roller coaster with spectacular views of the Smokies prior to a plunge right through a mountain! Dollywood celebrates its unique Southern culture with traditional crafts and foods. You can't get ham and greens with a side of hot cornbread in any little ole theme park, now can you?
Rickie Reese, the oldest of six brothers and sisters, has the formidable job of planning her yearly family reunion (20 children and 17 adults) and Dollywood was their 1999 choice. "We wanted to do something kids would enjoy," she explained, "and at a theme park, it's easy for kids to get to know each other." The group's senior citizens took in a lot of 3-D movies, browsed the country craft market and some even did rides. Four children celebrated birthdays with a festive pool party at the hotel. There are over 25,000 overnight accommodations and 2,500 campsites available in nearby Sevierville, Gatlinburg, Pigeon Forge, and Townsend, Tennessee, plus over 1,700 campsites and lodging in the Great Smoky Mountains National Park. How well did the Reese family take to a theme park reunion? You'll find them at Kentucky Kingdom this year.
Dollywood hosts visitors from April through December. The park offers groups of 20 or more a discount rate that saves $6 on general adult admission and $5 off general child admission. You receive one complimentary admission for every 20 paid admissions if you make your group reservation at least 14 days in advance. Group dining for all meals is available if the group has at least 40 people. Contact 865-428-9488.
Families have been making the annual trek to Ohio's Cedar Point for about 130 years. Last year, Cedar Point chalked up at least nine awards including Best Amusement Park in the World by Amusement Today newspaper. Its 14 roller coasters, more than anywhere on the planet, garnered raves from ride enthusiasts worldwide. Not bad for a place that began as a simple bathhouse renting wool bathing suits on Lake Erie Beach.
Although the record-breaking coasters are a magnet for thrill seekers, the 364 acre site on a peninsula of Lake Erie offers 68 rides, an 18-acre water park, a go-kart speedway, two 18 hole mini-golf courses, live stage shows, Camp Snoopy, a family playland and sand beaches for some gentle castle-building.
The Brian Rockhold family, West Mansfield, Ohio, has visited 40 parks around the nation and crowns Cedar Point as king in friendly service. "Cedar Point is a beautiful place, with scenery and the beach and you get a homey feeling there you don't get at a lot of parks. It's like going back to the old amusement parks – the people who work there go out of their way to be nice and helpful," he explained. The Rockhold family have returned to the Sandusky, Ohio, park/resort for seven years and usually stay in the Camper Village RV Campground.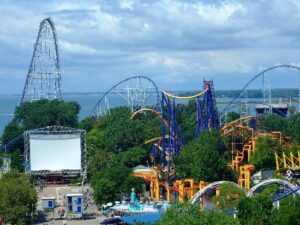 Every year since 1967, Barb Sanch's ring of family and friends meet in June for a Cedar Point reunion. About 20 trailers in the RV Village belong to the group. The largest reunion was 106 adults and children, the smallest an impressive 85! What compels them to return year after year? "It's very clean, safe and they're very good to us," remarked Sanch. "Reservationists try to keep us close together and everyone is very accommodating. I just love it!" The Brighton, Michigan, matriarch has as much fun watching her 13 grandchildren run from ride to ride as her own kids did many years ago. Although Sanch and her husband aren't much for coasters, they manage to see nearly every show. "Our reunion is Wednesday to Sunday and Saturday is our big day together," she explained. "We put our picnic tables together and make a potluck. Everyone enjoys it from my 84-year-old aunt to our four year old grandchild – who started coming to Cedar Point when she was three weeks old!" Contact 419-627-2350, cedarpoint.com.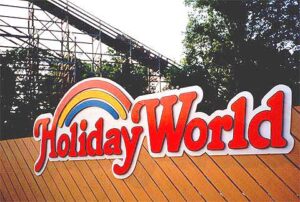 How can you lose with a theme park called Holiday World in Santa Claus, Indiana? Reunions are the real winners at the southern Indiana amusement park, Splashin' Safari Waterpark and RV/Camping Park. If there are at least 15 in your group, take advantage of reduced ticket prices ($17.50 per person, reg. $26.95) and free unlimited soft drinks. The park provides posters and brochures to send to your family; the reunion organizer receives tickets, printed agendas and in-park discount coupons for your 10% deposit. Ask about a catered meal in a private pavillion with an appearance by Holidog. Lake Rudolph Campground & RV Resort, adjacent to Holiday World, rents RVs and cabins, and has access to mini-golf, paddle boats and swimming pools. Other nearby attractions are the Lincoln Boyhood National Memorial, Marengo Cave and a wonderfully nutty museum called "Dr. Ted's Musical Marvels." Contact 800-GO-SANTA, www.holidayworld.com.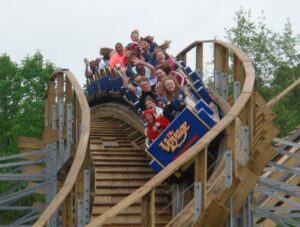 San Antonio, Texas, is the eighth largest city in the US, and about halfway between the East and West coasts, a perfect meeting place for reunions. There's SeaWorld San Antonio, and Six Flags Fiesta Texas plus museums, culture and sports of big city life as well as the deep history and characteristic pride of Texas.
Since reunions are all about memories, everyone will want to visit the Alamo, a shrine to heroism right in the middle of downtown San Antonio. Consider taking younger kids to Texas Adventure, a multi-media story with holographic visions of Daniel Boone explaining Texas independence. It's right across the street from the Alamo. History buffs will want to visit Spanish missions that form the San Antonio Missions National Historical Park, a short drive from downtown. Young varmints can get a taste of history through playful exhibits at the San Antonio Children's Museum. Take teenagers to stroll the galleries and shops along the cobblestone streets of La Villita Historic District. A Mariachi band might be on hand when the niños choose their favorite piñata at Market Square. San Antonio Spurs fans can tour the Alamodome. And you can't talk San Antonio without mentioning the Paseo del Rio – the River Walk.
Contact 800-447-3372, www.SanAntonioCVB.com. Ask for a SAVE (San Antonio Vacation Experience) coupon booklet with over $2,700 dollars in discounts at area attractions; SeaWorld San Antonio, river cruises, city tours, museums and hotels.
Of course, no examination of theme parks is complete without covering Orlando, Florida, ground zero for family gatherings and vacations. The Orlando/Orange County Convention and Visitors Bureau (800-551-0181) helps reunion organizers get a handle on accommodations (more than 99,000 rooms!), theme parks large and small, shopping, dining and recreation.
Even though Ruth Johnson lives in Orlando, she used the CVB's assistance to secure lodging for her 125-member family reunions in 1998 and 1999. Family members rotate hosting the Johnson-Jones reunion, 30 years strong. The sheer volume of area diversions made the clan decide to explore Orlando two years in a row. "Our reunion is over a weekend, so many couldn't get everything in. They wanted to come back," she explained. Everyone goes their own way during the day, then gather in the evening. Johnson and her sister-in-law, another Orlando resident, hosted the traditional Friday night fish fry at their homes.
If everyone's heart is set on the Magic Kingdom, Epcot, Disney-MGM Studios or any Walt Disney World attractions, call for help. George Aguel, Vice-President of Sales and Services at WDW, suggests a call to a leisure group sales representative (800-327-2989) for a variety of arrangements. "We can handle transportation, theme park admission tickets, building arrangements for a birthday or anniversary celebration, group activities at the sports complex or Downtown Disney or we can set aside a key spot to watch fireworks or have a character appearance," he explained.
Bob Galligan of Quincy, Massachusetts, should teach a class in Walt Disney World family reunions. He has organized trips to his favorite vacation place on the planet every other year since 1983. 1999 was an exception. Extended family and friends partied with the mouse twice; once in October and again in December for a Millenium celebration. Galligan's total Disney World excursions number 100 or so as he visits in between reunions to gather information on new attractions and just for love of the area. "You don't even have to go to the theme parks to have a great vacation there," he professed.
Like most smart Walt Disney World visitors, the Galligan group comes with a plan. "We're in the park by 7AM and by 1PM we beat it back to the pool," he explained. "That evening we go somewhere together like Disney Quest (a five floor virtual reality and video game arcade). "We had a family shootout on a bumper car ride and the winner got a free dinner during the vacation," Galligan laughed. "It's a reunion but we enjoy it as a vacation, too. We make arrangements with Disney so there's a bus at the airport and our luggage is delivered to our room. We arrive well informed and just have fun," he concluded.
The family has stayed at every Disney property except one. Galligan especially likes the Yacht and Beach Club for the exceptional accommodations, restaurants and proximity to Epcot, MGM Studios and the Boardwalk. The latest reunion numbered 60 and began with the traditional first night character dinner. Galligan's group hires a professional photographer and arranges a private room with Disney character visits. "We have a cake because it's always someone's birthday and each person walks away with 14 or 15 pictures of the event," he explained. Another tradition is a performance of the popular Hoop-Dee-Doo Revue, a slapstick Western show with audience participation. The 2001 reunion will be at the Polynesian Resort – a 30th anniversary of Galligan's first Walt Disney World adventure.
The Walt Disney World Swan and Dolphin resort complex specializes in groups and is ideal for reunions. With its Gotham City-style style architecture, 17 restaurants, grotto and lap pools and a location that's a stone's throw from Epcot, MGM Studios and the Boardwalk. The Four-Diamond-rated resort offers a variety of exclusive Disney benefits and services. Contact 407-934-4000, www.swandolphin.com.
Don't overlook Universal Studios Escape considered by some to be the best set of theme parks on the planet: Universal Studios Florida and its newer park-partner, Islands of Adventure. Theme park aficionados marvel at Universal's attention to detail, high-tech rides and innovative shows. Movie buffs will want to check out Terminator 2:3D, a $60 million state-of-the-art, interactive attraction that combines 3-D cinematography, "cinebotic" soldiers and live-action stunts; Twister … Ride It Out and Earthquake..The Big One which allow you to experience the dramatic power of nature; E.T. Adventure, Jaws and the brand new Men in Black Alien Attack sweep you into the magic of their respective films. Younger guests enjoy A Day in the Park with Barney, an interactive show, Fievel's Playland, and Woody Woodpecker's Kidzone.
The year-old Islands of Adventure offers five theme islands, each with a unique look, scents, music, rides, restaurants and shows. At Marvel Super Hero Island, The Amazing Adventures of Spider-Man combines 3-D film, live-action and a roving simulator that puts you in the middle of a comic book battle. Jurassic Park is an incredible incarnation of the motion picture. Stop in for a lunch of green eggs and ham at Seuss Landing after visiting attractions featuring the Cat in the Hat and other beloved characters.
With the recent opening of the Portofino Bay Hotel, a Loews property, guests can walk or take a water taxi to the parks or Universal's CityWalk, an extraordinary collection of theme restaurants, movie theaters and shops. How about a special reunion dinner at the Motown Cafè, NBA City, the NASCAR Cafè or the world's largest Hard Rock Cafè? Retire to the Portofino Bay Hotel and you'll think you've arrived at a sleepy Mediterranean seaside village with strains of Andrea Bocelli wafting through the piazza. Eight restaurants and lounges, health spa, two swimming pools, bocci ball courts and high-tech smart rooms make the Portofino a truly special place. The hotel will create a special breakfast, lunch or dinner especially for your reunion. There are 5,000 rooms at Universal entertainment/theme park resort. Contact 800-711-0080 for Universal Studios Escape vacation information, or www.uescape.com. It's truly something special among theme parks.
About the author
Journalist/Editor Jacky Runice has penned a weekly travel column for Chicago's Daily Herald since 1994 and writes about travel and dining for USAToday.com; CBS Local Chicago; and Examiner.com. She expands her repertoire at Kane, Lake and McHenry County (IL) Magazines with articles about everything from healthy living to technology. A former Chicago radio talk show host, Jacky has three grown children who have inherited her love of sampling new cultures, countries and cuisine.