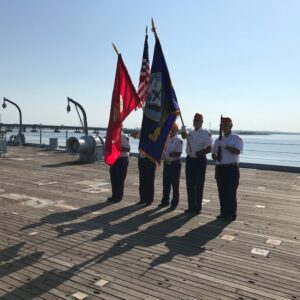 The 14th Greene Association Reunion was held at the Holiday Inn Downtown in Mobile, Alabama, five days in September 2019. On Monday 21 shipmates and 16 guests met in the Hospitality Room for registration. Raffle items for the final evening banquet were displayed and guests provided hometown treats for all to savor.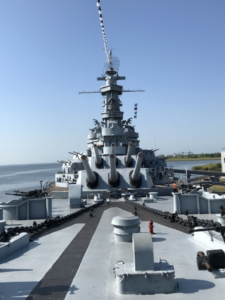 The next morning after breakfast the group toured the USS Alabama Memorial Park and held a Memorial Service for deceased shipmates on board the USS Alabama (BB-60). After lunch in the ship's wardroom many toured the USS Drum (SS-228).
Wednesday everyone enjoyed a tour of historic Mobile with lunch at a local restaurant. The highlight of the tour was a visit to Richards DAR House Museum built in 1860. It is on the National Registry of Historic Places. The hotel Hospitality Room was open once again for an evening of shipmate social activities.
The Association's Business was held Thursday morning where it was decided that the next Reunion would be on a cruise in the fall of 2020.The formal banquet was a Mobile Mardi Gras theme in the hotel Ball Room. The guest banquet speaker was LCDR Richard Mahone, Explosive Ordnance Disposal (EOD) Limited Duty Officer. Farewells, hugs and handshakes were in order on Friday as all departed until next year.
Reported by Robert J. Clark, Louisville, Kentucky.