To: White Stallion Ranch, Tucson, Arizona
Our family reunion of 14 spent one week at White Stallion Ranch. Everyone had a fabulous time. Our group loved the rides, the food was outstanding. The staff was extremely friendly and ready to serve. The ambiance and facilities were all one could expect.
White Stallion Ranch gets five stars in our book.
God willing, we will be back!
Yours truly, Edmund and Patricia Hugh
P.S. The variety and quality of the nighttime entertainment were superb.
To: Sundance Trails Ranch, Red Feather Lakes, Colorado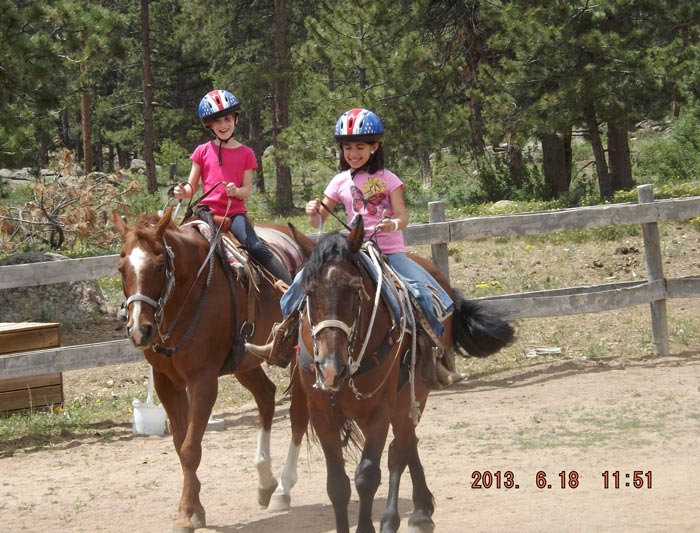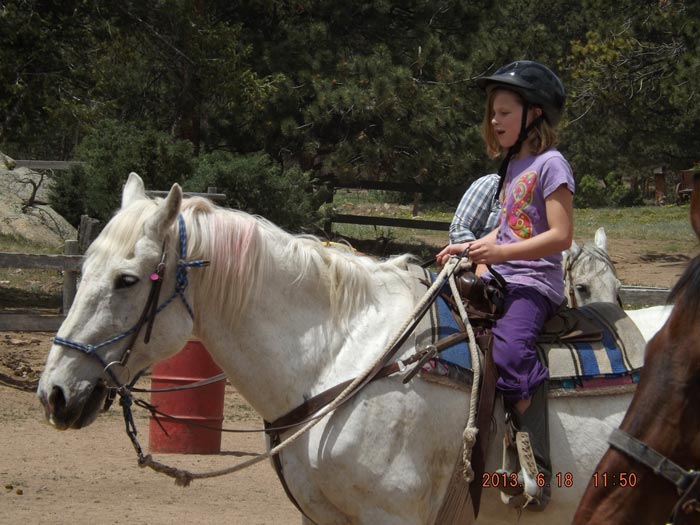 "Awesome family experience and phenomenal staff!"
Our family visited in early June and had a fantastic time. Our large group of four families/15 people was able to intermingle easily with the three other families there. We were ages 7-62.
We loved that we had the same horse all week and were able to form a bond. The activities were abundant and a great mix! They had something for everyone, from the most active to the ones who just wanted to pick and choose. My tip: for those who are having their first time on horseback, the one-day trip looks daunting, but pick it … it was great! The rides into Roosevelt National Forest are great, but you also can experience rock climbing, bouldering, riding and hiking without even leaving the ranch! I highly recommend Sundance Trails Ranch and the experience. We loved it so much that all 15 of us are returning in two years to do it again!
P.S. The food is also plentiful and great!
Room Tip: Many cabins are attached to the main lodge, but two are a bit of a trek.
To: North Fork Ranch, Shawnee, Colorado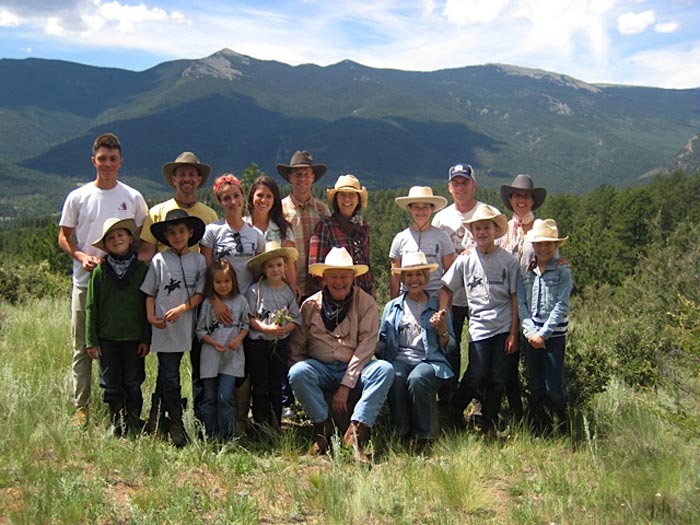 Four generations of our family (ages 3 to 87) gathered at North Fork Ranch for a week. We flew in from all parts of the country/world to share the experience and be together. The Ranch, the accommodations, the food (family style dining), the staff and the owners far exceeded our expectations, as did the activities: rafting the Arkansas River, riding horses every day to beautiful mountain locations, fly fishing the Platte River in front of the lodge, fishing the pond, skeet shooting, line dancing, above the tree-line hikes, fireside songs and stories, sitting in a rocking chair on the porch reading a good book and listening to the roar of the river. My two grandchildren fell in love with Tallis, the young woman charged with watching the little ones. She made sure they enjoyed daily pony rides on Cinnamon, fed the goats, chickens and rabbits, played games and enjoyed other activities, so the parents could take advantage of all that the ranch offered. The owners (Karen and Dean), all the young wranglers, the kitchen staff, guest services staff and housekeeping staff all contributed to making this a fabulous family experience. We made memories that will last a lifetime.
To: Lone Mountain Ranch, Big Sky, Montana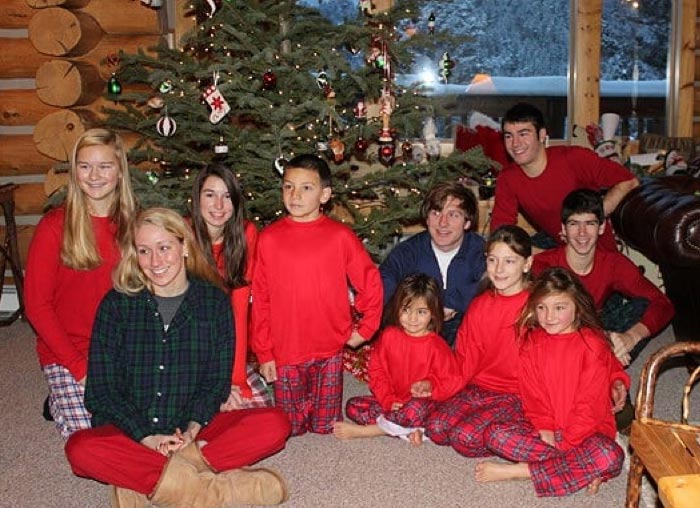 Baker Christmas Blog
On Christmas morning, ten Baker grandchildren gathered by the tree at Ridgetop, thoughtfully decorated by the staff prior to our arrival. Whether the next move was to open stockings or take the shuttle to Big Sky, all agreed it was an outstanding family holiday treat. The visit was enhanced by staff alwDays ready to provide friendly service. Highlights included the evening sleigh ride to the "cabin" for a roast beef dinner, preparing a "take-out" breakfast for Christmas morning, fitting us with snow shoes or solving an emergency heat problem one cold night! Great memories. We loved that the Ranch could accommodate our entire family and the skiing was incredible!
To: Hawley Mountain Guest Ranch, McLeod, Montana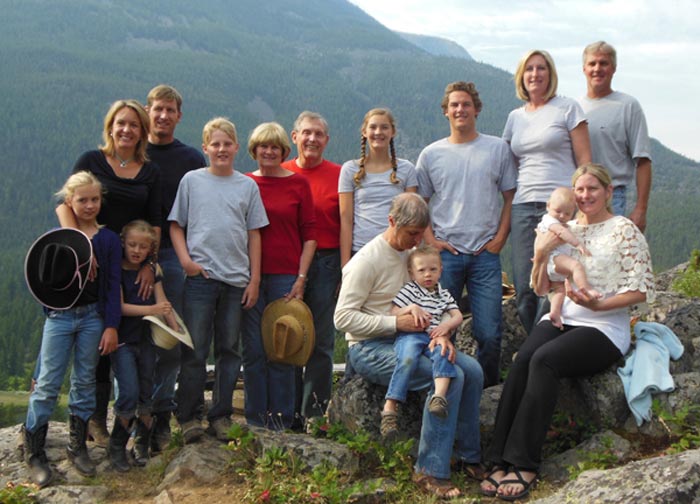 The Choate family from Madison, Wisconsin, visited Hawley Mountain Guest Ranch to celebrate Tom and Jean's 50th wedding anniversary. Their three children and families came from Pennsylvania, Illinois and Minnesota to join the celebration.
Jean Choate wrote: "This place is paradise! Thank you for allowing us to celebrate our 50th anniversary with our children, their spouses, and seven grandkids. It was a dream vacation for all of us — way beyond our expectations and a vacation of a lifetime with so, so many fond memories. We loved every activity and experience. Your staff was fantastic and made us feel like we were part of their families. We'd love to come back someday. Thanks for sharing this beautiful corner of Montana with all of us."
Tom Choate wrote: "When I planned this a year ago, I hoped we could have a good vacation. I really feel we hit a home run with Hawley Mountain Ranch. A great time was had by all! My family will always remember our 50th."
---
Western Heritage
The Gunnison, Colorado, Western Heritage Festival is a celebration of Gunnison's Western American lifestyle. There is plenty to keep the posse entertained: a ranch rodeo for real cowboys and cowgirls from ranches all over the Western Slope (think team branding, wild cow milking and team sorting), expo, petting zoo, kids' rodeo, chuck wagon-style barbecue and lots of entertainment, including country music, cowboy poetry and more. Visit gunnisoncrestedbutte.com.