The Reunion Project, a blog
Continued
by Scott Ryan
April 22, 2013
Your Name Here
The big day is just over two months away, and things are starting to take shape. Not as quickly as I'd hoped, but as long as everything comes together I'm fine with that.
We're in receipt of our first donation, and a second is in the mail from the other side of the country. It'd be nice for some of our classmates, especially those who are in business, to let others know how well they've done. In some cases, I'm not surprised at those who've taken the entrepreneurial route—some people just have "it"—and we're proud to help showcase their talents.
For those who are sponsoring or at least making donations of goods or services, you can bet I'll be paying them a visit in person when I get to town to thank them for their generosity.
I think the Congressional budget problems might wind up affecting attendance, as many classmates have jobs that are tied to the federal government. But I'm not letting that get in the way of our plans. A check's been sent to the DJ, people are buying decorations, and we're getting to the point where people need to decide one way or the other.
We'll have to cut off ticket sales sometime in May–and maybe some people won't be happy about it, but you have to draw the line somewhere. The big mystery is the 100 or so people who haven't even told us if they're going to be there—I can't tell if they're just not interested or maybe they never got the message to begin with.
I'm already thinking of ways to continue our efforts beyond June—periodic fundraisers, etc. Maybe we'll see how June turns out before I get too far ahead of myself.
May 17, 2013
Friday Fun
With six weeks to go before reunion weekend, we've decided to double our fun. In addition to the Saturday party, we're arranging a pre-party mixer the night before at a restaurant. It's a good way to give people a second option, and we can include people from neighboring classes. It's also a chance to raise more money. We're asking for contributions–not a set amount, just whatever people feel like chipping in. A bonus is that the restaurant is run by one of our classmates.
As far as Saturday goes, we've surpassed ticket sales from our 20-year reunion. This is good, but not good enough. We're expecting 150 people, but almost half still haven't bought their tickets. I'm guessing everyone's waiting until the last minute. We'll sell door tickets, but I'd hate to think we're depending on 50 more people to show up.
I'm pleasantly surprised by the number of sponsors and donors we have. Several local businesses have chipped in with gift cards, products and money. The money is certainly a help, while the gifts make for some fun raffles. We've got a couple of fundraisers planned over the next six weeks, too.
How easy is it to keep track of almost 400 people? It isn't. This has become a nearly full-time job, making sure I don't lose track of people when they move, RSVP or get in touch with someone I've been trying to locate. I'm tired–but hoping this will all be worth it next month.
July 3, 2013
The Main Event
Despite one successful night under our belts, there was still some anxiety about Saturday night. We still needed several people to show up at the door to break even. We'd fronted our own money on this party and didn't want to wind up in the red.
Also in the mix was word of a couple additional classmates whom I hadn't known about. It was too late to start searching, so I figured I'd just make some notes for next time. We got to the venue around 2 PM and began setting up. We had a near disaster, when a big bunch of special balloons got away from us and floated to the ceiling, well out of reach.
After an embarrassingly unsuccessful attempt to retrieve them with another balloon and duct tape, we opted for a broom. Then we realized we had to duct tape the duct tape to the broom handle. After reeling in the wayward balloons, we finished decorating and went home to get dressed.
The first food came out at 7 PM, when a handful of people were already waiting. More food came out 45 minutes later, as people continued to file in. We ramped up the music around 8:30 PM, right after our group photo, taken from the third floor of the room. It was neat to see so many faces!
One hundred thirty of us danced to some current songs and some from our high school days. People began leaving a little before midnight, with everyone very appreciative of our work.
We did it! We wound up with just enough money to cover our expenses.
Some of us were already taking questions about plans for a 30-year reunion, but I don't think any of us is ready to look that far ahead just yet. We all left tired and relieved – and maybe just a bit sad – that it was all over.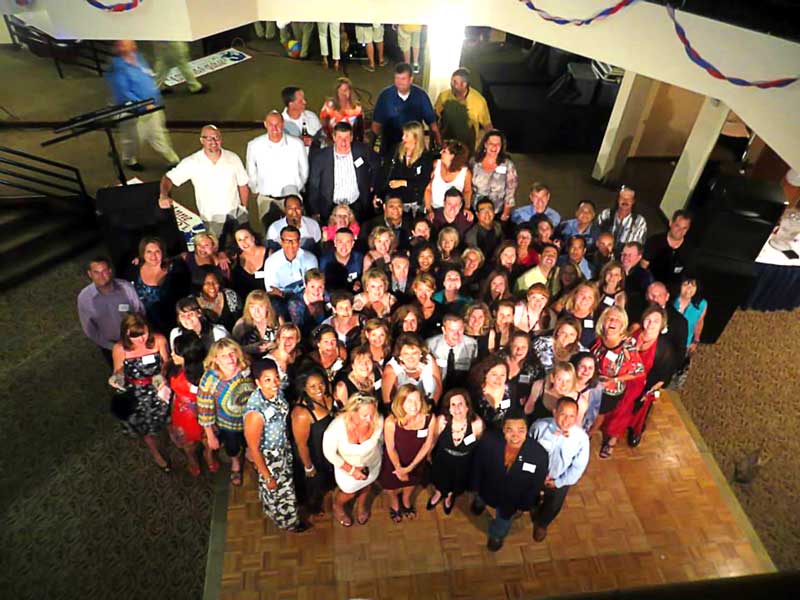 July 4, 2013
Passing the Torch
As the final minutes ticked away Saturday night, a big weight lifted from our shoulders, but we knew there was just a bit more work to do. Sunday morning, a few of us met for brunch to recap the amazing weekend. Considering the fact that we got a late start in planning things, it turned out as close to perfect as possible. We made enough to cover our costs–if there's any money left over after everything is finalized we might donate it to the school..
We might have done a little better communicating PayPal fees and food details. Neither was a serious problem, but with an event this size you're always looking for ways to improve. I also wish I had had enough time to find every single classmate. Out of an unofficial class size of almost 400, we officially contacted 369 people. I found half of the missing people – they just didn't reply to any calls or emails. We wound up with 250 or so in total attendance over both nights, though some people went to both functions.
How ever much work you think something like this is, double your estimate. And have some serious people in place to work with – people who get results. I was lucky to have two great people to work with. I can't say whether we'll all be here to try our hand at this again, but I feel we've set a standard for future classes to follow. Regardless of what the future brings, I've probably talked myself into a role with any reunions down the road.
Finally, our moment in time was captured by one of our classmates in video montages for Friday and Saturday.
Friday
Saturday