Located in the heart of the Convention Center District, this lush urban oasis is recognized for its ability to host gatherings of all sizes, from large and lively reunions to small and intimate get-togethers. The Orange County Convention Center (OCCC) has plenty of room for physical distancing to host your next reunion with confidence. 
Venue Options 
Renowned for its distinctive architecture, tropical ambiance, and unsurpassed attention to detail, The Center of Hospitality offers tremendous flexibility and space to bring your reunion vision to life. From spectacular sun-filled atrium lobbies to impeccable ballrooms and state-of-the-art meeting rooms, the Center boasts an array of options for hosting your next gathering. 
Offering a contemporary style with a sophisticated twist, you have the space and flexibility to bring your next reunion theme to life – the only limitation is your imagination!
Valencia Ballroom
Offering 62,000 square feet of modern elegance, the Valencia Ballroom is perfect for mid to large-sized celebrations. Featuring unparalleled versatility, a state-of-the-art programmable LED lighting system, two relaxing dressing rooms, and an exquisite pre-function area, this space truly offers every luxury for your next reunion. 
Sunburst Room and Terrace
Providing the best of the Sunshine State, this beautiful ballroom and spacious outdoor terrace is bursting with character and charm. Perfect for small to medium-sized gatherings, the bright and airy Sunburst Ballroom will comfortably accommodate 480 guests, and the picturesque terrace will seat 80. With a sleek, neutral color palette, you have the creative freedom and flexibility to design your ideal event space. 
Tangerine Ballroom 
This stunning 48,600 square foot ballroom features soaring ceilings and an impressive state-of-the-art wave lighting system. Adding a beautifully modern touch to this newly renovated space, you can choose a lighting display that represents your group's style and theme, to set the perfect ambiance and tone for your event.
Destination Lounge 
Reunite your group at the Center's cutting-edge Destination Lounge. Complete with video walls, LED display systems, and an intuitive lighting system, this innovative 7,000-square-foot venue provides a sophisticated yet relaxed option, perfect for small to medium-sized groups.
Catering 
With more than 80 years of experience, Centerplate is the trusted and exclusive food and beverage partner of The Center of Hospitality. Renowned for quality and service, Centerplate's team of seasoned experts and culinary professionals will work with you every step of the way to ensure a tailored, flawless, and unforgettable dining experience that caters to your needs, tastes and budget.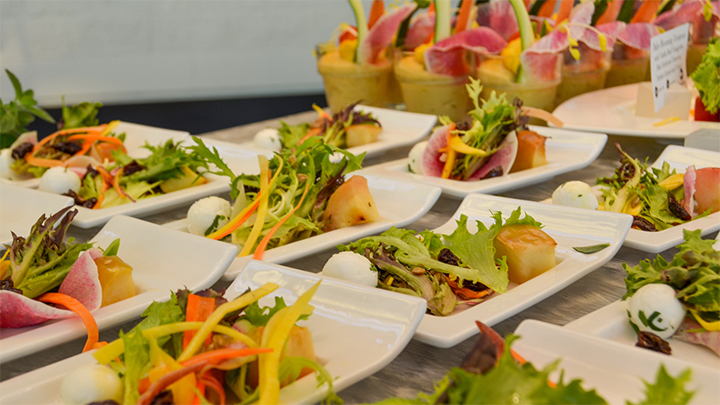 Location
Nestled in the heart of the Convention Center District, The Center of Hospitality offers astounding convenience and connectivity for you and your guests. Located just 15 minutes from the Orlando International Airport, and surrounded by more than 125,000 hotel rooms, with more than 5,000 directly connected by way of a pedestrian bridge, the Center promises a safe, enjoyable, and convenient experience for your entire group. 
With some of the world's largest attractions within reach, including SeaWorld Orlando, Universal Resort Orlando, and Walt Disney World Resort, why not extend your event into a mini-vacation. From tantalizing dining experiences to exhilarating entertainment, hosting your next event at the OCCC will place you in the center of the magic. 
Reunite Safely 
Under the current climate, the OCCC is taking every precaution to ensure a safe and seamless experience for you and your group. This includes, but is not limited to, enhanced cleaning in line with the Global Biorisk Advisory Council (GBAC) STAR accreditation, and working with groups to identify safe solutions that adhere to current guidelines.
With ample space for physical distancing, the OCCC offers plenty of room to hold your next event, so you can reunite your group safely and confidently.
Contact Us 
If you are interested in learning more about how The Center of Hospitality can help you host your next reunion, contact our expert sales and event planning team today at [email protected].