Cruises
PERSONAL CRUISE PLANNING SERVICES

Brian Forrester, is a Cruise Group Specialist and is eager to help make your reunion memorable. He will ask questions to understand your needs and present what works best for your reunion. He can get the best deals and knows how to make your reunion cruise a success.
He will work with you to organize deposits, payment plans, announcements, and special arrangements. Relax! He will handle all the details.
Contact Brian at 480-998-1112 | 800-998-1228 | [email protected]
---
Family Reunion Yearbooks

Family reunion yearbook publisher
Family reunion yearbooks through Weeva.com allow you to preserve your family history, effortlessly. Invite your family to add their stories and photos, and store them all in one place for free. Each year, when you're ready, hit publish and they create a stunning keepsake family reunion book. These books are passed down for generations. Books take 4-6 weeks to publish once complete. Start now at Weeva.com.
---
Post Cards
POSTCARD ANNOUNCEMENTS
Fill-in


$45/100 postcards – you fill in the information and address.
FREE shipping & handling
Custom Printing

$75/100 postcards
FREE shipping & handling
Email info to be printed: for Save the date! (name, date, & place of reunion, contact info).
For Time is Running Out (name & date of reunion & RSVP date) + fax number or email address to get your approval before we print.
Purchase online or call 414-263-4567.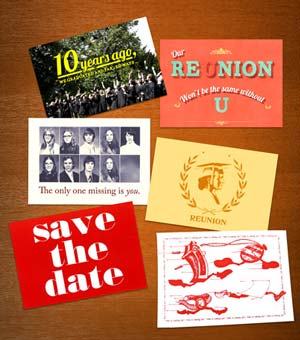 Reunions magazine now sells reunion postcards on Etsy! Order a custom-made, digital file, and print out however many you want to send out.
We can customize your reunion name, date, email, website, and anything else you'd like on the back of the card.
Personalization (adding your own reunion photos to the card) is also a possibility, but is subject to an extra charge.
Get your invitees to save the date in style with postcards from Reunions magazine.
---
Reunion Registration
MyEvent
Myevent.com hosts reunion web sites which includes a feature for your members to charge their registrations and add donations for your reunion treasury. It is both a payment and fundraising tool!
---
Reunion Website Builder
MyEvent
Myevent.com allows anyone, even without technical skills, to create a reunion website. Fill in forms online and the information creates beautiful design templates.

---
Other Products & Services
Attractions & Entertainment

Badges, Buttons & Name Tags
Cookbooks
Family Tree Charts
Invitations
Mementos & Souvenirs
Planners
Reunion Ribbons
Tour Operators
T-shirts
Websites
Vacation Homes & Rentals