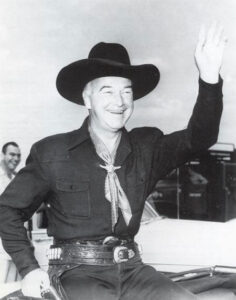 The national Hopalong Cassidy Museum opened near Wichita, Kansas, in a western setting with one of the country's largest Hopalong Cassidy memorabilia collections. Hopalong Cassidy, one of the major Western cowboy silver screen stars, was known to the world during the 40's, 50's and early 60's as the King of the Merchandizing Cowboys. He was a famous role model and hero to boys and girls everywhere and he was brought to them through every form of media and advertising format known.
A movie theater will feature all of the great Hopalong Cassidy half hour television shows as well as the 66 Hopalong Cassidy full-length feature films. The Museum features a stunning display of hundreds of items of memorabilia, photos, and theater posters. From children's lunch boxes to children's bedroom suites and more, guests visiting the national Hopalong Cassidy Cowboy Museum will relive the excitement of Hoppy riding across the silver screen on Topper his horse. Special feature displays will exhibit such things as Hoppy food products, children's western outfits, children's bikes and wagons, children's indoor toys, and comic books.
Contact Hopalong Cassidy Cowboy Museum, 15231 SW Parallel Rd, Benton KS 67017l 316-778-2121; www.prairierosechuckwagon.com. Ask about group rates.