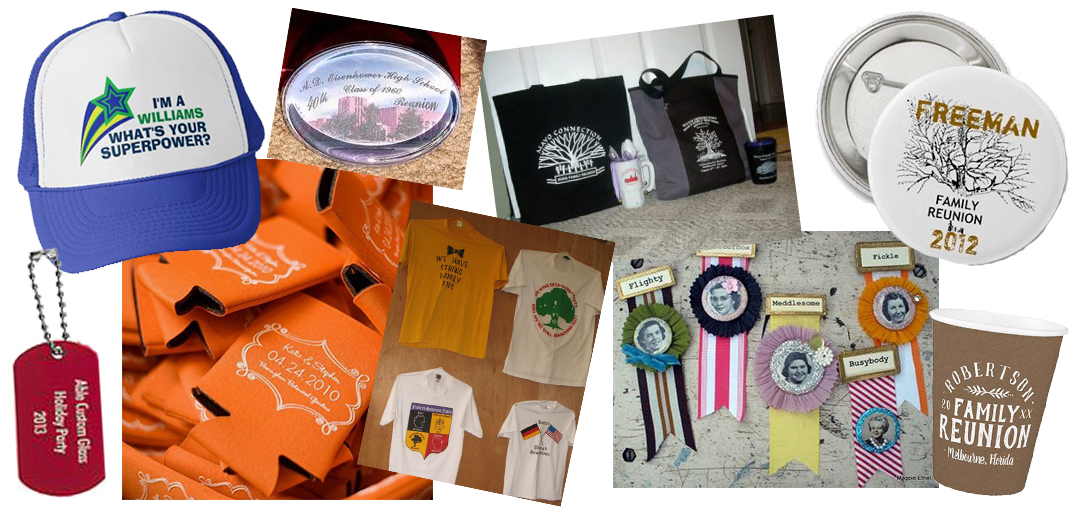 Mementos & Souvenirs
Personalized mementos
There is a veritable plethora of imprinted souvenirs to commemorate reunions; t-shirts, sweatshirts, caps, mugs, frisbees, key rings, belt buckles, stuffed mascots, pens, pencils and umbrellas among the possibilities.
Consult others who have ordered imprinted items. Listen to what they say. Don't defy a poor recommendation — it almost never turns out well! Phyllis Hackleman in Reunion Planner suggests these questions when ordering souvenirs. Are there charges to screen artwork or for more than one color? Will the manufacturer guarantee colors? Does it cost extra? Will the manufacturer share a proof before production for you to verify that it is the product you want? Are you obligated to pay for an overrun of more than the exact number you order? Who pays shipping charges? Carole Neal, Seals Family Reunion, also asked for an received each t-shirt
Avoid disappointment by allowing plenty of time for delivery of custom items. Nothing is worse than an order that doesn't arrive in time. All companies claim quick delivery but if you don't allow enough lead time you may pay more for a rush order and rush delivery charges. Allow plenty of time for the company can fill your order properly. Some companies demand advance payment. Others accept orders payable by invoice.
T-shirts are the most common personalized reunion souvenirs with many selling strategies. Sell t-shirts in advance, at the reunion or include them in the reunion cost. Offer size choices.
Include an order blank in newsletters or the invitation. Or if everyone attending gets a shirt, and it's included in the reunion fee, simply ask for sizes. Try to sell one to each attendee. Print extras if your budget allows.
Imprinting the same design on different colored shirts for different branches of the family makes for a colorful, interesting reunion where relationships are readily visible. Save money by omitting the year on personalized items. You may have supplies left to sell later.
You don't have to settle for shirts with plain block printing. Reunion t-shirts truly reflect the diverse personalities of reunions. The Bryant and Letitia Andrews descendants of Mississippi and Wisconsin put their family tree right on the t-shirt. The Ruben and Lydia Lancaster descendants from Alabama move their reunion around the country. Host branches design shirts with symbols of their area; in Pasadena, California, a rose symbolized the City of Roses. The Bickels had an artist cousin inscribe a favorite Bible verse on their t-shirt. Barbara Holcomb Paprocki, Cheektowaga, New York, reported unique wording used on Holcomb Family Reunion reunion t-shirts — "An Original Holcomb" or "I married an Original Holcomb."
Recruit a reunion member who has artistic ability to create a design. Some families have a design contest. Plan to commend the designer at the reunion. The Evan and Grace Jenkins family of Canada chose a family logo from contest entries and use it for each triennial reunion printed on a different color shirt. A 16-year-old member of the Bullock family designed their logo which has appeared on many mementos.
Many silk screen companies design t-shirts. They deal daily with such requests, and their charges are usually reasonable (sometimes free). Send examples, photocopies or sketches of what you envision.
Large orders of reunion t-shirts should be ordered from a vendor. Small orders, however, are often too expensive per shirt. Philip R. Henningsen, San Francisco, California, discovered that quantity is important. His family is small (fifteen) and he found one shop willing to talk about four-color separations and, depending on difficulty of setup, estimated $25-$30 each for twenty t-shirts.
Many quick copy stores use a process to make custom t-shirts quite different from silk-screen used by large volume printers. They photocopy the original, color artwork onto an "iron-on transfer" similar to a clear transparency, then use a heat transfer press to "iron" it onto the t-shirt. They can use any original artwork, photograph or photocopy and can enlarge or reduce it. Using good quality, white t-shirts and his own artwork, Henningsen's price was $15 each including one small (8 1/2x11") transfer or $20 each including one large (11x17") transfer.
There is a discount if you supply the shirts. If not white, use light pastels. Do a prototype, then hand it to the production people with the simple instruction. "I want 19 more, just like this, in these sizes."
A t-shirt note
Henningsen related that twelve family members wearing t-shirts visited the National Aquarium in Baltimore. They were separated in traffic. When he went scouting to find the others a guard said, "They went that way." T-shirts were also a great ice-breaker for meeting strangers in waiting lines. But mostly the t-shirts are one more thing that made the reunion special.
Excerpt from The Family Reunion Sourcebook by Edith Wagner.
Saving Money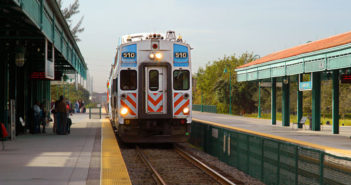 Transportation
Price out your trip components (air, hotel, rental car) at several online booking sites, then ask an agent to do better. Some large agencies buy blocks of tickets and rooms…