Typically a Gardiner Family Reunion lasts three or four days, but when we go to the beach it's always for a week. It's a time when family and friends come together to honor the memory of our parents, Betty and Joe Gardiner, also known as Grandmom and Uncle Joe and Great-Grandmom and Great-Granddad who loved life. They loved their family, and they left us with many fond memories and traditions.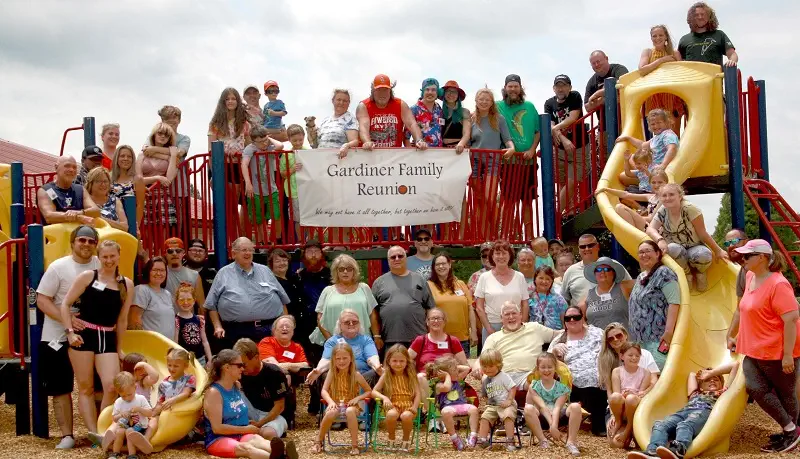 It was ironic that our parents passed away just weeks before Christmas — Dad in December 2006 and Mom in mid-November, 2008 — because Christmas was their absolute favorite time of year. As toddlers, we learned to ice skate on double-bladed skates Dad skillfully made for us on a rink he built in our very own yard. Both Mom and Dad were good skaters, although I think Mom preferred roller skates. That ice was pretty cold on our bottoms as I recall, but we were warmed by the love of parents who spent quality time with us. Every year shortly before Christmas, Mom and all the neighborhood ladies would fill our house for days on end with the sweet aroma of baked snickerdoodles, chocolate chip cookies and other assorted treats.
Patricia recalls the day that started it all "I remember so well the night we all sat around after Mom's funeral service and unwrapped the Christmas gifts she'd left for us. We laughed and cried and remembered. Then we decided that we would have a reunion the next year in honor of Mom and Dad. Who knew it would be the first of so many?"
The very first Gardiner Family Reunion in June 2009 was truly an "all hands-on deck" event and only 21 of us were there to pose for our first family reunion photo. Everyone pitched in to help and no one was ever asked to contribute a cent although donations were gladly accepted. This has become the main tenet of all our reunions: "All you have to do is get there!"
We rented several cabins at Camp Carlson, an Army recreational facility just down the street from Fort Knox, Kentucky. The cabins were nice and well equipped, except for bed and bath linens. Everyone who wasn't flying to the reunion was asked to bring their own. We took turns at KP duty and the backyard chefs took turns cooking the main courses on a huge smoker. There was little to offer in the way of sightseeing, but there was a small lake nearby for fishing. A hose and small inflatable baby pool provided some heat relief for the little ones. And a porch became a concert venue as some of us boogied on down to the dueling rhythms of guitars and raindrops on the roof.
Every reunion has been successful in its own right because each hosting team had its own unique way of organizing it. Since our humble beginnings in Kentucky, we have visited Colorado, North Carolina, Indiana, Wyoming and Virginia. We stayed in cabins, hotel rooms, several large beachfront rental houses, and even an entire three-story inn in Nashville, Indiana.
The hosts have the freedom to plan activities and entertainment for their reunion guests. We have marveled at the sight of grizzly bears, bighorn sheep, moose and other wildlife while traveling the Buffalo Bill Cody Scenic Byway in Wyoming on our way to Yellowstone National Park, caught 540 pounds of tuna while deep-sea fishing in the Atlantic Ocean, and straddled two time zones during a weekend at Lake Cumberland State Resort Park in Jamestown, Kentucky.
Mom and Dad were always giving of themselves to others in their time of need, and it seemed those times were always in winter. Dad was the go-to guy on the block who could fix anything, especially furnaces and stalled cars in snowdrifts, while Mom comforted the neighbors and offered them coffee and a listening ear. During our third reunion, Connie, our family's oldest member, suggested that we might consider "giving back" to the local community by performing some act of kindness or service project. Thus began a tradition of collecting donations to benefit a local charity or other non-profit organization. We are proud to say that we have given to local food pantries and other charities, such as St. Jude Children's Hospital, the 22q Family Foundation and Santa America's Military Support Program, and we collected enough funds to send two veterans on an Indy Honor Flight. This past year our donation went to one of our own…a cousin who suffered a stroke. The donated funds helped with the cost of his rehabilitation.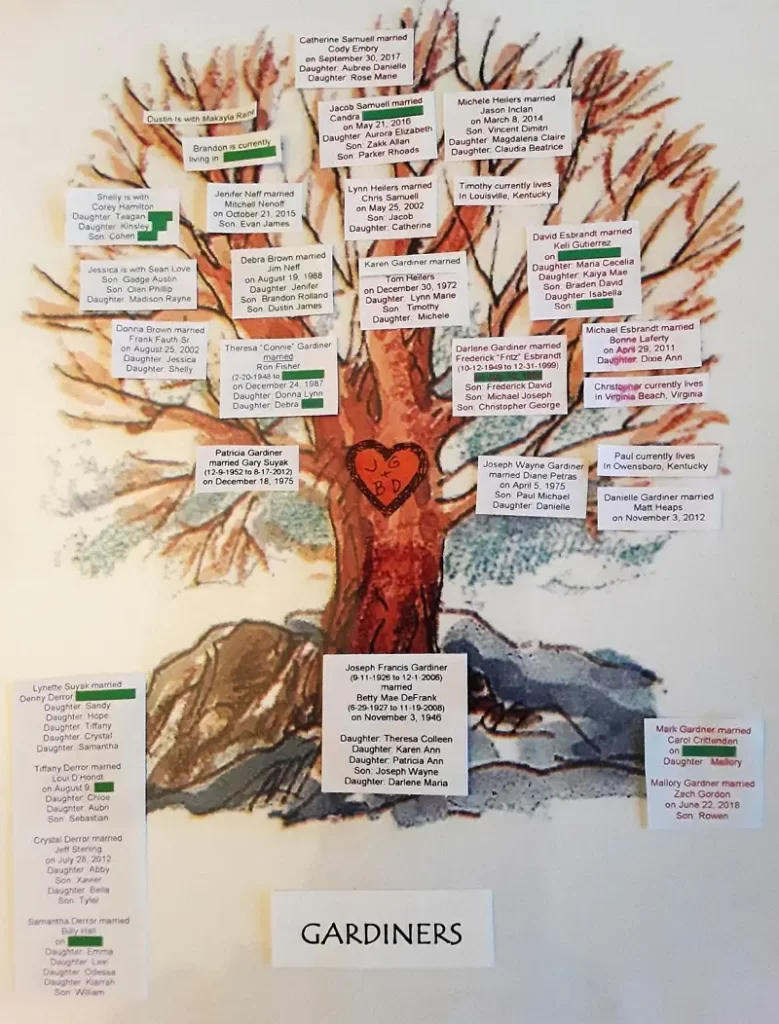 By now you may have guessed that we are a military family. Dad started it all with a stint in the Army during World War II. He was our only soldier. We now have over 20 veterans in our ranks and have served as officers and enlisted in every branch of our nation's armed forces except Space Force. We have seen duty both here and abroad—from the North Pole to Afghanistan, Guantanamo Bay, Cuba, to the depths of the oceans, and everywhere in between. We wore combat utilities and service dress blues, hash marks, shields, eagles and globes…and Dad was always so proud of us! At our reunions we take some time to thank those who have served—and are still serving—and acknowledge the family and friends who supported us … those who have always kept the home fires burning.
There is, however, one activity that has evolved over the years and is now the only "mandatory" part of every reunion; we call it our main event. Family members and guests are expected to attend a meal and a showing of video clips and pictures from previous reunions, pose for a family reunion photo, and attend a Christmas party.
Early on we would have Christmas gift exchanges, Dirty Santa, Betty Bag gift exchanges (regifting items in bags Mom and Dad had gifted to us in prior years), and a Christmas party for the children. It is the children's Christmas party that has stood the test of time and is almost always expected — and enjoyed — by young and old alike. Santa has even visited us on a few occasions to pass out the gifts. But in 2020, during the depths of COVID, instead of a gathering of all the children, Santa traveled to all our rental houses and left a gift for each of the children at the front doors so they would have a present to open when they woke up the next day.
Why do we do this? Because two people fell in love. Our family tree has evolved into a small forest where everyone is welcome to come and grow and make new memories and traditions. Our reunions have inspired some of the younger generation to consider hosting a reunion in their neck of the woods. The five of us "elders" (all now in our 60s and 70s) have handed down the reins to our children, but the fact that their children have expressed a desire to host a reunion in the future speaks volumes of the love of life and family our parents instilled in us. We hope to share that love with others and introduce new generations to their "roots" … to keep Mom and Dad's spirit alive and vibrant for generations to come.
In November 2009, we interred Mom and Dad's cremains in the Kentucky Veterans Cemetery just across the street from Fort Knox's famous gold vault. Like a gold vault for our family's treasures, their memory rests there but their spirit lives on in our minds and our hearts.
I think Mom and Dad would be proud.
Shared by Karen Heilers, Louisville, Kentucky.