As you plan your next reunion, whether it's in your city or elsewhere, take advantage of the local convention and visitors bureau (CVB). Sometimes known as a convention and visitor center or commission (CVC) or association (CVA), these agencies exist to promote and help you enjoy their city.
Contact CVBs while you are still deciding where to hold your reunion. They can provide information to help make your decision. Then take advantage of the many services CVBs offer.
Many reunions benefit from local CVB assistance. Whether you are planning a reunion for the first time or are just running short on time, CVBs can provide extra resources, ideas and, in some cases, extra hands reunion planners need.
CVBs offer various services depending on their size and your group's size. The majority of CVBs will provide these complimentary services.
assistance gathering proposals for accommodations and venues
familiarization tours (FAMs) and site inspections
promotional literature for distribution to members in advance or upon arrival
help locating services such as transportation, recreation and picnic facilities
suggested tour itineraries.
Ask what is complimentary and what the bureau charges for. In most cases, if there are charges, they are minimal. Jeff Malan, services coordinator at the Lincoln, Nebraska, CVB notes, "We are a non-profit, non-government agency, funded solely by a two percent lodging tax. Our services are free depending on the number of sleeping rooms a group uses at local lodging. If a group doesn't use enough sleeping rooms to cover the value of services requested, we charge for the difference."
Most CVBs have literature to help you start planning. St. Louis, Missouri, Convention and Visitors Commission offers Reunion Planning Kits. The Buffalo, New York, CVB publishes a 14-page military reunion guide that includes planning and search tips for activity and entertainment suggestions, resources, a checklist and calendar.
Proposal gathering
Use CVBs to do the legwork gathering information to learn about reunion facilities like amenities, airport transportation, meeting space and complimentary services or special deals. Your proposal will need to include expected arrival and departure dates, number of sleeping rooms needed, and any budget limitations. The Montgomery, Maryland, CVB facilitates proposal gathering for accommodations and other venues.
Amanda Behrman, group services coordinator at the Greater Woodfield CVB in Illinois, worked with Renee Taylor, the Jackson-Simmons Family Reunion planner two years in a row. Behrman sent proposals to area hotels that could accommodate the group's needs which saved Renee the time of calling sold out, too small or too expensive properties.
Lisa Betley, senior sales manager at Jacksonville CVB faxes bids to hotels meeting reunion specifications and either has proposals sent directly to planners or combines all the bids into one document for the planner's review.
Promotional literature and freebies
Every CVB provides enough free visitor guides and area attraction maps and literature to share with everyone attending the reunion.
Freebies depend on the bureau and your group's size. The Savannah, Georgia, CVB provided recent military FAM attendees with goodie bags that included disposable cameras. The Louisville and Jefferson County, Kentucky, CVB provides maps and slides for newsletters and offers pins and bags at cost. Kansas City, Missouri, CVB provides maps, visitors guides, brochures, plastic handled bags and printed material to send with your invitations. Alburquerque CVB provides registration help, literature, promotional videos and slides and local media contact.
After making reservations, the St. Louis CVC provides a Welcome Packet for each booked room. Renee Eichelberger of the tourism sales department customizes kits so a family or group receives information members are most interested in.
Locating services/securing venues
CVBs can be a reunion planner's right hand when it comes to finding and securing the right venue. Ann Lansey, Baltimore, Maryland, is hosting 200 members at the Gaines-Lansey Family Reunion in July 2002. With the Baltimore Area CVA's help, she hopes to secure the Baltimore Zoo as their location. Chosen for its history, beautiful pavilion and many activities and exhibits, Ann is confident it will be fun for all family members. She is also securing a tour guide to lead a customized Afro-centric city tour including Bethel AME Church and the family bank, Ideal Federal Savings Bank.
CVBs are a great resource when searching for services such as local transportation. Jeff Malan, Lincoln/Lancaster County CVB services coordinator, helped the USS Yosemite reunion obtain motor coach transportation the afternoon before the group was scheduled to travel to the Strategic Air Command Museum, 25 miles away. Another bus company charter had fallen through and the planner was near desperation. Malan found a replacement motor coach available at the same departure time.
Suggesting tour itineraries
Most CVBs will suggest tour itineraries for reunions or for spouses. Jeff Malan helped a family reunion hire a tour guide to conduct a customized Lincoln driving tour. He arranged a meeting of the local reunion organizer and prospective guide to devise the tour route and content. Malan also made transportation arrangements for a trip to a remote family cemetery 50 miles away.
Going above and beyond
CVB staff members' knowledge of their city, sites and activities is key, but their personalized service is the greatest benefit. Leslie Straughan, tourism sales manager at New Orleans, Louisiana, CVB searches the convention calendar to help family reunions select a date and find the best rates.
Once they've selected a date or range of dates, Straughn sends the reunion's information to hotels, restaurants and tours. Companies forward rates, menus and details to the planner. Straughan follows up to answer questions, learn where the reunion is booked and set-up delivery of visitor guides, maps and coupon books. She also provides a detailed, customized New Orleans Family Reunion packet.
Amanda Behrman of the Woodfield CVB establishes personal relationships with reunion planners like Renee Turner whose Jackson-Simmons Family Reunion annual attendance ranges from 80 to 100 members. Turner needed Behrman's help finding a site for their family picnic. She decided on a reception and banquet at the hotel, but also wanted an outdoor picnic near the hotel. Behrman contacted the Schaumburg Park District which has special family reunion picnic packages. Turner arranged a picnic at a nearby park and the Park District provided food, a tent and children's games. This year, the family wanted something different, so Behrman contacted several businesses to host an indoor dinner and activity. They chose North Beach Entertainment Complex which has sand volleyball, a bowling alley and a full catering menu.
Behrman says, "About two to six months out, I always check with my reunions to find out if they need more information. Once they secure the hotel, transportation and outside functions they think about other details. One service I provided for the Jackson-Simmons Reunion was name badges. A month before the reunion, Renee sent a list of members, and I made the badges. Even with family reunions, this is an important service, because many people in Renee's family had never met. I provided plastic registration bags, area maps, brochures about area attractions, shopping and restaurants, discount cards for the area's most popular attraction (Woodfield Shopping Center) and small giveaways for each member. Many times I'll give little promotional items like coin purses, pens and decks of cards. It's a nice way to say thank you for holding your reunion in our area."
Turner, thankful for Behrman's help, said, "GWCVB was instrumental making the Jackson-Simmons Family Reunion a success. They directed me to the park district for our picnic and we had a great time. Everyone received goodie bags including the coin purses from Amanda. And the maps saved me from having to draw one myself."
The Pittsburgh, Pennsylvania, CVB provides souvenirs, plastic bags and postcards you imprint for advance promotion. In a recent FAM tour for military reunion planners the bureau provided transportation, hotel and meals for the planners and companions. CVB staff member, Bob Imperata, said, "They just had to pay to park their cars." Bob surveys participants after the FAM to ensure the tour met their expectations.
The Jacksonville CVB senior sales manager, Lisa Betley, personally drives groups for site inspections, often allowing people to fly in for the day without staying over. After the reunion is booked, it's assigned a services manager to assist with arrangements for motorcoach transportation, photographers and entertainment.
Jeff Malan says, "In addition to tour-oriented services, I usually provide reunions with name badges (with insignia and logos), visitors guides, promotional items, a customized banner, assistance arranging welcome speeches and letters from local dignitaries, transportation, lists of speakers and entertainers, and on-site staff to assist with registration." In one case, the reunion organizer was in Hong Kong and arranged a one-day tour of Lincoln with a bus chartering service. The bus company couldn't supply a guide, so they called Malan. A CVB staff member served as a guide, but there was trouble creating an itinerary. Malan couldn't reach the planner so he blindly devised an itinerary using the scant information from their first communication. Finally he contacted the planner for final modifications and the tour was a success.
Albuquerque CVB assists military reunions to find a location for memorial services and arrange for Navaho Code Talkers to act as color guard and say a Native American prayer at their memorial. Staff also helps coordinate tours, hotel rooms, and arrange a donated sand painting of the group's logo.
DuPage County, Illinois, CVB offers site selection and inspections, bid package preparation, complete itinerary planning, printed name badges, help to secure transportation and complimentary brochures. They also give the reunion planner a complimentary one-time-use camera and photo album to capture memories created in DuPage County.
When the Kissimmee-St. Cloud CVB booked the Marine Corps League-Department of Florida reunion, they secured a proclamation from the Florida Governor and welcome letters from the Board of County Commissioners and mayor. For the national convention, the Bureau will try to arrange media coverage and designate the week "Marine Corps League Week."
Conventional Wisdom–use convention and visitors bureaus to your advantage!
For those who've taken advantage, Convention and Visitors Bureaus (CVB) get high marks as great reunion resources. They are in the business of destination management.
CVBs know their city better than anyone; all the ins and outs of the location, hotel room quality, availability, accessibility and the right people to deal with. Local knowledge is a big advantage for CVBs.
The purpose of CVBs is to provide reunion organizers local knowledge and efficient management as a benefit of coming to their city. Most CVB services are low- or no-cost to reunions.
You are looking for more value and CVBs are looking to expand their market. You win.
We learned from an issue of Successful Meetings that many CVBs are going after 50-member meetings (helping find hotel rooms, activities, transportation options). "They've become much more alert to small pieces of business," the article declared. This is excellent news for reunions.
Reunion organizers recognize that the value you get in a smaller community could be greater than in a larger city – affordable housing, food and beverages, as well as the ability to customize and create meetings outside the box. Parking in smaller cities is often free, unlike in large cities where a night of parking may add from $7 to $20 per vehicle.
Bureaus in many smaller budget cities work with the community, its academic centers and local attractions to develop a special niche. The recent Burney Family Reunion in Junction City, Kansas, where the Geary County CVB provided mailings, maps, brochures, printed name tags and a local tour with transportation.
Fort Wayne, Indiana, CVB offers a "Discover Your Roots" package for individuals with special packages for groups. Spend afternoons doing research at the Genealogical Library in the Allen County Public Library. They have over 500,000 documents including census reports, military papers, and Ellis Island logs, resources on CD-ROM and network links to other genealogical libraries across the country.
Before calling a CVB
Estimate the value of your reunion by answering these questions. How many people need rooms? How many nights will they need rooms? What kind of rooms? How many suites? Handicapped rooms? How many meals will your members eat in the hotel? Will you have a banquet? How many drinks will your members purchase?
By providing facts in advance, CVBs know the value of your reunion. They create a fact sheet and send it to hotels. They can arrange site inspections of selected hotels.
An advantage to reunions is that many CVBs have designated at least one sales person to small meetings. What this means is that reunions do not need to share the time of a sales person who is also responsible for a meeting of 5,000 people. It doesn't take a rocket scientist to know that if a sales person is working on a meeting for thousands, a smaller meeting is going to take a back seat … waaaay back.
If your CVB contact concentrates on smaller meetings, he/she also knows all the services and facilities that best accommodate reunions. Take advantage of the special expertise that a reunion or small meeting specialist can provide. Most can help get rates, availability and even some special deals and other services to make your planning much easier.
Ask the CVB if they can provide maps; name badges, discount tickets; reduced admission; referrals to photographers, disk jockeys, speakers or an honor guard.
Reunions benefit communities
CVB staff are an invaluable resource for reunion planners. The opposite side of the coin, and one you should use to your benefit, is the economic impact your reunion brings to their city.
A news release from the Omaha, Nebraska, CVB declared that over 25 military reunions held there in 2000 brought more than 5,000 people increasing the city's revenue by $3 million. The Philadelphia, Pennsylvania, CVB estimates that three July family reunions generated over $230 per day per member. The Hurley-Jackson-Taylor Family Reunion had 75, as did the Robinson-Clayborn Family Reunion while the Rountree Family Reunion expected 200.
With these positive impacts, selling your reunion to a CVB should be easy, particularly if you demonstrate a financial history.
CVB ABCs
Michelle Kaiser, Director of Marketing at the Fargo Moorhead CVB representing cities in North Dakota and Minnesota believes that people don't realize all the things CVBs can do and much, if not all of it, is complimentary. Kaiser offers these comprehensive CVB ABCs!
The CVB at your selected destination can be your consultant, Kaiser suggests, to make your reunion successful with much less stress. Follow the ABCs for ways the CVB can serve you:
A Advance Planning, CVBs are used to working years in advance
B Budget, discuss room rates and meal budgets
C Complimentary Proposals prepared by the CVB with available rooms, rates, menus, etc.
D Details, make for a better proposal and no surprises
E Entertainment and speakers are on file at the CVB
F Flexibility with your reunion dates and type of property can $ave
G Guides/Tours can be arranged for local attractions by the CVB
H Hospitality Services like banners and signs are often free or at a nominal cost
I Information brochures, maps, coupon offers and guides are available for pre- reunion mailings or can be displayed during your reunion
J Just ask about special needs like handicap access, dietary requirements
K Keep records from previous reunions as to room counts, attendance, location
L Live body, your own CVB salesperson is available by phone, fax or e-mail
M Maps are available to make getting there and getting around easy
N Name Badges are often complimentary
O Overhead Projector and other audio visual equipment requirements can be arranged in your proposal, sometimes complimentary from the hotel
P Promotional ideas and themes make your reunion more fun
Q Qualify possible sites by using checklists available in Reunions Workbook
R Registration support is available from some CVBs for larger groups free or at a nominal charge
S Site inspections of possible locations can be arranged by the CVB
T Transportation and shuttle bus arrangements can be made by the CVB
U Unique Attractions and Venues for meetings and fun can be suggested
V Videos and Visitors Guides are available before you visit
W Web Site is another way to visit and enter a RFP (Request for Proposal) to CVBs from any part of the
US. Go to http://www.iacvb.org and use their online RFP form
X Extra Services like florists, photographers, etc. can be suggested by the CVB
Z Zoos for a fun multigenerational outing, often have meeting/party spaces
How lots of CVBs help reunions
Centrally located Colorado Springs, Colorado, CVB has helped reunions such as the China Marines with nearly 1,000 people to the Snapp family with 39. Robert Konkol, coordinator for the USS Carmick (DD-493) reunion points out that over 50% of military reunions in Colorado Springs are Navy reunions even though there isn't a ship within 1,000 miles. Many of over 50 major attractions are free including the Air Force Academy, Garden of The Gods and the newly renovated Olympic Training Center.
An innovative program of reunion planning created by the Northern Kentucky Convention and Visitors Bureau, has helped them become an increasingly popular military reunion destination. There have been more than 250 military reunions since the "Join Forces With Northern Kentucky" program began in 1992. "Join Forces" provides assistance locating former or lost members, acquiring official greetings from the White House, a military welcome with a color guard, speakers list, media relations support and contact with the US Air Force Museum at Wright Patterson Air Force Base in nearby Dayton, Ohio.
"Military reunion groups are very special to us, and we're more than willing to help repay an old debt to those thousands of men and women who served our country and fought to preserve our freedom," says Tom Caradonio, Northern Kentucky CVB president. Contact 800-447-8489; http://www.staynky.com.
A destination rich in variety and heritage makes Kissimmee-St. Cloud (FL) CVB a one-stop shop for reunions. In addition to being right next door to the Walt Disney World Resort theme parks, Kissimmee-St. Cloud is a stone's throw from Universal Studios Florida, Islands of Adventure, Sea World Orlando, the Kennedy Space Center Visitor Complex and a bevy of unique attractions.
The Kissimmee-St. Cloud CVB team will work with you to develop personalized welcome letters, welcome bags, assistance with meeting and accommodation planning. Each January they invite reunion organizers to a three-day familiarization tour of Kissimmee-St. Cloud which includes seminars, site inspections, and most importantly, fun and games. Complimentary accommodations, meals and transportation during scheduled events are offered for the first reunion group representative. Call Debby Rivera, 800-831-1844, ext 417.
The Greater Des Moines CVB can arrange a complete tour of the city, its public meeting facilities and hotel properties based on your needs. They can compile a formal bid packet or presentation for your board or site selection committee. After you've selected Des Moines they provide assistance in securing speakers, entertainment, suggestions for tours, a list of local media contacts to promote your reunion and letters of welcome from the mayor and governor. They can also help develop a promotional piece to hand out and have a wide array of color slides for your reunion publication. Contact 800-451-2625; http://www.seedesmoines.com.
Minneapolis (MN) Metro North CVB researches attractions and prepares itinerary suggestions based on your reunion's interests. They provide a "welcome packet" of brochures, maps and a door prize. The recent USS Ajax reunion is an example of a very satisfied customer. Contact 800-541-4364.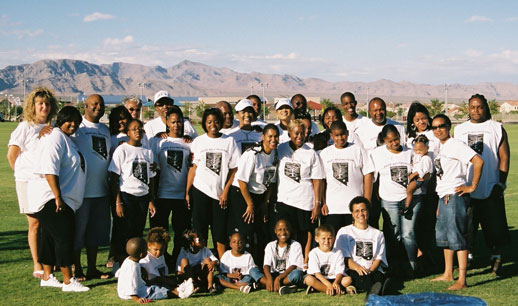 Valley Forge, Pennsylvania, is a popular destination for family and military reunions. The area's historic significance is particularly appealing for military reunions. Valley Forge National Historical Park symbolizes the soldier's determination and commitment in the face of adversity and is a beautiful setting for military groups. Another nearby site is the new American Helicopter Museum and Education Center.
The area attracts some extraordinary family reunions. There have been gatherings of the descendants of General "Mad Anthony" Wayne, George and Martha Washington, Governor Samuel Pennypacker, Aaron Burr, and John Bartram. These reunions generate excitement by revisiting sites which have both historic and personal significance for families and their ancestors. The Valley Forge CVB develops tours or events around your groups' interests. In the case of historic families that may include arranging special performances by actors who bring the period of history back to life or touring sites connected with their ancestors.
Valley Forge CVB put Washington's descendants in touch with tour operator Sue Habgood of American Heritage Landmark Tours, who arranged visits to Independence Hall, Congress Hall, Hanging Rock and Valley Forge.
When the Pennypacker family celebrated the 300th wedding anniversary of Eve Umstadt and Hendrick Pennebecker, Habgood worked with them on historical research and mapped out a route for a four-hour tour. She assigned two guides both of whom were Pennypackers. "We visited graveyards in Schwenksville areas where ancestors are buried. The Steuben House in Valley Forge Park was the birthplace of Galusha Pennypacker, the youngest general in American History who won the Congressional Medal of Honor for his gallantry during the Civil War," Habgood said. CVB staff helped plan a picnic for 300 at Pennypacker Mills, the turn-of-the-century home of Pennsylvania Governor Samuel Pennypacker, now an historic site owned by Montgomery County.
The Valley Forge CVB offers free planning services to appropriate and affordable housing, transportation, party facilities, caterers and other services. Contact Valley Forge CVB at 610-834-7990; [email protected].
Hot Springs National Park, Arkansas, and the Hot Springs CVB combine with the rich heritage, scenic beauty, natural thermal waters and exciting activities. CVB-arranged services include Bluecoat Ambassadors, volunteers who welcome you to Hot Springs and help contacting federal, state or local officials to appear on your program. Contact Hot Springs CVB, 134 Convention Blvd, PO Box K, Hot Springs AR 71902; 800-922-6478; http://www.hotsprings.org.
Kingsland, Georgia, CVB works with the Waycross Class Reunion's rotating golf tournament throughout the Southeast. They also regularly assist local high schools. The largest reunion in South Georgia is of the national WWII submarine veterans hosted annually in Kingsland by the St. Mary's Submarine Museum and the Georgia State Commander. They regularly help host family reunions including the Waye Family, a large annual four-day event. The CVB coordinates nightly entertainment and outdoor activities at nearby Crooked River State Park and provide registration bags, assist with catered meal functions and act as your reunion housing bureau.