Why should journalists and travel agents get all the perks of familiarization (FAM) tours and trips? After all, reunion organizers may bring hundreds of tourists who will sleep, eat, shop, visit attractions, buy souvenirs and possibly return for years to come. If you have a sizeable reunion in the offing, it's time to learn about FAM trips ins and outs that mutually benefit your group and its meeting place.
According to Julie Windley, Convention Sales Manager for the Portsmouth, Virginia, Convention & Visitors Bureau, the reunion planner's first step is to honestly determine whether a destination is suitable for the reunion and whether the group is interested in going there. "Research the size of available facilities to be sure your group can be accommodated and that the date or time of year you wish to hold a reunion is a good time to visit," she explained. A call to the local CVB usually answers those questions quickly.
A FAM tour is not a free vacation for the reunion planner. "A FAM usually has a very full schedule," Windley continued, "and you will be visiting a lot of conference facilities, hotels and attractions in a short time."
Portsmouth, just a five-minute ferry ride from Norfolk (home of the world's largest naval base), welcomed more than two dozen military reunion planners during a three-day conference and familiarization tour of the city and neighboring attractions. Hosted by the Holiday Inn Olde Towne, the reunion planners learned about Portsmouth history from a re-enactor portraying Colonel William Crawford, the city's founder. They visited the Naval Shipyard Museum, the Lightship Museum, the Naval Medical Center Portsmouth and Trinity Episcopal Church, and enjoyed an Olde Towne motorcoach tour along with local restaurants' cuisine. At one of the country's oldest working harbors, attendees viewed a range of ships passing by the famous Seawall. The Portsmouth Naval Shipyard Museum pays tribute to the Norfolk Naval Shipyard, the oldest shipyard in the country. Memorabilia includes uniforms, cannon balls, model ships and a piece of the CSS Virginia (the Merrimac). Old Towne, one of the nation's most historic neighborhoods, houses museums, unique shopping and dining. The group also took a harbor cruise to learn more about the Norfolk Naval Base and visited the Battleship Wisconsin. Portsmouth is near some of Virginia's most popular destinations such as Jamestown, Yorktown, Colonial Williamsburg and the Virginia Beach oceanfront.
Qualified military reunion planners, most with spouses or guests, became familiar with the area and its attractions, and many booked their reunions.
Who is qualified? "Invitations to attend a FAM are sent by Portsmouth CVB," explained Windley, "and the planner is asked to provide specifications for an upcoming reunion that they are considering holding in Portsmouth. Up to two planners representing each reunion are invited to attend and each can bring one guest since most FAMs are held on weekends." Airfare is usually not included but CVBs happily help find affordable flights.
How long do FAM tours last? "It has been my experience that FAMs usually last two to four days," Windley explained. "Sometimes a FAM is a cooperative effort of several cities in a region. A typical schedule may begin with an evening reception the first night, a full day of touring the following day, beginning with breakfast and ending with an evening event or reception. The FAM would end the next day either after breakfast or lunch. The length of the FAM always depends on the number of sites, attractions and sponsors involved."
Ray Kester, a military reunion planner who attended Portsmouth's FAM, now understands how FAMs make reunion planning easier, and they are just plain good marketing. "This FAM trip to Portsmouth resulted in my establishing meaningful contact with representatives of the area CVBs, some hotels and transportation companies. It allowed me, with minimal effort, to get a 'visitors view' of available attractions — a great timesaver," Kester said. He has good advice for all reunion planners. "Remember, the CVB and hospitality provider representatives are your first contacts — they want you to be pleased." Len Gordon attended the FAM and even though his reunion group isn't going back to the area, he's praising Portsmouth to other groups. "I think Julie and the entire CVB did a great job with the hotel, dinners, trips and everything else," Gordon said.
Ken Fisher, of the 551st SMS (Strategic Missile Squadron), was starting to plan the group's initial reunion when he attended Portsmouth's FAM. "Once the representatives realized we were newcomers, everybody helped us and we asked many questions," he explained. "We told them our first reunion would be in Lincoln, Nebraska, where our base was. This didn't bother anyone and the reps still helped us and shared information. Indeed, we learned much information we didn't know before attending the FAM."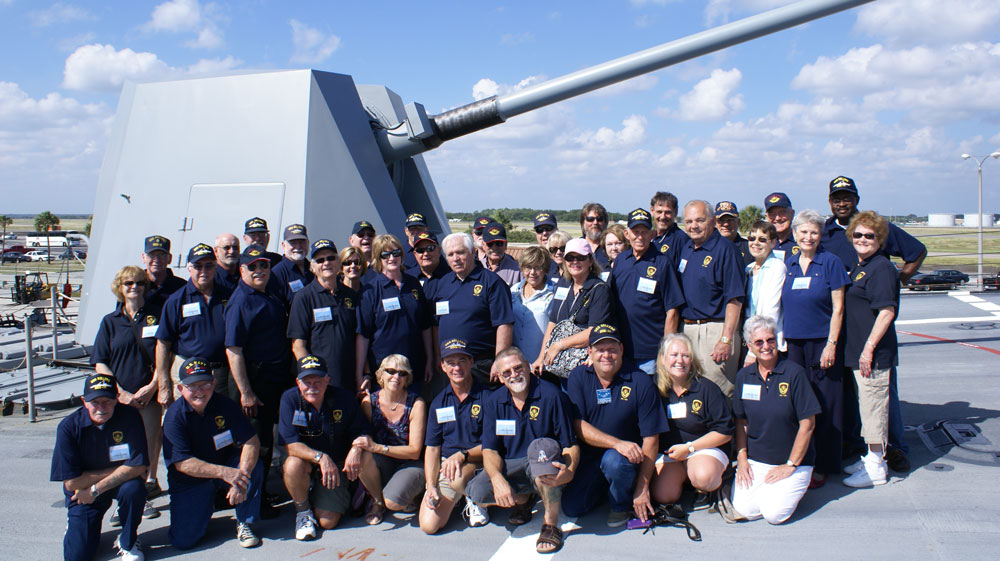 Fisher gleaned a lot of reunion-planning information in just a few days. "The most important thing we learned is to take your time planning your event. These are some of the things he learned.
"Learn all you can about your membership. I have a four-foot map with pins where all the guys live. Two guys live on the same block and never knew until our association was started.
"Take your time planning, you can't rush into a reunion. If you do, you will be facing a disastrous event. It takes over a year to work out all the details.
"Take a trip to the reunion site and look around. Do inspections and meet people. Try to enlist local volunteers to help. Listen to people's ideas, especially if they live in the area.
"Ask your members where they really want to hold the next reunion. Remember that retirees are on fixed incomes and can belong to several military organizations. If you want them to attend, listen to them. Contact the convention and visitors or tourism bureau and find out how they can help. Work with a hotel representative and stay in contact with that person.
"Contact the local media — they can help too. Press relations is important and can help connect you to local business people.
"Maintain a log. Record information from each e-mail or phone call when dealing with the hotel or any other contractor. Finally, say a prayer to make sure you did not forget anything."
Visit www.portsva.com to learn more about group gatherings or call Julie Windley at 757-393-5327 or 800-PORTS-VA.
Daryl Whitworth of the Fredricksburg, Texas, CVB warns that reunion organizers must know their preferred dates. They need to know whether the group will gather during the week rather than the weekend to save with mid-week rates. They also need to know the projected number of attendees, type of gathering space needed and type of off-site events the group may wish to attend. "Most of this preparation for a FAM is often best handled with a pre-FAM phone conversation," he explained. "This allows us to query the organizer about specific needs and match the best available properties and venues to the organizer's expectations; i.e., proximity to Main Street, meeting/banquet space needed, playground, etc." Unlike Portsmouth's large reunion FAMs, Fredericksburg hosts reunion FAMs on an individual basis, visiting two to five properties a day. "We offer tours of off-site venues and attractions, too, and anyone who is a planner for the reunion may attend."
Why consider Fredricksburg in Texas Hill country? Beyond the area's sheer beauty, there are perfect group attractions and activities. "A common comment I receive from reunion planners who choose Fredericksburg is that we offer so much for everyone in the family to do while they're here," Whitworth beamed. The Admiral Nimitz State Historical Park with its extensive World War II collection, and the History Walk of the Pacific War are magnets for veterans. You'll tour the National Museum of the Pacific War, the Admiral Nimitz Museum, the George Bush Gallery, the Plaza of the Presidents, the Japanese Peace Garden, the Memorial Wall and the Pacific Combat Zone — all part of the park. For American history buffs there's Fort Martin Scott Historic Site, a pre-Civil War military outpost showcasing Texas' first frontier fort. Others may enjoy Wildseed Farms, Ltd., one of the nation's largest working wildflower farms; the Lady Bird Johnson Golf Course, a beautiful 18-hole championship course; five area wineries and numerous vineyards tours and tastings; and Gish's Old West Museum, a fine collection of Old West items. Everyone should stroll Fredericksburg's Historic District's 80 points of historic interest.
For the free Meeting and Reunion Planner, contact Daryl Whitworth at 888-997-3600, ext 29; [email protected].
Don't be discouraged when someone like Mark Barnes, Director of Convention Development for the Greater Louisville Convention and Visitors Bureau, tells you how large a group is necessary for FAM opportunity consideration. "Generally a group must use a minimum of 1000 room nights to qualify for a FAM tour." In other words, if your reunion requires 250 rooms for four nights, you're using 1000 room nights. In reunion planning, as in life, don't be afraid to ask. Barnes says usually one decision-maker is invited to a FAM, however, each request is reviewed individually. Is airfare included? "Sometimes. Again, this is considered on an individual basis." In addition, the convention bureaus generally produce a list of potential invitees, but planner requests are recorded for future FAMS — so ask! Whether or not you attend a FAM, expect the CVB to provide brochures and general information about local attractions and contacts for reliable hospitality providers. Ask about assistance during the reunion: will the CVB provide badges, handouts, maps, etc.?
Barnes notes that planners should be sure the site can handle the reunion with hotel rooms, airline flights and off-site attractions, but in this economy, also consider the destination's locale for the driveability factor. Louisville, smack dab in the center of the country, qualifies with unique attractions such as the Louisville Slugger Museum, Churchill Downs, Kentucky Derby Museum and Caesar's "Glory of Rome" floating casino. There is also Fort Knox, the home of Armor (where Armored Divisions did much of their training before going to World War II), rolling bluegrass hills, many antique shops, quaint arts and crafts galleries and Southern cuisine. At the center of three major interstates (I-65, I-64 and I-71) the city is an easy day's drive for much of the country's population; five hours from Chicago, two from Indianapolis and seven hours from Atlanta or Pittsburgh. Greater Louisville is one of the country's most affordable cities, offering some of the best hotel rates.
For more information about a Louisville reunion, contact Mark Barnes at 502-584-2121; [email protected].
A FAM is a privilege
Complimentary familiarization tours (FAMs) or site inspections of hotels and attractions can be arranged by some CVBs. Many CVB's conduct several FAM tours annually with a wide variety of topics and are always looking for qualified invitees. Take advantage of the opportunity. They include family reunion organizers who meet criteria established for a designated FAM. Personalized site inspections are also available. Usually, the only cost is getting there. A site inspection is always recommended to make sure the facilities will meet your requirements. Some CVBs charge a deposit which is refunded to those who attend. Deposits ensure that those attending are seriously considering the city as a possible reunion site.
The purpose of the FAM is to sell you on a destination. On the surface, FAMs may seem like a vacation when, in reality, it's that oxymoron of the real world: a working vacation. FAMs encompass many attractions, hotels and restaurants. Schedules start early, go late and are constantly moving because there's much to see and do and many people to meet.
How good the FAM was will dictate how sold you were. How sold you were will reflect what your hosts expect from you: words of praise, your business and your reunion.
Ask lots of questions. Get lots of answers. You will have access to sales managers so you can discuss dates and rates. Be satisfied that you know everything you need to know about your destination.
Every reunion wants or needs something different. CVBs reduce the hassle of planning. The ultimate decision, however, on where to stay, go and do is up to you.
The CVB and reunion organizer share the same desire – to meet or exceed the goals and objectives of the reunion.
About the author
Journalist/Editor Jacky Runice has penned a weekly travel column for Chicago's Daily Herald since 1994 and writes about travel and dining for USAToday.com; CBS Local Chicago; and Examiner.com. She expands her repertoire at Kane, Lake and McHenry County (IL) Magazines with articles about everything from healthy living to technology. A former Chicago radio talk show host, Jacky has three grown children who have inherited her love of sampling new cultures, countries and cuisine.