When I was a teenager, summer was my favorite season, heavy with the scents of sun block and fruity lip-gloss; the hissing of cicadas at twilight and frantic disc jockeys emanating from the old transistor AM radio. The beach was hot and crowded with yearning for tans and a potential summer love. I'm rarely nostalgic about the high-pitched activity of my summer youth because now I fully appreciate the relaxed pace of fall. Consider your next reunion amid the sensuous harvest of autumn: a taste of warm apple cider, the sound of crackling leaves underfoot, snuggling on a hay ride to the pumpkin patch and drinking in the glorious colors of the season with friends and family.
Autumn's palette
When Americans think about autumn's palette, New England naturally comes to mind. It seems one needs a degree in meteorology, however, to determine when to arrive for a peak color show. Rainfall, temperature, elevation and the angle of the sun affect fall foliage. Shoot for the second and third weeks of October for the best odds of great color over the widest possible area of New England.
The Mount Washington Hotel & Resort
The Mount Washington Hotel & Resort is poised at the base of the highest peak in the northeast and New Hampshire's 18,000 acre White Mountain National Forest surrounds the National Historic Landmark. New England's largest wooden frame building, the Mount Washington Hotel opened in 1902 as a lavish summer resort in Bretton Woods, New Hampshire, a three-hour drive from Boston. Saved from the wrecking ball, renovated and winterized, the grand old gal hosts guests year-round offering two golf courses and an 18-hole putting green, red-clay tennis courts, horseback riding and carriage rides, indoor and outdoor pools, fishing, biking and hiking. The largest area of alpine ski terrain in the state attracts skiers when the snow begins to fall.
The resorts two golf courses date back to the early 1900s with the 18-hole Mount Washington course designed and personally supervised by legendary Scottish architect, Donald Ross. The historic Mount Pleasant Golf Course, opened in 1895 and restored in 1989, offers 9 holes of challenge. Imagine swinging on the same courses that challenged the likes of Babe Ruth, Thomas Edison and Bobby Orr. The resort offers golf packages, private lessons and three-day swing schools for golf and tennis. The Conference Sales Staff and Resort Golf Pro will help coordinate a golf event or tournament to complement your reunion (603-278-8813.)
Autumn brings colorful weekend events to the resort and its environs: Bavarian food and music permeate Octoberfest. In addition to fishing opportunities in nearby lakes and streams and 100km of marked biking trails, the resort offers a daily activity program and a "King of the Mountain Kids Kamp." Some reunion members may choose to ride the Mount Washington Cog Railway, the world's first mountain climbing Cog Railway, just six miles from the resort or shop at over 200 outlet and specialty stores in nearby North Conway/Glen.
In addition to the 200 guest rooms and suites in the historic Mount Washington Hotel, accommodation choices include the 1869 Bretton Arms Country Inn, Bretton Woods Motor Inn and the Townhomes at Bretton Woods, one to five bedroom fully furnished quarters. Carl and Beverly Siemon's group chose the Mount Washington Hotel because of its historic nature and the 33-member family wanted to be in one building. "Every other year, for the past 13 years, we do something special," explained Beverly Siemon of Sanbornville, New Hampshire, " and early this summer, the 17 grandchildren, their parents and a family friend gathered at this amazing place." (According to Carl, the 15-year-old family friend from England endured the rigors of a Yankee Independence Day very well.) "We enjoyed the traditional things like golf and tennis," she continued, "and the grandchildren, ranging from infancy to 17-years-old, had plenty to do.
They played board games and just felt very safe to explore the grounds. The staff bends over backward to make it comfortable and it's a very complete resort – there's something going on all the time and the food is fabulous. We didn't have to leave the place for a week!" The Siemons are nature-lovers and encourage the family to get outdoors.
"The kids loved jumping off these natural ledges into a pool and the falls eroded the rocks to make natural slides," Carl explained. Beverly noted that "It's what the water parks are trying to create but this is what God created – absolute gorgeous scenery!" The clan celebrated Grandpa Carl's birthday and the grandchildren put together a little show: the boys parodied popular songs and the girls did a rendition of "We are Family" using family members names. Beverly explained that the mothers in the group loved not having to cook all the time. "The women realized this is how a man goes on vacation and we may never have a reunion with kitchenettes again," she laughed. Contact Mount Washington Bretton Woods reunion, 800-258-0330.
The Beach family
The Beach family, the fourth generation to welcome guests to the Basin Harbor Club, hosts groups on the shores of Lake Champlain, Vermont. Along with unparalleled displays of nature's artwork, autumn ushers in calm, clear nights and the fragrance of birch logs in the fireplace. Explore Lake Champlain on the 40ft. Dynamite II, canoes, kayaks, Sunfish, outboards or a Daysailer or pull up a Basin Harbor Adirondack chair and read by the shore. Anglers can count on nibbles by perch, northern pike, salmon, bass and trout while bird watchers revel in the many migratory species that use the Champlain Valley as their flyway. For guests who prefer terra firma, the 18-hole golf course designed by Geoffrey Cornish (4 1/2 Star Rating from Golf Digest's Best Places to Play), tennis courts and colorful gardens (the largest collection of annuals in Vermont) offer more reunion Kodak moments.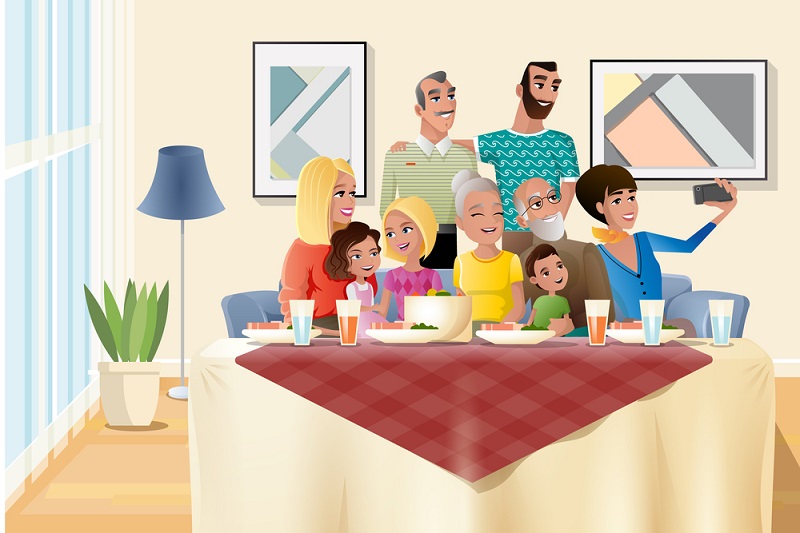 You'll discover Vermont marble hearths and mantles in most of the 77 unique one to three bedrooms cottages. Seven are fully accessible for handicapped guests. Choose to room in the Main Lodge, the Champlain House or the historic Homestead, the first structure built on the Harbor in 1792. The Stormont clan, 36 strong, especially liked staying in the Homestead because they occupied all of the 16 rooms as well as the communal areas. Some Stormonts, who hailed from Iowa, Wisconsin, Illinois, New York, Georgia and New England states, took in tennis and golf while others made a side trip to a teddy bear factory. Joan Stormont delighted in Bob Beach's lecture on the history and lore of Lake Champlain and the Basin Harbor Club.
The Miller Family
The Miller Family has been coming to Basin Harbor Club for over 16 years and Mrs. Bette Miller has watched her children, nieces and nephews grow to bring their children to the yearly gathering. Last year, Mrs. Miller celebrated her 89 3/4 birthday, carefully calculated to the day, with the whole family, who couldn't be with her for the 90th celebration. She says one of her fondest memories was her 10 year old great-grandson said, "Grandma, I can't wait to bring my grandchildren here!" In 2002, she plans on flying in with her grandson piloting the plane and landing on BHC's grass airstrip.
Miller family members, some from as far as California, enjoy a very competitive golf tournament each year with prizes and awards, nightly cocktail parties and the annual costume party when everyone dresses in wacky formal wear.
Call about special Fall Golf Escapes and Couples Escapes, fall Pastel Workshops for artists in your group and the homey Fall Fest Weekends, September 22-24 and September 29-October 1, 2000. Afternoon tea, hayrides, evening jazz concerts or a family pumpkin-carving contest make exceptional memories. The Basin Harbor Club is featured in the Johansens North American guide – a travel guide to independently owned and operated, unique accommodations. Contact 800-622-4000.
Pocono Mountains
If you can't find fun at Woodloch Pines, a family-owned four-season resort Pennsylvania's Pocono Mountains, check your pulse. Since 1958, the Kiesendahl family has entertained guests with everything from aquanastics to walleyball along the 250 acres fronting a private lake. All vacation packages include meals, nightly entertainment and activities. There are 160 guest rooms and 60 guest rental homes in the country club community and the resort has been honored three times by Better Homes & Gardens as "one of America's favorite vacation resorts." Golf Digest has awarded the golf course. Consider an "Autumn Splendor Weekend" with horse-drawn hayrides and a country caravan to an apple orchard or family olympics and scenic boat rides during the Columbus Day holiday. Woodloch Springs guest homes, accommodating from six to 12, may be rented on a full-American Plan package or without meals. Contact 800-572-6658.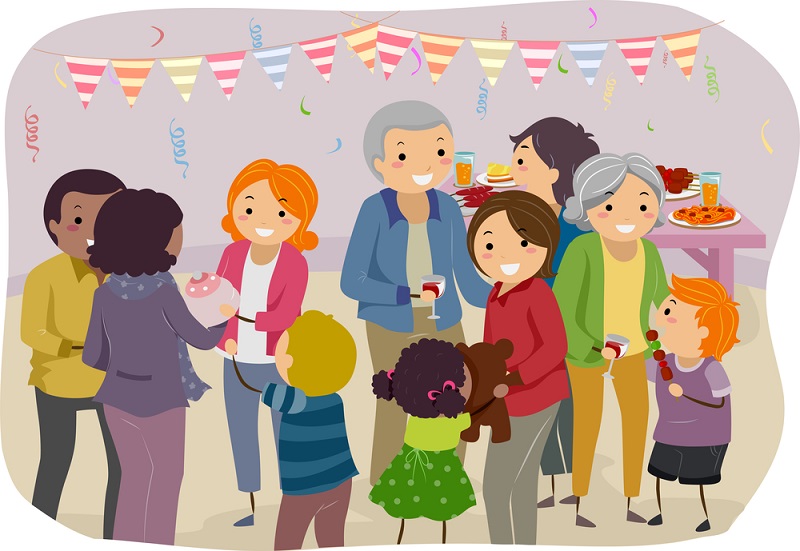 It's not New England, but you won't be disappointed in the crimson, gold and deep purples dappling the rolling countryside of Granville, Ohio, 45 minutes east of Columbus, Ohio, where Cherry Valley Lodge hosts scores of reunions. 2000 marked the fourth year in a row the Calabrese family met at the Lodge. As I write this story, Cherry Valley Lodge is hosting a 400 person Peaks-Staunton family reunion complete with a barbecue, banquet and pizza party. Each person received a fruit and food basket at check-in and the family set up their own retail area to sell family logowear: t-shirts adorned with either a family crest or a reunion logo.
The lodge has floors especially designed for reunions with access to a private courtyard. Construction is underway on the new outdoor two-acre reunion area which will feature a fire pit, room for sing-a-longs, chuck wagon dinners, cowboy music and more. Cherry Valley Lodge strives to maintain a premium "Country Inn" experience while offering groups a full range of services such as theme parties, barbecue tent parties, golf outings, murder mysteries, baby sitting, cooking demos and transportation.
There are 200 spacious guestrooms, including 16 suites, which feature refrigerators, coffee makers, VCRs and cable TV. Wander over to the game room for pool, board or video games and the large screen TV in a family room atmosphere. Swim a few laps in the indoor or outdoor pools, challenge members to a game of basketball, volleyball, horseshoes or shuffleboard or grab a bike for a scenic trail ride. Contact 800-788-8008.
Just try to choose among the three villages of Shanty Creek in Bellaire, Michigan. Spread over 4,500 acres, each offers fully furnished homes, chalets, condominiums and guest rooms as well as its own golf course. With the grand opening of Cedar River Golf Club, Shanty Creek boasts four of the finest courses in Michigan. As a matter of fact, Golf Magazine named it one of the Top new courses in the country! Golf Magazine named "The Legend" one of the Top Four Courses in the country and Golf Digest rated it the top resort course in the Midwest.
Enroll in a half-day tune-up session or an in-depth three-day class at Shanty Creek Golf Academy. Guests have access to six lakes, indoor and outdoor pools, tennis courts, jogging paths and mountain bike trails, horseback riding and babysitting services. Ron Garbinski and his family produce a Shanty Creek after Labor Day reunion every year and guests enjoy the variety of activities. In addition to everything going on at the golf and ski resort, gaming opportunities are a mere 20 minutes away at Turtle Creek in Traverse City or try your luck at Victories in Petoskey, a 45-minute drive.
Northern Michigan
Autumn is so awesome in Northern Michigan that you'll see tour buses of leaf peepers trying to take in the glories of the season. The vistas from Shanty Creek's Summit Village overlooking Lake Bellaire are the stuff of picture postcards and the chairlift at Schuss Village insures a bird's eye view of nature's splendor. Take the feeling of the northwoods indoors if you stay at The Lodge at Cedar River, Shanty Creek's new suite-condominium hotel. The interiors feature fir, pine, birch, oak and cedar and other materials imitate clay found along the river while the carpeting simulates the colors and patterns of the forest floor. Call 800-678-4111 to design a golf reunion or visit www.shantycreek.com.
Mountain Lake Resort
Mountain Lake Resort lies in the lush Allegheny Mountains of southwest Virginia, adjacent to a federally designated wilderness area and the Appalachian Trail. Atop one of the highest peaks, the rustic mountain retreat provides a dramatic vantage point for leaf peepers and plenty of options for activities and accommodations. Hiking, mountain biking, fishing, boating, lawn games, a wilderness camp for kids and game-show style trivia contests keep the smiles coming on site and golf, canoeing, caving and white-water rafting excursions are nearby. Avid outdoorsmen may be interested in Mountain Lake's three-day hunts in October and November.
The 2000 reunion of the Hunter clan of Birmingham, Alabama, marked the 46th at Mountain Lake and the Woody family has met there every year since 1980. It's no wonder that Southern Living Magazine named Mountain Lake Resort one of the South's most popular family reunion destination.
Settle in one of the 50 rooms in the landmark hotel or the 16-room Chestnut Lodge featuring fireplaces and living areas. You may prefer one of the 13 turn-of-the 19th century cottages that were featured in the film "Dirty Dancing. For more information, visit www.mtnlakehotel.com or call 800-346-3334.
About the author
Journalist/Editor Jacky Runice has penned a weekly travel column for Chicago's Daily Herald since 1994 and writes about travel and dining for USAToday.com; CBS Local Chicago; and Examiner.com. She expands her repertoire at Kane, Lake and McHenry County (IL) Magazines with articles about everything from healthy living to technology. A former Chicago radio talk show host, Jacky has three grown children who have inherited her love of sampling new cultures, countries and cuisine.