Growing up my family was big on family dinners and game nights. CLUE was a household favorite. Did you know that there are several benefits (beyond just having fun) to having regularly scheduled game nights?
Here are just a few facts about the benefits of the game night!
Fosters better communication skills and character
Teaches good sportsmanship that will be applied to everyday situations
Releases endorphins to reduce stress and focus energy in a positive way
A fun way to learn about problem solving
Strengthens relationships and bonds among family members
A creative method to enhance reading skills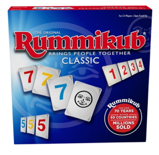 Rummikub and Pass the Pen are two great games families can get started with.
With more than 55 million units sold, Rummikub is one of the world's best-selling and most-played games!
Players take turns placing numbered tiles in runs or groups, Rummy style – the first player to use all of their tiles wins!
Fast-paced, easy gameplay is ideal for people of different ages to play together
Reinforces STEM skills like sequencing, pattern recognition and planning
For 2-4 players, ages 8 and up
Find it at Target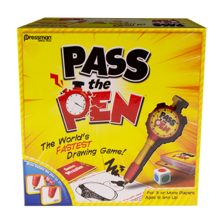 Pass the Pen is the world's fastest drawing game because the pen tip disappears as you play! You'll get 10 seconds to draw while all the other players guess. Is that a hamburger? A snowman? A sumo wrestler?
Built-in timer makes the pen retract as you draw
Players get 10 seconds to draw – if nobody guesses right, pass the pen to the next player to pick up where you left off
It's fast, fun and guaranteed to draw out plenty of laughter
For 3 or more players, ages 8 and up
Find it on Amazon