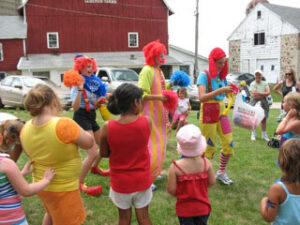 Families looking for a beachfront vacation resort that offers something for everyone need look no further than the Naples Beach (FL) Hotel and Golf Club, which has created a new "Beach Klub 4 Kids" that's not only loaded with plenty of fun and educational activities – it's free for all guests ages 5-12. Besides organized games, craft activities and hands-on nature studies, all supervised by trained professionals, kids receive free treats, snacks and admission to Jungle Larry's Caribbean Gardens. For more information call 800-237-7600 or visit www.NaplesBeachHotel.com.
It's a kids world in Kissimmee
Walt Disney World® attractions are famous. However, there are also many other things to intrigue kids in the Kissimmee, Florida, area. Gatorland offers thousands of alligators and snakes, an opportunity to learn about the real Florida. Green Meadows Petting Farm has 200 farm animals, and offers pony and hayrides. Kids can even milk cows. Jungleland houses more animals, birds and reptiles. Water Mania features lots of water fun. Everyone can enjoy fantasies at Arabian Nights (a musical tour), Medieval Times (jousting matches and sword fights) and Wild Bill's Wild West (cowboys and Indians). For reunion planning assistance call 800-831-1844, ext 416.
Kids are special reunion guests in many places
Families whose reunions are at Sunrise Resort in Moodus, Connecticut, seem content as some have 30-year reunion histories there. Cindy Lespier started coming to Sunrise as a child and now hosts the Pastor Family Reunion there. The Brown Sisters Reunion alternated between home areas in Connecticut and Maryland until the latter group decided they'd just come back to Sunrise! Finally, the Moller Family Reunion of over 20 years regularly meets on Father's Day.
Sunrise offers three single-spaced pages of kids and family activities that begin to explain why so many families don't look elsewhere. Activities for the littlest ones (3 to 7 years old) include a mini resort, Mad Hatter's Ball, Halloween (in July and August) and Christmas (in July). For eight- to twelve-year olds there are lots of contests (rubber ducky, golf, fishing), canoe trips, mountain bike tours and a treasure hunt. Many of these same activities plus much more are available to the 13- to 17-year olds (war canoe races, Halloween fright night, spa party, candle light swim, DJ parties). They also have a mentoring program where teens help with four to seven year olds. These in addition to lots of family activities (eg: nature hikes, morning wake-up parade, breakfast paddle to a beach to eat).
Sunrise's special accommodations for reunions include a private dining room whenever possible, a private place for evening activities, and special events planned just for your family. They will also make custom reservation forms for you to send to family members.
Camp Cookie perfect for reunion kids!
Doubletree Hotels and Suites in Texas welcomes family reunions to Austin, Dallas and Houston. Guest suites, where available, afford the amenity of having a full kitchen and the freedom to prepare your own meals, eat out, or both. One- and two-bedroom suites are available at Doubletree Guest Suites, Houston (713-961-9000) and Club Hotel by Doubletree, Austin (512-478-7000). The Houston location is close to many attractions, particularly Astroworld, one of the Six Flags theme parks. Babysitting is available at Austin and Doubletree Hotel at Lincoln Center, Dallas (972-934-8400) has a special kids focus (12 and under) with Camp Cookie, which includes souvenir t-shirts and hats, a children's swimming pool and menus and free shuttles to a nearby skating rink and cinemas. See list of other Texas Doubletree Hotels in Reunion Resources.
Official Oregon kids travel guide available
The Oregon Tourism Commission has issued The Official Oregon Kids Travel Guide. The guide, a first of its kind in the US, addresses interests and concerns of younger travelers.
There are fun things to do and see. The guide is broken into five categories: try it! see it! do it! taste it! and live it! It showcases travel suggestions from real Oregon kids, including a sled dog racer from Bend, a snowboarder from Mount Hood, a lion dancer from Portland, a kayaker from Medford, a cowboy from Ontario, a jingle dress dancer from Siletz, and a published author from Eugene. It also offers attraction-sponsored activity pages and information about beach safety, tide pool etiquette and the Leave No Trace program. The guide is free from 800-547-7842 or www.traveloregon.com.