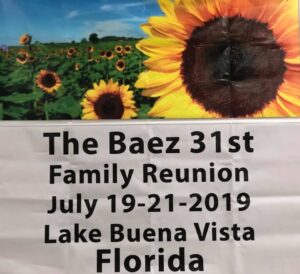 Six generations descended from Eladia Marinez, the daughter of Tiburcia Baez and Leonicio Martinez. Eladia was a dedicated mother who helped support her family of eight children as a domestic worker. In 1963 she came to Brooklyn, New York, and lived her remaining years surrounded by the love of her family until 1988 when, at age 86, she passed away. Her family continues to commemorate her love by holding an annual reunion in her name. Reunion 2019 was in Buena Vista Lake Resort, Orlando, Florida, for the 31st annual Family Reunion.
Reunion Highlights- Friday there was a Meet and Greet, Bingo, and entertainment. A Family Potluck Dinner /Ceremony Saturday Evening was held in the Resort Meeting Hall. We had a delicious buffet followed by Special Tribute by the Vasquez siblings in honor of their beloved Mother Ramona – The Queen – who recently passed away. Brigida Marin was crowned the new Queen of the Baez with an inspiring message delivered by the host Aida Vazquez. The crown represents that are you in charge, you guide us with knowledge and never let us down. To our uncle, aunts or titi as we call them, we honor them all, on behalf of the "Vasquez Morales."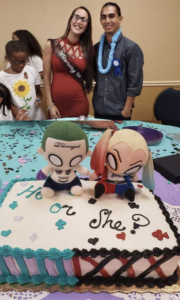 Other activities included: Freddy and Styles Birthday Party, Carissa Aslanis and Alex Gender Reveal Party. We also had a raffle, dancing, more bingo and lots of picture and video, and much more fun!
Special thanks to the Vasquez group for organizing this memorable event, Kimberlee for designing our reunion t-shirt and Freddy for designing and making a beautiful banner. To all those who helped make this another successful family reunion.
On Sunday we hung around the pool followed by hugs, kisses and heartfelt goodbyes. Praying for a safe trip back home.
What a blessing is to see a gathering of generations of family members who come together in unity to honor the past, celebrate the present, and prepare for the future. It is reconnecting with relatives and friends for the purpose of fun food, fellowship, the strengthening of ties that bind us one to another.
On behalf of the Baez Family I would like to thank Reunions magazine for helping us tremendously with organizing reunion ideas and for posting our family reunion and pictures.
Reported by Serafina Rosado, Baez Family Reunion Coordinator, Casselberry, Florida.