Spending time with family and friends is always a priority when the economy experiences problems.




While other travel segments might be hurting, reunions are rarely postponed. In their own words, reunions are too important!
AD RATES 2020-2021
REUNION RESOURCES is our directory of reunion destinations, places to stay, attractions, services and products for reunion planners.
LOOK FOR SPECIAL PROMOTIONS for lower rates offered for social media.
CONTACT:
Roberta McLoud
[email protected]
☎️ 414-467-8104


---
Your message belongs in Reunions magazine.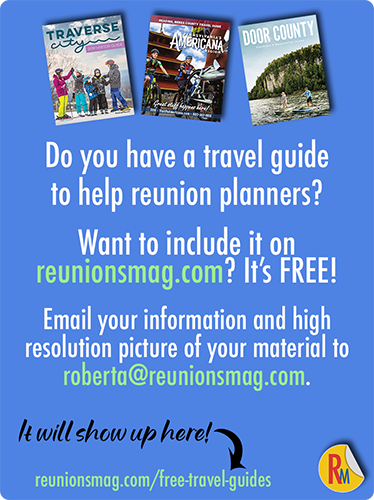 Reunions magazine offers incredible value to advertisers.
Every issue of Reunions magazine's role as an advertising and marketing partner has never been more powerful.
directory listing (Reunion Resources)
—directory listing online with logo; video
—banner ads on reunionsmag.com
—email marketing
—podcast sponsorship
—Facebook and Pinterest posts
Added value for advertisers includes:
—priority editorial placement featuring reunions you've hosted
—reunion planning workshop listings
---
ABOUT REUNIONS MAGAZINE
Reunions magazine is published periodically, mailed to 13,000 family, class, military and other reunion planners and read by thousands on the internet.
Reunions magazine is the undisputed reunion market leader.
Why readers choose Reunions magazine
Reunions magazine covers topics that help plan family, class, military and other reunions. It is reader driven and captures the excitement of reunions. We've featured hundreds of destinations, venues, services and products. Our readers know they can trust Reunions magazine to keep them informed.
Reunions magazine is the premier publication in its market
From professional reunion planners to class and military reunion and family travel planners, Reunions magazine is recognized as the expert in its market. Media and advertising experts also recognize Reunions magazine's unique position.
The REUNIONS Family
Reunions magazine reaches a large audience on the internet (reunionsmag.com). Reunion Resources, our unique directory of reunion serving businesses, provides internet users the opportunity to evaluate hundreds of choices for family reunions and family travel. "Getting Started" (reunionsmag.com) demonstrates how to plan a reunion. A directory of upcoming reunions and audio podcasts inform planners. There is also an active and growing presence on Facebook and Pinterest.
Our Target Audience
Female: 80%, Male 20%
Age: Mainly over 55 but many younger members are getting involved
Income: Over $55,000/year
Interests: reunions (with classmates, siblings, cousins, aunts, uncles, grandparents, great grandparents, friends, buddies, neighbors, co-workers, teammates …), group activities, history and travel.