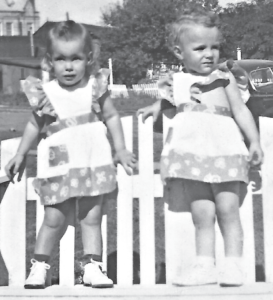 Many years ago, when Reunions magazine was very young, Karen Robertson shared the story of six cousins who formed a club about 66 years ago. They called themselves BROLRAs, two letters of each of their last names; BR from Brassfield + OL from Boltz + RA from Ray = BROLRA. Over the years more Brolra reunion stories have appeared in the magazine so, obviously, we became friends. Then, recently, I received this letter from Karen. We decided to share some of the letter because there is something universal about a passing and the opportunities taken before it's too late.
Karen's Letter
Karen wrote: I've had you on my mind because you've followed the craziness of the Brolras for many years. A couple weeks ago, I got home from a great adventure, a 1,777-mile solo road trip. I visited 36 friends and relatives with the main goal to visit my cousin, Donna Eames, Brolra #2, who was 15 hours older than me.
She was diagnosed about four years ago with Alzheimer's. I'd visited her several times but she was beginning to forget family members. I wanted to spend as much time with her as I could because we were very close. We went to lunch and walked a couple miles each day and had a wonderful time together. Eight days later, an artery burst in her brain and in two days she was dead. We have lost our first Brolra and we are all at a loss.
Don't ask me why I thought you should know, but I guess it is just my way of processing how merciful our God is. He spared her the horrors of Alzheimer's which were soon to beset her. Donna was the sweetest, most dignified, most lady-like of the Brolras and God took her while she was still beautiful, healthy, and herself. What an amazing God we serve.
Much love to you,
Karen