Exhausting, exhilarating, bonding, hysterical and oh yeah, did I mention exhausting??
Yes!
Plan ahead
Think through a schedule. Consider the needs of attendees which change from year to year. Post a schedule.
Anticipate needs
Moms need a break from kids. So schedule "Mom's Lunch Out." Dads are in charge of the kids. Dads do the same the next day!
Moms need a break from cooking. Plan a "cook-off;" kids shop, prepare, and clean! Mom pays. Or each family is in charge of one evening meal and "KP" one day. Folks are on their own for breakfasts and lunch with plenty of "fixins."
For early risers, have a large tub filled with markers, scissors, papers, stickers, pipe cleaners each morning to entertain small kids.
Create silly traditions
Have "welcome goody bags." Organizer does ones for grandchildren and each adult couple brings something for each couple's bag. This year adults got a CD mix including favorite songs they submitted, a "woopee" cushion, homemade granola, nuts, and sermons on CD. The kids got water bottles (from the Dollar Store) with their names on in magic marker. They also got funky small balls, and mints. We go berry picking, have a dance party, a scavenger hunt. Our favorite tradition is creating "Warren Country's largest banana split." Buy a gutter from the hardware store, line with foil and fill with ice cream, bananas, chocolate, and whip cream toppings. Everyone digs in.
Note: There is a picture on Pinterest (Reunions magazine) of a banana split on the Desserts & Sweets board.
Lower expectations and grant grace
Do not discuss difficult issues. Family reunions are a time to celebrate what is good. Deal with hard issues at other times. You are going to disappoint someone and someone is going to disappoint you. So determine ahead to grant extra grace and assume the best. Be quick to apologize and ask forgiveness. Everything will not go as planned. Plans are always subject to change and flexibility is crucial.
Express gratitude
From blogger Susan Yates who has five kids (including twins), 21 grandchildren and is a pastor's wife.
---
How to Plan a Family Reunion
Get organized. At least nine months in advance, start the conversation. Talk to family "thought leaders"—the ones who make the decisions. The earlier the better to coordinate family schedules.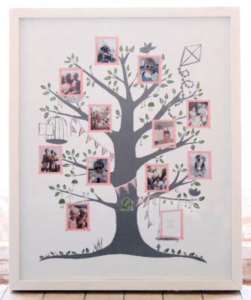 Delegate. Choose a leader to coordinate the event. You'll need a reservation-keeper, another in charge of meal planning, another for activities. If all of this is starting to sound like work, it is. A reunion requires a staff that works independently and reports to the group regularly.
Make reservations. Reservations can all be made online. Use a reliable service such as reunionsmaghotelplanner.com. Share all important dates, times, and ticket info. Get a head count and make lodging reservations six to nine months in advance. Buy plane tickets four to six months in advance. Book activities about two months in advance. Double-check your head count one month prior to travel. Re-confirm all reservations, airport transportation and car rentals one week in advance.
Don't forget the swag! A family reunion t-shirt—or tote bag, baseball cap, or custom-made craft—helps keep the memory alive.
Display a family tree. Bring photo albums. But be sure to collect and organize family photos digitally for future reference.
Take a group photo. Book a professional photo session. Pricey? It can be—but it's worth the quality of the photography, shot composition, and professional printing.
Make a music video. Leave the tech to teens.
Ask kids to make name tags or dinner-table place cards. Pack craft paper and crayons.
From an article by Robert Firpo-Cappiello in Budget Travel Advice.
---
We are fam-ily: top 9 tips for planning a reunion
Keep everyone informed.
If your reunion is annual, setting a standing date is helpful. A consistent date helps family members schedule.
Food. Food. Food.
If members are local, then plan a potluck of everyone's signature dishes. Chip in for barbeque or grill. Homemade ice cream is a big treat.
If you are traveling, you may need to arrange catering. Or each branch of the family can be responsible for one meal including selecting the menu.
Location. Location. Location
The location of the family reunion is critical because it will affect attendance.
Activities for each generation.
Hearing about olden days is great talk at family reunions and can be interesting to kids. Kids should learn basic genealogy. Telling stories for hours may appeal to one generation while geocaching into the woods with cousins is fun for other generations. For the coolest family reunion ever– rent a bouncy house.
Be flexible.
Weather is always a factor. Have an alternative location in mind.
Share responsibilities.
Divvy up responsibilities by family or by generation. Knowing in advance who is responsible for what will eliminate anyone feeling put-upon, for on-site logistics or clean-up.
Keep records.
Keep a database of contact information.
Do a headcount. Keep a notebook about who was in charge what, how many people attended and what investments were made.
Establish traditions.
Traditions make the reunion more fun and more of a can't miss event.
Discover and enjoy your family.
A reunion is what you make of it. Get off the lawn chair and mingle! Encourage your kids – teens or elementary age – to do the same.
From Bringing Home the Bacon blog by Holly Michael, APR.