Slow motion comes at last. The dogs–two golden retrievers and a black lab–are the first clues. Lazed out on the grounds in front of the Ranch House, they are roused from their all-day snoozes only by horses roaming near the ranch gate and bells screaming at meal time.
As we arrive from our big city digs, we grasp the scene–rolling terrain with lustrous green hills–known as Texas Hill Country. Here at the Dixie Dude Ranch in Bandera, Texas, is the weekend home for our Glickman Family Reunion. About an hour from San Antonio, the popular destination in the heart of the Hill Country was first camped in 1852 and is one of the oldest Polish settlements in the US.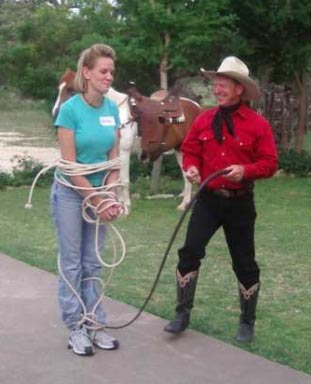 After warm hugs, the reunion begins with a Friday night supper in the dining hall. From as far away as Mexico, cousins came to soak up good times and sweeten memories.
After fried catfish and corn pone, we gathered on the front porch for a trick roping show featuring a lone cowboy, his lasso and horse. There was a lot of applause as a few cousins got roped. Then we tucked our dreams into a breezy night of camaraderie while roasting marshmallows over a campfire. The dogs know what stirs at the campfire; one chewed on a bag of marshmallows that didn't get roasted.
The next day the horse trail was lined with riders, off into the morning sun after a breakfast of pancakes and sausage. Some walked a path in another direction, pausing over scenery and fresh air. Others went into town for shopping and sightseeing. Still others found their way to Riverfest along the Medina River, with tents of goodies for sale and plenty of people-watching. I found antiquing fun with some cousins and we definitely returned to the ranch happy. Of course, sitting on the swing under the tree canopy near the ranch house chatting with each other was just as good an activity as any in the late afternoon.
To top it off, we licked our fingers clean of Texas-style, all-you-can-eat, pit barbecue ribs and briskets, sided with corn on the cob and other additions. It was accompanied by a three-piece country western band, who took us back a few years with songs like Ghost Riders in the Sky while we ate under a vine-covered outdoor pavilion. Afterward, we gathered inside the ranch house for more reminiscing. Those who brought mementos spoke about their treasures, from dishes to books and pictures.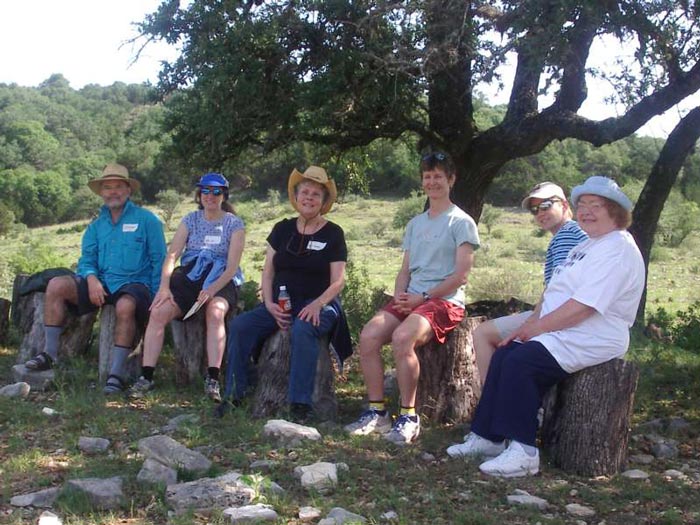 Some of us city slickers still standing, still hankering for more action, headed into town to the Silver Dollar Saloon. The double solitaire card game, a reunion tradition, was going on back at the ranch, which ended with four having negative scores. Three were in positive territory and battled fiercely for first place. Meanwhile, back at the saloon, a local band was fiddling some favorite Bandera tunes, and the dance floor filled with Texas two-steppers, the Honky Tonk dancers. Our group shuffled on the dance floor, right at home with Saloon regulars. Only a very few made it to the campfire that night, after probably too much of a hootin' good time.
We concluded the next morning after breakfast, hanging onto those last goodbyes. A spread of scrambled eggs, biscuits and fresh fruit fired us up for the journeys home. Yes, it was over, but not the memories and the stories. Clark and Michelle Glickman of Houston, Texas, hosted the event for 39 Glickman descendants. And for now, well, all the Glickman dudes can only regret leaving behind those lazy moments and places whispering in our ears, "Y'all come back real soon."
About the author
Yolanda Lewis is a native Texan and freelance writer living in Houston. She has been a controller in an insurance business and also holds a real estate broker's license.