Cruises have become very popular with military reunion groups who have found the cost to be very comparable compared to a land reunion and in some cases even better. I shared this with my own military reunion group, the USS Oklahoma City Association, and they took to it very favorably. We have since gone on a Western Caribbean Cruise and an Alaskan Cruise. Both were well attended with nearly 100 folks on each. Now many want to go on a cruise to the Maritimes.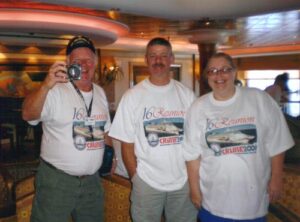 Our two cruises were on different cruise lines and offered similarities but did have differences. For instance, one cruise had assigned seating for dinner, the other had open seating. Both offered the same class of cabins and visited the same ports of call, so it was a matter of picking the one that best fit the group and what they wanted to pay. That was about all the decision-making that had to be done. What made my job easy was that the reunion cruises were already planned so there was really nothing for me to do except get the word out. And, the nice thing – there were no contracts to sign.
One thing we discovered was that cruises bring people out of the woodwork. Folks who have never been seen at a reunion before, relatives, children, and grandchildren came along to enjoy our cruises. Cruises are a good recruitment tool as well as getting people to begin attending our "land" reunions.
I had never been on a cruise before and there was no way I could have arranged this on my own being responsible for nearly 100 other people. It made for an easy decision to use the services of a professional travel agency and agent who specializes in group travel and especially military reunions.
If a reunion cruise is something you haven't done, you should consider and try it. And, if you do, you must use the services of a trained and experienced cruise specialist. We worked with and recommend Brian Forrester and his Agency, Holiday Cruises and Tours in Scottsdale, Arizona. He will help make things go so much better for a memorable trip.
Reported by John Baker, Winfield, Kansas, President, USS Oklahoma City Association.