Email your picture with the name, date and location of your reunions.
---
A Listing of Upcoming Family Reunions
3 Sisters Family Reunion
Alexia Williams, 3Sistersfamreunion@gmail.com
7 Lines Strong Family Association Reunion:
Chandler, Collins, Coston, Johnson, Savage, Upshur & Walker
Lois – LOisAS2003@aol.com
Agee-Miller-Mayo-Dungy Reunion (AMMD All Stars 2021)
Aug 20-22, 2021, Cumberland and Farmville VA.
Sonja Branch-Wilson, 804-767-8060,
ageemillermayoreunion@gmail.com
ALAFFFA Family Reunion
Lisa Alzo, lisa_alzo@hotmail.com
Allen Family Reunion
Dennis Lewis, PO Box 360426, Strongsville, OH 44136
440-572.3472, allen@condohome.net, https://allenfamreunion.wordpress.com/
Allen/Smith Family Reunion
Linda Golden, 912-978-8683; lindag30467@yahoo.com
Facebook: Allensmithreunion
Alexander Family Reunion
Angela Felts, 912-255-0130, angelafelts47@gmail.com
Alexander Family Reunion, Descendants of Clement Alexander
Joann Alexander, 678-592-1531
Allison Hinton Family Reunion – Descendants of William & Delia (Hinton) Allison
Jul 2020, Chicago, IL
AllisonFamilyReunion@live.com
Ashley Family Reunion, Descendants of Howel Ashley of Surry/Yadkin County, NC
Nancy Holecek 540-226-0636, nancyholecek78@gmail.com
www.facebook.com/groups/1591576337782901/
Ashley Family Reunion
Shirelle Peterson, esp2827@gmail.com
Ashley-Brown Family Reunion
Shelanda Brown, shelbrown@hotmail.com
Ashley, Cook, Rambo Family Reunion
Mary Rambo-Wright, 318-894-2137; trentmary6@gmail.com
Austin-Withey Family Reunion
Marilyn Thayer, 315-963-7021, marilynthayer@verizon.net
Aydelotte Family Reunion
Janice Griffin, 314-302-7964, jygriffin@sbcglobal.net
http://aydelottefamilyreunion.myevent.com
Baez Family Reunion
Serafina Rosado, 321-216-7366; isara1218@hotmail.com
Baker (G L) Family Reunion
Shanetta Thornton, 504-400-4034; sthornton172@gmail.com
Facebook: GLBFamily
Baldwin Curtis Hunter Bolden Family Reunion
Jul 16-19, 2020, Charlotte, NC
Sheri Stephens-Lewis, 704-605-1107; sstephenslewis00@aol.com
https://baldwin-curtis-hunter-bolden-familyreunion.site123.me/
Banks Family Reunion
https://www.facebook.com/banksfamilyreunion2015
Barnes Family Reunion
Sara Jurgens, Sarajhankins@gmail.com
Baskerville-Whitthorne Family Reunion
bwcunited@yahoo.com, http://groups.yahoo.com/neo/groups/bwcunited/info
Baxter Family Reunion
Pearl Baxter, 38 Dant Street, Sumter, SC 29150
803-773-8627;
https://sites.google.com/site/baxterfamilytimes/home
Baylor Family Reunion
Marcia, 609-334-8137, marciajbwf@gmail.com
Dee, 609-638-7342, dimetriac@yahoo.com
Moniquea, 609-532-1209, mzmona36@gmail.com
Tyreka, 609-858-8923, tyrekat83@gmail.com
Beasley Family Reunion 2020
June 19-21, 2020, Shreveport, LA
Willie Beasley, 415-955-7111
Beauty Clark Reunion
June 12-14, 2020, Albany, GA
Tangela Parks, 229-291-6743; tangelaparks69@gmail.com
Bell-Ransom Family Reunion
Aug 7-9, 2020, Jackson, NC
Jacqueline Bell Pyatt, j3rpy@aol.com
Facebook Bell-Ransom Family Reunion
Bennett, Boyd, Edwards, Jackson and Washington (BBEJW) Family Reunion
Cassandra Harris, 823-655-2798; bbejw2019@gmail.com
Benrud Family Reunion, Descendants of Peder and Anne Soffie
Iris Orthrow, irisothrow@aol.com, www.benrudfamily.org
Bernard Family Reunion
Linette Fielding Roach, 713-823-8185; linette.roach@sbcglobal.net
Bird Family Reunion
Pat Siracuse, patsir505@gmail.com
Bishop Family Reunion, Descendants of Thomas and Mary Alice Bishop
Charlene Miller, 2320 32nd Ave North, Birmingham, AL 35207
205-908-6410; charlene.miller07@gmail.com
Black Family Reunion
Tanya, 563-265-9102; miltonlatanya37@gmail.com
Farrow, 334-328-1936; faralaylee@gmail.com
Patrina, 334-233-6469; tlee405@bellsouth.net
Talia, 309-644-9647; talia.moss79@yahoo.com
Bluiett-Griffin-Williams Family Reunion
G'Ahynne Hawkins, PO Box 4851, Chicago, IL 60680
312-221-5997; gahynne@gmail.com; www.bluiettgriffinwilliams.org/
Bonilla Family Reunion
Spring 2021, Porterville CA
Booker Family Reunion, Descendants of George Washington Booker and Mary Elizabeth Brown Booker of Dillwyn, Virginia
Joyce Green, 614-252-5959; ms1jbg@sbcglobal.net
Facebook: Booker Family of Dillwyn VA
Bowen Family Reunion, Descendants of Ella and Colonel S. Bowen of Alabama
Lyntovis Cotton; 937-321-7247; Lync7@icloud.com
Bridges Family Reunion, Descendants of James and Ella Bridges
Empress Boyer, 404-849-4514; bridgesfamilyreunion@yahoo.com
Facebook Bridges FamilyReunion
Britton Family Reunion, Descendants of Willis & Nina Britton
Jul 4, 2020, Shreveport, LA
Angelique Besant, 318-837-2610, vonsil@hotmail.com
https://vonsil.wixsite.com/2020brittonreunion
Broadnax Family Reunion
Vicky White, victoriouswhite@hotmail.com
Broady, McCall, Dixon, Johnson and Matherson Family Reunion.
Contact Nichelle, nburns1860@gmail.com
Brock Family Reunion
Annette Clark, 512-618-0198; clarka71@yahoo.com
Facebook: The Brock Family
Brooks Family Reunion
Jul 2020, Tampa, FL
Vivien Woods, 404-680-6797
Brown Family Reunion

Descendants of Rev John B Brown, Sr and Perlee Williams Brown of Many, Louisiana
2021, Las Vegas NV
Contact Gertrude Roby, 913-342-0865,
groby200@gmail.com
Brown Family & Friends Reunion
Wanda Brown, wbrown99@aol.com
Brown Family Reunion
Shirley Dennis, 601-870-3065; sbdennis2003@yahoo.com
Brown Family Reunion
Welcoming all Descendants of Wash (Washington) & Malissa Brown
Roxie Branch; rabranch@carolina.rr.com; www.thebrownfamilytiesreunion.tk
Brown, McPherson, Pinto, Hulton (MBPH)Family Reunion
Tanya Dozier, tdoz38@yahoo.com
Brown/ Randolph Family Reunion
Fran Dale, 4695 Riveredge Cove, Snellville 30039; 818-455-6290
Brubaker Family Reunion
Descendants of Hans, John and John Jacob Brubaker.
Sharon Hines, sjhines@comcast.net
Bruce-Love Family Reunion
Lolita Wallace, 317-370 858
Facebook: Bruce-Love Family
Brundage/ B Family Reunion
Anna Brundage, 703 Vandalia Ave, Brooklyn NY 11239
347-356-5463; acb_anna@yahoo.com
Bryant's Family Reunion
Elaine Rogers, 904-446-0432; elaine0727.er@gmail.com
Bugg Family Reunion
Welcoming all Descendants of Frank Bugg & Louisa Yeldell of South Carolina
Rodney Carson, rodamster@aol.com
Burgess-Fulmore-McKenzie (BFM) Family Reunion
Jul 3-4, 2020, Lake City & Coward, SC
Sharon V. Hannah-McClam, BFMFamily@aol.com
Burney-Burnett Family Reunion
Kathy Hunter, 770-312-9571, kahunter@comcast.net
Bush-Watson Family Reunion
Tamari Lewis, 254-654-3037; tamaridance@gmail.com
Butler-Williams Family Reunion
Shasheen McCarthy-Gordon, Shasheenm@hotmail.com
Butts Family Reunion
Jul 23-25, 2021, Cleveland, OH
Francine Lawson, 216-632-3634; cinecine1966@gmail.com
Capers Family Reunion
Mary Williams; 803-759-5607; carolina48@gmail.com
Cargill, Caldwell, Harris & Williams Family Reunion, 25th
Descendants of Matt and Millie Cargill and Lee & Louisa Caldwell
Lydia Williams, lwilliams5.cjw@gmail.com
Website: It's All About Love!
Carter Family Reunion
Equoya Harper-Cotton,1191 Summer Way, Pittsburg CA 94565; 925-261-1123; eharpercotton@comcast.net
Case/Harvey/Tillett – Gallop/Overton/Dixon
Our Big Happy Family Reunion
Contact: Josephnphyl@gmail.com
Calkins Family Association Reunion, Descendants and friends of Hugh & Ann Calkins (1603-1690) are welcome.
2021, Location TBD
Contact Jean Kent: 2859 Normandy Circle, Naperville IL 69564; dkent50@gmail.com
Website
FB page
Caywood Rutherford Family Reunion
Arthetta Reeder, 815-729-9666; Are2608196@aol.com
Facebook Caywood Rutherford Family Reunion
Cecil-Bowen Family Reunion
Contact Dr. Annette Shelton, 415-244-3529; annetteshelton@peoplepc.com
Facebook Cecil-Bowen Family Reunion
Chandler Family Reunion
Jacqueline Lewis, 662-420-5447;
jacquelinelewis152@gmail.com
Facebook Chandler Family
Charles Family Reunion, descendants of Joseph and Annette Charles
Facebook Joseph and Annette Charles Family Reunion
Adreann Leufray-Belle, 336-710-1481, abelleve@yahoo.com
Clark Family Reunion
Brian Cunningham, 678-656-5587; clarkfamily2018@gmail.com
Facebook: https://www.facebook.com/groups/1834487180127558/?ref=bookmarks
Coe Family Reunion
2020, SC
Carolyn Poole, 509 Icoe Lane, Darlington, SC 29532;
coefamilyreunion1854@gmail.com
Cohen Ballenger Lindsey Family Reunion
Tasha Lindsey, 215-954-2462, tashamarielindsey@gmail.com
Coleman Family Reunion
Contact Loretta Wilkerson 502-664-4136 or Isaiah Evans 502-650-4550.
Coleman-Durham Family Reunion
Shasta Coleman, 901-644-3157, rejoicetravel@rocketmail.com,
Facebook: Coleman-durham family reunion.com
Coleman & Laster Family Reunion
"Taking it Back to Our Roots."
D.Duane Coleman, 310-686-8484; Coleman.Laster.Family@gmail.com;www.ColemanLasterFamilyReunion.com
Collier Family Reunion
Descendants of Ludia Collier-Sampson & Albert Collier
ShanHall, Collierfamilynews@gmail.com
Collins Family Reunion
Charlene McBride, 336-588-2061, mcbridecharlene54@gmail.com
Facebook: Collins Reunion
Collins Family Reunion
Carolyn Dailey, 713-858-1008; cdaphanie@msn.com
Colston Billups Family Reunion
Twanna Nelms, 12-865-7329, Twazay@gmail.com
Cooper Family Reunion, descendants of E. Cooper
Contact Saunia Cooper, 252-571-2200; Kaysakidemy@yahoo.com or Quoteshia Hargett 757-667-8618
Cotten, descendants of William Fletcher and Martha Roundtree Cotten
Jun 9-11, 2021, TX.
Sasha Walters, 325-812-2750, ablessedmom@gmail.com.
Cousins Reunion
Contact Virginia, 347-645-8398; vlovely491@gmail.com
Facebook: The cousin of s.c.
Cox Family Reunion, 40th annual
Arica Ellis, 615-306-3387; acdjs@comcast.net
Craft Family Reunion, for relatives of the Lewis J. Craft and Mamie E. (Anderson) Craft, Anderson, Pevehouse and Adrian families.
Ellen Craft-Phillips, emplap@gmail.com, www.facebook.com/lewiscraftreunion/
Crawford Family Reunion
Keisha Ellis, 251-423-3033; 2020Crawfordreunion@gmail.com
Crawford Family Reunion
Ernestine Gant, 214-951-6390; thegantgroup@outlook.com
website: crawfordfamily01.com
Crier-Perkins Family Reunion
Summer 2020, New Orleans, LA
Hershal Washington, 770-823-8511,
washtwo50@gmail.com
Criswell Family Reunion
Kathy Conley, 479-573-0524; krconley@cox.net
Facebook Criswell Family
Crump-Moore Family Reunion
Marie Quaker, 313-530-0065; dsop22@yahoo.com
Facebook: Crump Moore

Davenport Family Reunion
Nicole Newman, 209-662-4881; nickyrenee44@yahoo.com
Daniel Webster Smith Family Reunion
Teresa Ortega, 910-330-5057; DanielWebsterSmithDescendants@gmail.com
Davis Family Reunion
Taunda Edwards, 641-715-3900 (Ext. 598391#) davisfamilyatlanta@gmail.com
www.davisfamilyatl.com
Dean and Creech Family Reunion
46th
Sep 6, 2020
Lloyd Dean, 6770 U.S. 60 East Morehead KY 40351; 606-784-9145
Dean-Moore Family Reunion
Norma K. Dean, 8535 Ward St, Detroit, MI 48228; normakdean@aol.com
Denison Day – Denison Society Family Reunion
Julie Soto, PO Box 42, Mystic, CT 06355
860-536-9248, julie@denisonhomestead.org; www.denisonhomestead.org
DeShazor/DeShazer/DeShazier/DeShazior/ 21st Biennial DDDD Family Reunion
Glenda Deshazier-Nelson, fourdfamilyreunion@aol.com; 870-329-4043
Destefano/BostJanic Family Reunion
Pattie (DeStefano) Ritchie, 215-491-2028, gmomxoxo@gmail.com:
Facebook: pattie.ritchie
Dewitt/Chestnut Family Reunion
iris Mack, 804-248-4794; yourdcreunion@gmail.com
Dixon Family Reunion
Jul 2-4, 2020, Fort Worth TX
Catherine Dixon, 503-515-1655; sweetcat61@hotmail.com
Facebook: dixon family 2020
Doggett Family Gathering, Descendants of James and Berta Doggett
Tonya Doggett, 901-581-0445; realtor4un04@aol.com
Draughon Family Reunion
Renetta McEachern, 919-295-2638; draughonfamily@hotmail.com
Facebook DraughonFamily
100th Drury Family Reunion, descendants Elijah Drury
Aug 8, 2021, Cranesville PA
Contact Rochelle Lutz, 181-472-5212,
raelutz@aol.com
Eans-Jackson-Samuel Family Reunion, Descendants of George and Georgianna Holliman
Shonda Scott, Eansjacksonsamuelfamilyreunion@yahoo.com
Easley Family Reunion
Tiffany Barrett, 2006 Ruffin Road, Richmond VA, 804-393-4838
Edwards Family Reunion, Descendants of Robert and Sallie Joyner Edwards
Jewyl Edwards Dunn
919-612-2727; Edwardsfamilyreuion1934@gmail.com
Facebook Robert and Sally Joyner Edwards Family Reunion, Inc.
Edwards Family Reunion
Janet Carr, 205-542-7241, Jandcarr@hotmail.com
Edwards's Family Reunion (also called The 9 Sisters Reunion)
Bambi Davis, 330-285-6209, couldberabbit1959@gmail.com
---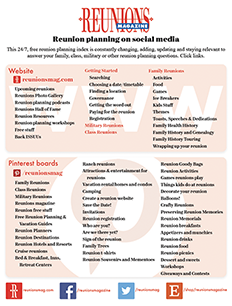 ---
Edwards-Powell Family Reunion
Eureka Ross, 512-925-3781; eurekaross@yahoo.com
facebook.com/edwards.p.reunion
Ellington Family Reunion
Hosted by: James and Regina Ellington
Facebook page: https://www.facebook.com/ellington.ellington.94
Elmore Family Reunion
Sharon Davis, 740-821-4727, sharondavis56@yahoo.com
Facebook: https://www.facebook.com/groups/490108621335444/
Emerson-Smith Family Reunion
Kiwanis Bishop, 317-903-5775; kiwanisbishop1979@gmail.com
Enoch Family Reunion, Descendants of James and Miranda W. Enoch
Keri Enoch, reunion secretary, 336-684-9121; auntieboo28@yahoo.com
Evans Family Reunion
Tommy Evans, 1tommyevans@gmail.com
Evans Family Reunion
Katherine Evans, 216-956-0764; katazooba@sbcglobal.net
1 Evans Family Reunion
Marie Smith, 910-261-4208; gdaytravel@yahoo.com or George & Doris Purdie,
407-462-1370; Website: 1evansfamilyreunion@sfly.com; Facebook c/o Agnes Marie Evans Smith.
Evans Family Reunion
Rubye Evans, 302-674-3330; bereal55@aol.com
http://makitso4.wixsite.com/2018efr
Evans Family Reunion
Lether Evans,
619-894-0451; nilequeen01@hotmail.com; Facebook.com/EvansFamilyReunion
Evans-Smith Family Reunion
Jul 10-12, 2020, Atlanta, GA
Kimberly Lawson, 678-508-9873; km_evans@yahoo.com
Fairley & Foskey Family Reunion
Sandra Lyon, 601-728-2743, fairley-foskeyreunion@yahoo.com
Families United Reunion
Anglie Miller, 336-263-7698, 1familiesunited@gmail.com
Felder Family Reunion
Paula Handberry, 910-729-4767; Treasuredmoments22@yahoo.com
Farley Family Reunion
Tracy Sizemore, 219-671-9632, tracy.duvall@yahoo.com
Fells Family Reunion
Angie Fells, 773-315-0927; Kiaraalf@aol.com
Fenderson Huff Family Reunion
Shaquetta Booker, edrion01@gmail.com
Fennell Family Reunion Cruise, 1st Annual
Shannon Johnson, 817-937-0192; fennellfamilyreunion9@gmail.com
Flagg Family Reunion
Contacts: Veneeciea, Yancey, Samuel, Aron, 904-236-3039, meettheflaggs2018@gmail.com
Facebook: FLAGG FAMILY FUN CRUISE OR MEET THE FLAGGS 2018
Fleming Family Reunion
Kimberlee Mcneill, 904-238-6170; Kimberlee.McNeill@bkfs.com
Facebook Fleming Connection
Fleming,Gamble, Goodman and Laws 39th Family Reunion
LaChain Glenn, 240-274-8008; mrsglennchain1@verizon.net
Flowers Family Reunion
Lanorma Rhymes, 901-426-2364, taytay1670@gmail.com
Ford Family Reunion, Ben and Mable Ford Family Camp
Lenora Harper, 240-643-9397; lenora.harper@verizon.net
Facebook: Ben & Mable Ford
Foreman Family Reunion
Trena Foreman, 832-875-4513; trena_ray@comcast.net
Freeman Family Reunion
Clothildes (Tida) Ealy
313-300-3643; tidacoleman@yahoo.com
Facebook: Freeman Family Descendant
Frierson Family Reunion
Jul 9-11, 2021, Columbus OH
Contact Terri Robinson-Yarber, 440-406-9150,
trobinsonyarber@aol.com
Fulford Family Reunion, Descendants of Reverend Willam & Esther Fulford
Erika Sherman, ESherman@SandySpringsga.gov
Fuller Family Reunion, Descendants of Rob and Mary Fuller
Melissa Woodson, Chair, 334-740-1230; m2woodson@outlook.com
Fuller Family Reunion, Descendants of Thomas Edward Fuller
Terry Davis, 3320 Dallas St, Fort Smith, AR 72903
479-459-8697; tdd0130@gmail.com
Fullwood Family Reunion
Calling all descendants (Stems: Almeta Fullwood; James Butler Fullwood; Holland Fullwood; Marina Jane Fullwood; Benjamin Fullwood, Jr.; Sarah "Sallie" Fullwood; Mary Alwilder Fullwood; Phoebe Fullwood; Henry Fullwood; Jack Fullwood; Tucker Fullwood") from the Branch of Benjamin Fullwood (1843 – 1908; m. Phoebe Bryant Fullwood 1845 – 1919), the son of Smart Fullwood (1805); and all their generations.
Facebook: Fullwood Family Legacy.
Gaines Family Reunion
Cynthia Hibler, 5237 Walnut Court, Lithonia GA 30038, taylor_hibler@yahoo.com
Gallup Family Association Annual Reunion
Julie Soto, PO Box 102, Voluntown CT 06384
gallupfamilymembership@gmail.com, www.gallupfamilyassociation.com
Garrard-Register Family Reunion
Hank Garrard, 3866 Strathonburn Ct, White Plains MD 20695; 301-645-1574, ezhank62@gmail.com
Gary Family Reunion
June 19-21, 2020, Jackson, MS
Mary Herron, 601-664-8522; maanne98@gmail.com
Facebook RE-Annie Mae Gary REAMG Family Reunion
Gary Family Reunion
Angela Gary Miller, 502-240-8895; ms_amiller@yahoo.com
Gathers/Hannah Family Reunion
Annette Webb, Tonia Gathers, or Jarodd Webb; gathershannah@gmail.com
DMV Geddis Family Reunion Dinner
https://www.facebook.com/events/174663129766242/?ti=cl
Delvin Champagne-Geddis, 757-343-1877; geddis_dcmdva@yahoo.com

Garcia Family Reunion
AnaMaria Aguilar, 580-471-3087; clark48luce44@outlook.com
Gibbs & Rowe Family Reunion
Vivian Dunbar, vdjoh@yahoo.com
Gilbert/Pryer Family Reunion
Melonie, 415-465-0025; pryermelonie@yahoo.com
Facebook: GilbertPryerreunion
Gillyard Johnson Mahoney Family Reunion
Bettie Gillyard Griggs, 310-926-4979, bettiegillyard@aol.com,
www.gillyard-johnson-mahoney.com, Facebook: Gillyard Johnson Mahoney Family Reunion
Goldey Family Reunion
Bev Thomas, 720-363-9005; bevnthomas@icloud.com
Gooding Family Reunion
Jaime Phillips, 510-290-7651, jaime.phillips86@gmail.com
Gordon Family Reunion
Joan Richardson, 646-208-1737, Atlreunion2018@gmail.com
Facebook: Gordon Family Reunion
Gonzales Family Reunion
Heather Gonzales, 713-446-3443, hmgonzales1203@gmail.com
Gottung (Gruny, Vetter, Eck) Family Reunion
Sandra Smith, 3604 Aspen Dr., West Des Moines IA 50265
slsmith629@gmail.com; 515-491-6112
Govier Family Reunion
Gordon Govier, www.radioscribe.com/GovierReunions.htm
Graham Family Reunion
Tosha Johnson and Resonda Isler, 704-996-8857, risler2@gmail.com
Facebook: Graham Family Page
Grandberry Hunter Family Reunion
Mrs. Wynette (Nicki) McWilliams, M.Ed., 256.372.8176; wdmcwill@gmail.com
http://grandberry-hunter-family.weebly.com/
Grant-Johnson Family Reunion, 82nd annual
Melda Grant, mljgrant@gmail.com
Green Family Reunion
Luxie L. Frison, 601-278-4256; luxie_frison@hotmail.com
Griffin Family Reunion
Jacqueline McElveen, 843-206-8757; jacqueline_mcelveen@yahoo.com
Griffin Family Reunion
Monic Boddy, 513 Blake Ave, Davenport FL 33897
407-844-1970; deedeeboddy@yahoo.com
Griffin-Jones Family Reunion
Adrian McKnight, 803-873-3430; griffinjonesfamily@gmail.com
Facebook Griffin-Jones Family
Griffin Family Reunion,
Descendants of Frances Swift and Foley Griffin, Philadelphia, Mississippi
Jaleesa Collins, CLB 15, 15th MEU, 1st MLG,
PO Box 555717, Camp Pendleton, CA 92055-5717
310-962-5988; thegriffinsfamilyreunion@gmail.com; www.thegriffinsfamilyreunion.com
Grima Family Reunion
Anne Mason, krmsotherhalf68@yahoo.com
Guidry Family Reunion
Keisha M. Guidry, 985-725-3052, guidryfamilyreunion2018@gmail.com, Facebook: https://www.facebook.com/groups/780753785431364/
Guy Family Reunion, Descendants of Escaped Slaves and Civil War Veterans, Baldy Guy (1841-1911) & George Guy (1845-1928)
www.guyfamilyreunion.com
Hairston Family Reunion
Deborah Bishop, lebdeb27@yahoo.com
Haldeman/Hayes Crossing Reunion, 33rd Annual
40th
Jul 25, 2020
Rosemary Johnson, 606-784-5162 or Lloyd Dean, 6770 U.S. East Morehead KY 40351; 606-784-9145
Craig Riggsby, 606-780-4043
Hamm Family Reunion
Jo Gearheart, Jogearheart@aol.com
Hamilton Hill Taylor Family Reunion
LaTanya Joseph, 863-812-7245, 2016.Orlando.Reunion@gmail.com
Harrell- Currington Family Reunion
Roslin V. Spigner, 718 290-4725, Roslin.Spigner@gmail.com
Harrison Descendants Family Reunion
(formerly know as Akins-Harrison Descendants Family Reunion)
Carrence Bass, 4146 Woodley Creek Rd, Jacksonville, FL 32218
904-622-8217; harrisondescendants@gmail.com
https://www.facebook.com/groups/harrisondescendants/
Hareday/Bevans/Bevan/Smith Family Gathering
Catherine Lindsay, 101 West Leighton, Frontenac KS 66763; 620-704-7123
Harris Family Reunion
Descendants of Theodosia Richardson Harris and Harry Andrew Harris, Jeremiah and Violetta Strickland Norris
Jacqueline Harris Cunningham, Jckiddo2@aol.com
Harrison Family Reunion,
Descendants of John and Nancy Jane (Mayhew) Harrison, Kirkwood PA
Barbara Wellons, President, PO Box 798, Langhorne PA
215 891-9987; harrisonfamily100@verizon.net
http://www.harrisonfamily-pa.com
Harton Unity Celebration
Contact Angela Jinks 216-570-9814
Haslam-Williams Family Reunion
Gwen Hurston, 972-955-1198; haslamwilliams2019.genx@gmail.com
Hatchett Family Reunion
Monica Hatchett, 270-210-0887; MCymone@yahoo.com
Hawkins Family Reunion, Descendants of Mason & Janice
Lenora Harper, 240-643-9397, lenora.harper@verizon.net
Heard Family Reunion
Tara Cohen, 443-570-7692; tlcohen1122@gmail.com
Facebook: Heard Family
Heyard-Poinsette-Holmes Family Reunion
Narvie Stewart, 5549 Hwy 17, Murrells Inlet, SC 29576
843-651-9494, narthom@aol.com
High Family Reunion, Descendants of Jennie and Ross
Joyce Nicholson, jeaton48@gmail.com
Hightower Little Bush 50th Family Reunion
Jovan Miles, toppergem@gmail.com
Holmes, Thomas & Surnames Family Reunion
Contact Keri, sitkasky@msn.com
Facebook: ThomasHolmesFamilyReunion
Blog: http://holmesreunionblog.wordpress.com
Holt Family Reunion
Brenda Holt, 817-899-3371; bren.holt@rocketmail.com
Hopkins-Strain Family Reunion
Daryl Hopkins, 323-755-7881; djayhopkins@aol.com
Horn-West Family Reunion
Nellie Lymos, 707-685-6360, nana4jay@hotmail.com
Facebook: Horne-West Family Reunion; hornwestfamilyreunion.worrdpress.com
Horne Halsell Holsey Family Reunion
Jonnie Ramsey Brown, 678-570-7239
jbrown244@gmail.com; https://www.facebook.com/groups/HHHFamily ,
myhhhfamily.com
Henneghan Family Reunion DMV
Windy Pickett-Herbert, 703-798-4925; windyp@ned.org
Facebook Henneghan Family Reunion
Hockaday Family of Halifax County, NC
Steven Green, 252-578-1463; Slgreen66@charter.net
Facebook: Hockaday Family of Halifax County, NC
Horton Thomas and White Family Reunion
Ellen McClendon, 3894 Hitchcock Rd, Macon GA 31217; 478-361-5309
Howard-Jarmon Family Reunion
Oct 9-11, 2020, Katy TX
Shequita Allen, 281-381-8067, goldenhoney45@gmail.com
Facebook Howard-Jarmon Family Reunion
Howell Family Reunion
June 26-28, 2020, Jensen Beach, FL
Jacqueline Nelson, 954-793-9163, jackienelson1523@gmail.com
Hyde Park Community Families Reunion
Angela Howard, 615-752-7215, hpcfr2019@gmail.com
FB: facebook.com/groups/HydeParkCommunityFamilies
Huff & Rutledge Family Reunion
Phoebe Turley, 716-812-8641
Insall Family Reunion
Jennifer Ridgway Denton; 210-291-1195
Isom/Oglesby Family Reunion, 35th annual
Theresa Hawkins ( Dunston ), 864-614-2014; thawkins@borgwarner.com
Ivy Family Reunion
Michael Owens, 859-519-0055, mowens4758@yahoo.com
Jackson Gathering: The seeds of Eugene
JJ Scott, phenix7jj@gmail.com; 843-693-9728
Jacobs / Neil Family Reunion
VLynn Sawyer, 918-381-6162; ltsawyer1980@gmail.com
Jacobson Family Reunion
Walters Park, US Coast Guard Base, Mobile, AL
Frances, Barbara, or Priscilla, 251-865-0551; Jacobson.family.reunion.2019@gmail.com
Jarmon Family Reunion
Jana Rayford, jarmonreunion2017@yahoo.com
Jemison Family Reunion
2020, Myersville, MD
Melonie Brent , 773-499-2169; meloniebrent@yahoo.com
https://jemisonfamilyreunion.myevent.com/
Jenkins Scott Family Reunion
Chairperson(s): Mrs. Shirley Jenkins & Mr. Brandon Rogers
Secretary: Ms. Sondra Jenkins, 646-247-6947; Rchssondra@aol.com
Jenkins, Stephen Senior Family Reunion
Florence Whitfield, 917-838-8693, Gaga200200@aol.com
Jernigan Family Reunion, Descendants of Calvin Jernigan
2021, Dallas, TX
Beverly Paige, 318-470-9843; jerniganfamilyreunion@gmail.com
Facebook: The Jernigan Connection (East Texas)
Johnson Family Reunion, Descendants of Jesse R. Johnson, Frances Walton Johnson and Viola Johnson
Carmen Allen, 678-485-5890; carmenallen1983@gmail.com
jrjohnsonfamilyreunion.com
Johnson Family Reunion,
Alvin Fish Jr., PO Box 302, Waterford PA 16441
http://www.acsu.buffalo.edu/~vh2/johnson.html
Johnson Barnes 48th Family Reunion
June 26-28, 2020, Chicago, IL
Dwight Johnson, jj1450xl@yhoo.com
Facebook Johnson and Barnes Family
Website johnson-barnes.com/
Johnson & Benson Family Reunion
Wanda Foxx-Terry, 3939 Gateway Court, Montgomery AL 36108; teejean@icloud.com
Johnson Family Reunion 2020
July 31 – Aug 2, 2020, Detroit, MI
Nicole Baker, 704-221-6788, thelegacycontinuesreunion@gmail.com
Facebook Johnson Family Reunion
https://thejohnsonfamreunion.myevent.com/
Johnson/Davis Family Reunion
Naomi Jenkins, njenkins415@windstream.net
Johnson Durant Family Reunion
Angela Townsend, 704-449-8402, angelatownsenddiva@yahoo.com
Facebook Johnson Durant
Johnson-Ewing Family Reunion
Brenda Ann Qadir – Cookie Moore, 440-796-5401; brendaqadir@gmail.com
Johnson Moody Crenshaw
Sonya Good, slcass2@aol.com; 800-717-4041
Johnson-Riley Family Reunion
Jul 31 – Aug 3, 2020, Myrtle Beach SC
Joseph Williams, 910-884-7939, jawmag06@yahoo.com

Jones-Carswell-Thomas Family Reunion
Carrie Barber; 954-934-5471; barberlcarrie@yahoo.com
Jones/Mitchell/Brock/Jackson/Broadnax/Cobb/Ford/Lovett/McDaniel Descendants
Rochelle Jones Price, PO Box 4921, Oakland CA 94605; 510-827-9803; buildingfamily4ever@gmail.com; facebook.com/groups/buildingfamily4ever/events
Jones Walker Family Reunion
Larry Wright, 248-670-5347, lwright@wwgllc.com; joneswalkerfamily.com
Jordan Family Reunion
Descendants of Jordan and Shields who lived in Jackson County, Jefferson, Georgia in the 1800s
Janice Edwards, 404-323-8939; edwards3251086@aol.com
JWH 32nd Family Reunion
Jeannette Chapman, 216-513-6217; Jechapman50@msn.com
Facebook: JWH FAMILY
Kelsey Family Reunion
Lisa Ann Thomas, 22lisaannthomas@gmail.com
Facebook: Lisa Thomas (Kelsey Family)
Kearney – Moore Family Reunion
Chairman Clienton Bryant (757)236-0170; cbryant@ivybaptistchurch.org,
Asst. Chairman Robin Lee (757) 719-3237, Treasurer Nadine Bryant (757) 218-6565
Kieffer Family Reunion
Candie Kieffer, 567-207-4949
Kennedy Walker Reunion
Bonita Lawrence McClure, bonitallm@yahoo.com,
6724 Walnut Cove Drive, Raleigh NC 27603
Key Family Reunion
Shaunta Brown, 205-335-5710; taeplus2@ymail.com,
Facebook: Key Family Reunion 2015
Kilson's, Shephard's, Ranger's, Hardy's Family Reunion
Dawn Shephard, 832-617-8765, godsplanning@gmail.com
https://godsplanning.wixsite.com/back2getheragain
Kinsler Family Reunion
Brenda Kinsler, PO Box 3257, Washington, DC 20010
202-407-3290; kinsdc@aol.com;
www.kinslergroup.com/reunion
Knotts Family Reunion
Martha Knotts; mmknotts@aol.com
Kolb-Kulp-Culp Family Association
Jack Oberholtzer, 215-534-0194; jeoberho@comcast.net
kolb-kulp-culp.org
Kubran Family Reunion
Roxanne DeVoe, 570-949-4694; rox_devoe@hotmail.com
Lamar-Thompson 92nd Annual Reunion
William Scott, 585-451-0095, lamarthompsonreunion@yahoo.com
https://www.facebook.com/lamarthompsonreunion/
Lawhon Family Reunion
Nicole Lawhon, 850-509-0327; lawhon4185@gmail.com
Lawson Family Reunion
July 10-12, 2020, Auburndale FL
Solomon Andrews, 863-508-0803, mannee28@gmail.com
Lee Family Reunion 2020
July 3-5, 2020, Oakland, CA
Staci Winn, 510-493-8916, leefamilytexarkana@gmail.com
Lee Family Reunion
Ernest & Brenda Lee, 770-990-9672; dixon_lee@yahoo.com
Lee Family Reunion, Descendants of Sam & Nettie Lee
Reuniting the Past and Shaping the Future
Staci Winn, 510-493-8916; leefamilytexarkana@gmail.com
https://leefamilytexarkana.wixsite.com/mysite
Lee famiLEE Reunion
Charolette Bales, Charobales@att.net
Lee-Chavis Family Reunion
Dory Bryant, 313-459-4228, myleefam@yahoo.com
Facebook: LeeFamilyLee
Leali Family Reunion
Sheryl Tufts, 954-336-5262; sptuft@aol.com or LeSondra Barnett-Hollowell, 816-726-3323; rjjrs1girl@gmail.com or James Harris, 303-322-1432; harrisjjr@gmail.com
LeGrand Family Reunion
Aug 14-16, 2020, The Renaissance Hotel, Elizabeth NJ
Kenneth Jones, 908-966-3413, legrandfamilyorg@gmail.com
www.legrandfamilyorganization.com
Leno Smith Family Reunion
Jul 24-27, 2020, Cruise
Contact Tanya Leno
Lewis Family Reunion
Gwendolyn Kettles, 301-292-7433; Gwen@gwenkettles.com
Lewis Family Reunion,Descendants of David and Annie Lewis
Marie (Annette) Daniely, 301-839-9256; madaniely506@verizon.net
Lewis Family Reunion, Descendants of John and Helen Umlah-Lewis
https://www.facebook.com/groups/LewisFamilyReunionCirca1965/
Ligon Family Reunion, Sina Odom and Jack Ligon
Loretta Mark, 936-526-9416
Facebook Jack & Sina Ligon Family
Lindsey Kendall Family Reunion
Sandra Antoine, President, sandyant35@gmail.com; www.lindseyk.myevent.com
Lindsey Family Reunion
Renae Sanders, 256-444-8751, naesand0310@gmail.com
Lipscomb Family Reunion
Descendants of James F. Lipscomb who is one of the African American legislators who will be commemorated by the African American Virginia Legislators' Descendants Celebration.
Lee Lipscomb, leelipscomb@gmail.com; 202-810-4237
Love Family Reunion of Lexington Mississippi, Descendants of Ben and Rosa
Dorris Ellis, blesslove@aol.com
Lurvey 2020 Family Reunion, Descendants of Peter Lurvey
Sep 9-13, 2020, Gloucester, Rockport & Ipswich MA
Linn Parisi, Lurvey2020@gmail.com
Facebook Lurvey 2020 and Lurvey Family page
Lynn Family Reunion
G. Anderson, ganderson3b@yahoo.com
Facebook: Lynn Family Reunion (Group page)
Lyons Family Reunion
Karen Crum, 1044 Mahogany Ln, Rowesville SC 29133
Macon Family Reunion
Cheryl Macon, jacksonmissc@yahoo.com
Makaiwi Ohana Reunion
Leolani Wong, 702-287-0841; leolaniwong@gmail.com
https://www.facebook.com/events/686537518208655/
http://makaiwiohana.com/reunion/
Malcom Family Reunion
LaMonica Smith, 678-249-9662, malcomfamily72@gmail.com
Manning Family Reunion, Descendants of Benjamin Manning
manningfamilyhistory.wixsite.com/manningfamilyhistory
Manuel-Webb Family Reunion
Charlene Harmon, 1476 Locust St., Memphis TN 38108
9018594270@sms.myboostmobile.com
Mark Family Reunion
Erin Nelsen, 562-618-3297; erin@markprairieheritage.org
https://facebook.com/MarkPrairieHeritage
Marks Family Reunion
Porsha Roy, 860-449-4509, peroy924@gmail.com
Martin-Johnson Family Reunion
Shirley Alston, 678-201-2767; alston92@aol.com
Facebook: Martin-Johnson Family Reunion
Maxwell-Taylor Family Reunion, Descendants of Fountain & Louella Maxwell
Sandra Drew, 615-838-5216, sandra_drew@lpmbc.org
McCarley Family Reunion, Descendants of Isreal-Rebecca McCarley
Kimberly McCarley, 716-949-0894; kimmiemac67@verizon.net
Facebook McCarley Family Reunion
McCarty-Washington Family Reunion
Jennifer Morgan; 814-418-7557; jrm091676@yahoo.com
Facebook: McCarty Washington
McCauley Family Reunion
Please notify ASAP, Thelma A.Newman (540) -886-3040 or Mary Ann Robinson, ( 540) 414-2125 Home.
McClelland-Williams family Reunion
Jul 31, 2020, Tyler, TX
Joseph McClelland, 760-288-5436; onewaywire@gmail.com
McCrea family Reunion
Chianti White, mccreafamily@yahoo.com
McClary McCleary Family Reunion,
Descendants of Charles, Lucille, and Harriett McClary of Kingstree, SC
cahnesmith@gmail.com
McCuistion/McQuiston (and all other spellings) Family-Clan Uisdean, USA Annual Gathering and Meeting.
Contact: Gloria McCuistion, gmccuistion@live.com; 757-619-8246 or David McCuistion, Davidmcc44@outlook.com; 423-402-1643
Mc Dougald Sutton Family Reunion
Mattie Lewis 252-315-7682 or Neicole Gear 252-373-6328
McDuffie Family Reunion
Melissa Woods; lissaw3k@gmail.com
McElroy Family Reunion Club (The Chicago)
Anna Chambers, 773-206-6153, amchambers2@comcast.net
Facebook Chicago McElroy Family Reunion Club
McElroy Family Reunion
Kenneth Lamar, Kenster147@yahoo.com
McFadden-Whaley Family Reunion
Ethel McFadden, 315-877-7807; flightgospel@hotmail.com
www.mcfaddenfamilyreunion12.com
McGee Family Reunion, Descendants of Hudson & Viola McGee
Deborah Marcisz, 708-515-0568; marcisz.deborah@gmail.com
McGill Family Reunion
Shelly Blackston, President, srblackston@gmail.com
Vickie Williams-Joppy, Secretary, Victoria_J_Williams@mcpsmd.org
McGill/McPherson Family Fest: Family Food Fun
Miss T. Denton, mcphersonfamilyfest@gmail.com
McGinnis Family Reunion
Briana Glenn, 678-545-9621; 2019McGinnisFamilyReunion@gmail.com
McMillian-Hayes Family Reunion
Dawn Calhoun, 407 Howard Road, Tuskegee AL 36088
917-439-1587; dcalhoun9097@hotmail.com
McMullen-Huckleberry/Huckleby Family Reunion
Katherine Addison-Evans, 216-956-0764; katazooba@sbcglobal.net
Murray-Paige Family Reunion
Deborah Duff, 917-808-3175; mjord42521@aol.com
Facebook: Paige-Murray
McZorn Family Reunion
Carrie Wood, 301-213-7167; Hmlady472@gmail.com
Meeting of the Miles & Farrow Families: The Second Reunion
Marguerite Miles Harrington, mjharrington@comcast.net
www.meetingofthemiles.myevent.com
Miller Family Reunion,
Descendants of Hobert and Leah Catherine Miller and extended family.
Lisa Cook, 276-889-2318 or 276-254-9098; cooklisa6@aol.com
Misener/Misner/Mizener 116th Reunion
Janet Fear, 905-844-4773; fearja@gmail.com
Mitchell Family Reunion, Descendants of Sam & Susie Gray Mitchell
Christine Walls, PO Box 80073, Washington, DC 20018,
(443)863-9694, Mitchellfrc@gmail.com, www.mitchellreunion2016.com
Mitchem Family Reunion
Wendy Harris, 216-559-2305, Wendyharris844@gmail.com
Molden-Wise Family Reunion
Lorann Dent, 229-798-0310, Loranndent@outlook.com
Molex Family Reunion
Eldaka Terrell, 352-425-5616; mrseterrell@outlook.com
http://www.molexdescendantsreunion.myevent.com/
Monroe, Mitchell, and McCain Family Reunion
Lewis Monroe, 608-338-6430; lmonroe33@yahoo.com
Moore Family Reunion–Descendants of Virginia Moore and her kids Anderson, Willie, Lafate (Lafayette), Fred Burns Jr., and Dollie Burns
Jul 30 – Aug 1, 2021, Orlando, FL
Shirese Louie, shirese1975@gmail.com
Facebook TheMooreFamilyReunion
Moore Family Reunion
Orlandrea Sheets, 405-514-0074
Facebook: Moore Family (Group Page)
Moore Family Reunion
Hostess: Debra Patterson, Pattersondebra1@gmail.com
Moore Family Reunion
Terri Fagan Mitchell, PO Box 465295, Lawrenceville GA; 770-682-4650; tfmitch@aol.com
Moran Family Reunion
Suzan Schoessow, 414-640-8107, schoessow262@aol.com
Morgan Family Reunion
Rose McMillan, 910-618-6994, rosemarieandken@gmail.com
Morin Family Reunion
Jul 9-12, 2020, King City CA
the.morin.in.me@gmail.com
Morrison – Page Family Reunion
Arline K Burgess, 678-732-8067, arlineburgess000@yahoo.com
Facebook Morrison-Page family
Morton/McKay Family Reunion
Twila McKay Smith, 3769 Eversholt Street, Clermont FL 34711, 352-988-2677
pseudods@hotmail.com
Murphy Family Reunion
Descendants of family names: McQuade, Corrigan, Lanagan, O'Donnell.
CANCELLED: July 2020, Chicago, IL
RESCHEDULED FOR 2021
Denise Murphy, ddmurphy25@yahoo.com
Neal Family Reunion
http://www.nealfamilyreunion.com/Neal_Family_Reunion/Welcome.html
Neal-Fox Family Reunion
nealfoxfamilyreunion2018@gmail.com,
https://www.facebook.com/NFFR1/
Nelson/Custard Family Reunion
Barb Hensley, 4701 Irvine Ave NW, Bemidji, MN 56601; computer_fun@yahoo.com
Nettles Family Reunion, Descendants of Matt and Rena
Phaedra Miree, phaedramiree@aol.com
Nichols-Washington Family Reunion
Zachary Landry, Zacharylandry573@yahoo.com
Ottevaere Family Reunion
Barb Howe, 847-826-8491; b-howe@sbcglobal.net
Our Family Reunion
Aug 7, 2020, Warren MI
Brynne Kellam, 313-653-5298; familyourreunion@gmail.com,
Facebook: 51st family reunion
Outlaw/Outler Family Reunion
Cynthia Outlaw, Family Historian & Organizer, PO Box 744, Bala Cynwyd PA 19004; clo331@aol.com, 215-803-4088
Owens Family Reunion
Loretta Lewis, llewis6957@yahoo.com
Palatines in NJFamily Reunion
DNA Cousins and Palatine Community Neighbors are invited
RSVP: Comments or questions 908-766-0907, 732-297-6686
Parker-Dickerson Family Reunion
Terri Dickerson Davis, Reunion Coordinator, terrildavis85@gmail.com
Parks/Reese/Pittman Family Reunion
Kathy Woodard, 336-744-1984; kpw1god@yahoo.com
Facebook: Parks-Reese-Pittman Family Reunion
Patterson-Webb Family Reunion
Brenda Qadir, brendaqadir@gmail.com
Pauley/Brown Family Reunion Los Angeles 2020, 41st Biennial Celebration
July 23-27, 2020, Los Angeles CA/ Marina Del Rey
Sherry Graves, 310-416-1167; pauleygirl6@gmail.com
Facebook: Pauley Family Reunion 2020 Los Angeles/ Graves Chapel Arkansas Roots Thang
Payne Family Reunion
Contact: thepaynefamilytree@yahoo.com
Pender Family Reunion
Descendants of Pompey Pender (b1805-1808) and Hulda (b1817-1819)
Contact penderfamilyreunion@gmail.com
Pensick Family Reunion
June 19-21, 2020, Columbus, NE
Anna Marie Szatko, 402-910-7048; amszatko@earthlink.net
Facebook: Pensick family page of John and Eva
website: www.pensick.com
Perry Family Reunion
June 26-28, 2020, Miami, FL
Pearl Perry, 954-703-9391, crestinaharvey@gmail.com
http://www.myperryfamilyreunion.com/
Perry/Edwards Family Gathering
Vanessa Young, 662-295-5103, youngv8208@bellsouth.net
Facebook: Perry/Edwards Family Gathering
Peters Family Reunion
Oliver Peters Jr., ohlcpeters@gmail.com
Petway Family Reunion
Hosts: Bill Petway, Shemeka Petway, Krystle Jackson and Dawn Petway, 770-364-3769; dpetway50@gmail.com
Facebook: petway
Pittman Family Reunion
Contact Carolyn Sanders, 317-337-9839; info@thesandersgroup.net
https://www.facebook.com/groups/129903140378765/
Pittman Family Reunion
George Burns, 402-453-2953 or 402-216-9867; Mypolly100@hotmail.com
Facebook: https://www.facebook.com/groups/129903140378765/
Pooler-Caldwell Family Reunion
Treva Burgess, 682-351-5197; treva_P@hotmail.com
Facebook Caldwell Pooler Sellers Family Tree
Portis Campbell Crawford Latham and Powe Family Reunion
Find our Family on Facebook!
Potts Family Reunion
Jennifer Stephens/ Annette Thomas, 937-422-4998 or 937-529-6417; jesusnyou2@gmail.com
Facebook: Potts Family Reunion
Powell Moody Family Reunion
CANCELLED: July 31 – Aug 2, 2020, Halifax County, NC and Greensville County, VA
RESCHEDULED: Friday, July 29 – Sunday, July 31, 2022 — the theme will be gratitude!
Allison Bell, 706-627-9730; PowellMoodyFamilyReunion@gmail.com
Facebook: Powell Moody
Presley Family Reunion
Emmitt Carter, Presleyreunion2017@gmail.com
Price Family Reunion
Dionne Allen, 832-512-5907; travelrx14@gmail.com
Facebook: Price Family Group
http://pricefamilypalestine.com
Prince Family Reunion
Kimberly Timmons-Hampton, 980-298-9814; mrskimhampton@gmail.com
Pugh Family Reunion
Kelvin Kelesy, 313-425-1106
Purcell-McNeill Family Reunion, Descendants of Washington and Tabitha Purcell & Henry and Eliza Thompson McNeill
July 31-Aug 3, 2020, Washington, DC
Yolanda Purcell, 910-374-3814, yolandapurcell@hotmail.com
Rainey Family Reunion
June 2021, Milwaukee WI
Michele Howard, 515-988-4469; mrs.michele.howard@gmail.com
Rambo-Rambeau-Coachman-Collier-Mitchell Family Reunion
Dean Henry, 610-644-1529; deanhenry@comcast.net
https://www.facebook.com/groups/212075396248427/
Randles Cousins Reunion
Rose Plyer-Kerr,rosekerr51@yahoo.com
Rayzer Family Reunion
Diane Rayzer, 316-208-1005; dmrayzer@usa.net or or Shelly Brown, 412-600-3715
http://rayzerfamilyreunion.com
Reed-Isaac Family Reunion
Contact Geraldine Bell, gera-jo@hotmail.com
Reiswig Family Reunion
Descendants of Christian Wilhelm Reiswig
Last Sunday in June, Micke Grove Park in Lodi CA
Dolores Stamps,
honeykeyloft@aol.com
Relatives United Family Reunion
Kimyata Gray, 773-708-9918; kimyatagray@gmail.com
Relatives-united.com
Relativity Family Reunion
Contact Information Form https://www.surveymonkey.com/r/JQ7Z2JF
Rembert Family Reunion
Mae Garner, 205-310-4894
Richardson Family Reunion
Barbara Alston, 770-879-0885, bbalston@bellsouth.net
Riley Family Reunion
Jacqueline Gardenhire, 14069 Breeders Cup Drive, Gainesville VA 20155
703-743-1979; jacquelinegardenhire@yahoo.com
Rivera Family Reunion
Yerlenys Ortega, 980-309-5745; yerlenys@icloud.com
Roark-Conner Family Reunion
Sep 25-27, 2020, Chattanooga, TN
Johanna Roark, 410-827-0152, BoD@Roark-Conner.org
Website: Roark-Conner.org
Rubin Rice/Martha Glenn Family Reunion
July 25-28, 2020, Charleston, SC
Leroy Jeter, 864-415-1508, 1st2rise@gmail.com
Roby Family Reunion
Marci Mable, 281-949-8172; robyfamily2018@gmail.com
https://www.facebook.com/groups/PercyHRobyFamily/
Roby Family Reunion
Linda Roby, l.roby22@yahoo.com
Rogers Family Reunion
Jacqueline Miller, rogersreunion17@gmail.com
Rogers Family Reunion
James Otis Rogers; rogersjameso@yahoo.com
Romero, Family Matters Romero Reunion
Ruth Valle, 714-654-1719; romeroannualreunion@gmail.com
Facebook: Romero Reunion
Roper Family Reunion
Contact: 731-217-4445, csnorwood12@gmail.com
Facebook: Roper's Family Reunion
Rowell Family BBQ and Corn Roast
Nancy Percy, 705-932-2381; ken-nancy@nexicom.net
Rush Family Reunion, 97th
Carol A. Rifenberrick; 804-264-8606; crifenberr@aol.com
S and T Family Reunion
Carolyn Wilson, 8044376655, 2008wilsoncarolyn@comcast.net
Saffore/ Scyffore Family Reunion
Niko M. Cook, 918-809-8774
Follow family reunion updates, activities and events on Facebook and Twitter.
SAMM (Smith, Anderson, Martin, Mitchell) Family Reunion)
Nate Alston, 336-340-3195; media@sammfamilylegacy.com; www.SammFamilyLegacy.com
First Nazareth Baptist Church – BIG MEETING (community festival/picnic).
Further info may be obtained at 803-254-6232 or Blog www.fnbc140.blogspot.com
Schmidt Family Reunion
Josiah Schmidt, josiahschmidt@gmail.com
Big Scott Reunion 2020
June 2020, Los Angeles, CA
Tiffany Johnson, 973-678-2965; tiffanynicholej@ymail.com
Great Scott's United Family Reunion
July 3-5, 2020, Houma, LA
Wanda Scott, 209-578-2816; greatscottsunited@gmail.com
Facebook Great Scott's United
Greatscottsunited.wixsite.com/home
Scott-Houser Family Reunion
Mamie Burton, 313-355-2527; mamiepat@sbcglobal.net
Facebook: 40th Scott-Houser Family Reunion
Schürch (Shirk/Sherk/Sherrick, etc.) Family Association of North America Reunion
Sue Shirk, 717-381-2772, www.schurchfamilyassociation.net
Schutt Family Reunion, 30th Annual
Helen Reynolds, 716-761-6522; vincen2jrs@juno.com
http://www.acsu.buffalo.edu/~vh2/schutt.html
Seideman(n) Family Reunion, 87th Annual
Descendants of Friedrich & Rosina Seidemann
Always the 3rd Sunday in July
Jul 19, 2020, Seidemann Farm, Newburg WI
secretary@seidemannfamily.org; http://www.seidemannfamily.org
Settles Family Reunion
The Arkansas ~~ ST.Louis Connection
Contact (Ambassador), Stephanie Johnson, (501) 607-5337, Facebook
Contact (Ambassador), Tangie Ware, Facebook
Contact (Committee Participate), Lanika Tatum, Lanikatatum@yahoo.com
Sewell Family Reunion
Debbie Sewell, 3071 Co Road 39, Linden AL 36748
Sgaraglino, Bica and Bruno Family Reunion
Joseph J. Marchese, Sr, 6 Jessica Ct, Latham NY, 518 505-5078; JJMTRAINER@aol.com
Shaw Family Reunion
Aug 14-16, 2020, Marlin, Falls County, TX
Facebook Shaw's From Marlin, Falls County TX
Sheldon Family Reunion
http://www.sheldonfamily.org/
Shelton Family Reunion
Robert W Shelton, 5909 N Elkcam Blvd., Beverly Hills FL 34465
bobfreidashelton@centurylink.net
Shields Family Reunion
Stephanie Abrams; stephanieabrams49@gmail.com; Facebook: Shields Family Reunion
Smith Family Reunion, Descendants of Charlie & Ellen Smith
Shirley Doren Smith, 910-461-8006, psalms1943@gmail.com
Facebook Charlie Smith or The Smiths Family Reunion
Smith Family Reunion
Paulette Gadson, 313 471-8072; missgadson@hotmail.com
Smith Family Reunion
Mary Smith Ellis, maryellis0926@gmail.com
Smith, Bethea & Knightnor Family Reunion
Lacendra Knightnor, 757-768-4651, lacendrak@gmail.com
Smith-Boyd Family Reunion
Elvira White, 2ewhite@prodigy.net
Smith-Williams Family Reunion
Contact Marcia Smith-Woodard, 317-809-6712, swreunion1110@gmail.com
Spearman Family Reunion
Rozalyn (Mickey Spearman) Moss, 219-26-8114; spearmanfamilyreunion2019@outlook.com
Speight Case Family Reunion, Descendants of Nathan and Salina
Phyllis Everett, josephnphyl@gmail.com
Spence-Green Family Reunion
Nola Green, 3720 S. Tempe Way, Aurora, Colorado 80010
720-252-9307, nolagreen1953@yahoo.com
Springer Family Reunion of Ohio, Descendants of Jacob and Joseph Springer
Sherry Springer Fasulka, 732-642-9863; fasulshe@aol.com
Facebook https://www.facebook.com/groups/115464491811019/?ref=share

Stamps-Scott Family Reunion
Toki Stamps, 619-905-0702, ScottStampsFamilyReunion@aol.com
Facebook Stamps-Scott Family Reunion
Stanley Family Reunion
Debbie Keith, 314 Mary St., Bristol, VA 24201; 276-791-4099;
Facebook: Stanley Family Reunion (Debbie Keith)
Starkey/Simmons Family Reunion
July 9-12, 2020, Seattle, WA
Contact Debra Bowman, 425-998-6737,
bowmanone@comcast.net
STeeN FAMily ReUnioN, Descendants of Mary (Jackson) & Elbert Steen. Our FAMily ReUnioN legacy includes not only their childrens', children, children but their sisters, Minnie (Jackson), Florence & Gertrude (Steen), and brother (William Jackson) children and descendants as well.
Summer 2022, Mobile AL
Tondie Steen, 434-637-8336, steenfamilyreunion@gmail.com
steenfamilyreunion.com
Stevens Family Reunion
Benjamin T. Muhammad, SFR Northern Committee, Pres.
201-207-4385
Stewart Family Reunion
KaShena Cato, 323-330-7352; sheflower77@gmail.com
Stiles Family of America and Affiliated Families
Sheila Stiles, 1847 Sheridan Ave NE, Warren, OH 44483
president@stilesfamilyofamerica.net
www.stilesfamilyofamerica.net
Still Family Reunion
Reggie Still Sr., 757-268-8191, reggiestill@cox.net
http://stillfamily.net/still/
Stokes-Combs Family Reunion
Dr. Gale LeVon, glevon60@gmail.com or Candace S. Morgan-Williams, stokescombs@gmail.com
https://www.facebook.com/groups/436490596527220/
Strickland/Cason Family Reunion
Don Strickland, 386-935-2201; dongstrickland@windstream.net
Facebook: Strickland/Cason
Sumrall Family Reunion
Sylvia James, 404-805-6134; sylviacjames@gmail.com
Swindle Family Reunion
Amanda Hamilton, shorty92020@att.net
Talley's- Vaughn's & Claiborne's+ McClellan's
Bettie Talley, 615-919-1097, bettiestewart@gmail.com
Tate Family Reunion
(Murray Tate /Pauline Cutrer/Tate and Harriet Washington /Tate Descendants)
Date TBA, Baton Rouge, LA
Jessie Brumfield, 1821 Admiral Nelson Dr, Slidell LA 70461; 985-649-1192
Thayer Family Reunion
St. Petersburg, FL
Marilyn Thayer, 727-289-89817; marilynthayer@verizon.net
Thigpen Family Reunion, Descendants of Isaac, Isom & Jacob Thigpen
Jul 2-5, 2020, Dallas, TX
Stephanie Lewis, 469-528-0541, thigpenfamilyreunion2016@gmail.com
Facebook Keeping up with the Descendants of Isaac, Isom & Jacob Thigpen
Thomas Family Reunion
Contact Lazette Watterson, PO Box 873, Bogalusa LA 70429; lazettewatterson@yahoo.com
Thomas Underwood Clay Family Reunion, 40th (Ruby Anniversary)
Lisa Thomas, tuc2016chitown@yahoo.com, www.tucreunion.myevent.com
Worldwide Tiffin Family Reunion
Floyd Tiffin, 806-674-3326, floydtiffin@suddenlink.net
Tubbs Family Reunion
tubbsfamilyreunion2017@yahoo.com; www.familylobby.com/tubbsreunion
Turner*Billingsley*Hutchinson (TBH) Family Reunion
C. Yevone Daniels-Thompson, tbh.familyreunion2017@yahoo.com
Turner/ Embry Family Reunion
Jul 24-26, 2020
Fannie Bush, ifbush@aol.com
Facebook Turner/Embry Family Reunion
Turner Family Reunion
"Building a Strong Family"
Bobby Moore, Reunion Committee President, Katrina Shellman, Secretary, katree34@yahoo.com
Ussery Family Reunion
Edna Miller, 918-325-9203, ednamiller102665@gmail.com
Utzman (Utsman) Family Reunion
Stephanie Hamilton Dwyer, 423-207-0161; stephaniedwyer@cocmast.net;
https://www.facebook.com/groups/177078093026508/
Vary Family Reunion – 101st
Joanne Vary Schwandes, 407-346-9267; joanne.vary.schwandes@gmail.com
website: http://www.varyfamilyname.xyz/vfr/
Vernon Family Reunion
VernonFamilySec@aol.com
https://www.facebook.com/descendants.vernon
Wade Selena Jones Reunion
Garry Jones, garry@stressfreeetravelinc.com; www.jonesfamilyreunion.info
Wainwright Family Reunion, Descendants of Levy Wainwright
Zandra Cannon, 1140 Kilgore Dr, St. Louis, MO 63137
cannonzandra@yahoo.com
Walker-Doss Family Reunion
Chairperson, LaWanna Bradford, www.walkerdoss.myevent.com
Walker Singleton Family Reunion
301-292-7433, Gwenkettles@gwenkettles.com
Facebook WALKER SINGLETON FAMILY
Waltrip Family Reunion
Jerry Waltrip; waltripfamily@yahoo.com; on facebook at Waltrip Genealogy and Family Stories.
Ward Reunion
LaTosha Oliver, 904-214-6947; laoliver06@gmail.com
Facebook: Reunion Ward; wardreunionlegacy.com
Warrick Family Reunion
Phalanda Boyd, 405-664-7848; bphalanda@yahoo.com
Washington and Brothers Reunion
Margie Miles, 321-506-7069, Facebook: Allthings Washington
Washington-Copeland Family Reunion
Jenell Leonard, 229-244-7330; wacofamilyreunion8@att.net
Facebook: Washington Copeland
Washington Family Reunion
Jackie Green, jackiegreen04@hotmail.com
We Are Family
Cresia Green-Davis, 323-718-9359; creswil@gmail.com
Facebook We Are Family
We Are Family Reunion
July 2021, Dallas TX
Contact Danny Speas, 832-368-5236,
mosley1954@msn.com
Webb Family Reunion
Vickie Webb-McCain; 703-946-5221; http://webblegacy.tribalpages.com
Weedon Family Reunion/ Rose Family Gathering
Families from the Northern Neck of Virginia 4th annual Gathering Reunion
Susan Matthews, 804-224-2323; kgroots@earthlink.net
Facebook Families from the Northern Neck Area
Wheatley Family Reunion
Robin Willis, 517 Vicki Drive, D'Iberville, MS 39540
901-574-8330, missrobin2006@yahoo.com
Wheaton-Dukes Family Reunion
Terry Bunch, blmbunch2008@yahoo.com
W.H.E.W. Family Reunion
Moses Whitelow, 703-409-4204; Moses.whitlow@gmail.com
Whitaker Family Reunion
(Murray Tate /Pauline Cutrer/Tate and Harriet Washington /Tate Descendants)
Jessie Brumfield, 1821 Admiral Nelson Dr, Slidell LA 70461; 985-649-1192
White Family Reunion
White Family Reunion
Peggy Miller, 512-970-6605; whitesofbastrop@gmail.com
White Family Reunion
thewhitereunion@aol.com
White Family Reunion
Suquilah Stillwell or Sukey (same person), 617-459-9668, sweetsukey@gmail.com
White Family Reunion
Jul 2020, Myrtle Beach, SC
Darlene White, 917-531-8905; dwhite2664@gmail.com
White-Riddick Family Reunion
Vanora Brothers, 1782 Harvey Point Rd, Hertford NC 27944; 252-426-5956; bvanora45@gmail.com
Whitehurst Family Reunion
Karen Stewart, 2016whitehurstfamilyreunion@comcast.net
www.2016whitehurstfamilyreunion.com
Wilder Family Reunion
Jul 24 – 26, 2020, Stone Mountain, GA
Chandra Robinson, robinsonchandra@yahoo.com.au
Wiley-Jefferson Family Reunion
Keonsha Bernard, keonsha@hotmail.com; https://sites.google.com/site/cherishingourheritage/home
Williams Family Reunion, Descendants of Mr. Aaron Williams
Contact Mrs. Helen Edwards, 619-368-4951; aaronwilliamsfamilyreunion@yahoo.com
Williams Family Reunion, Descendants of Tucker and Janie Williams
Sharon Milton, 352-807-4345; smilton729@gmail.com
Facebook: Williams Family Reunion (Descendants of Tucker and Janie Williams)
AND ReunionPage FamilyAffair Gathering
Williams Family Reunion, Descendants of the daughters of John & Nellie Williams — Jezebelle, Mary, Pearl, Mattie Sue, Violet & Lucille, of Sussex County, Virginia.
Natrice Crawford, 757-240-9935, ncraw007@gmail.com
https://www.facebook.com/groups/173629413425180/
Williams Family Reunion, Descendants of George and Hepsie
Janice Burnette, 910-670-3103; Janicejbj55@gmail.com
Facebook: WFR
Williams'/ Johnson Family Reunion
July 31-Aug 2, 2020, Suffolk, VA
Crystal F Williams, thewmsreunion@gmail.com
Facebook Crystal Williams/ Williams'/ Johnson Reunion
Williams Pope Vaughn Family Reunion
July 23-26, 2020, Memphis, TN
Belinda Rawson, 662-822-8299, wpvreunion2020@gmail.com
Facebook Williams Family
William's Family Reunion
Kandace Ward, 616-272-3689, kandaceward@yahoo.com,
Williams/Williams McBride Family Reunion
Jun 25-28, 2020, Myrtle Beach SC
Angela Young, 317-200-4992, angie4055@hotmail.com
Williamson Family Reunion
Aug 6-8, 2021, Detroit MI
Terri Johnson, 313-218-0567, tjones0321@att.net
Williford Family Reunion, Descendants of Green & Martha Williford
Betty Gadson, 863-207-0628; gadson2travel@aol.com
Facebook: Williford Family Legacy
Willis Family Reunion
Georgia Willis Simpson (Planning committee member), gg3www@aol.com
Wilson (Joe) Biennial Reunion
Veronica McCoy, veronicamccoy@hotmail.com
Wilson Family Reunion
Pamela Williams; pbwill1@comcast.net
Winn – Pittman Family Reunion
Jul 9-12, 2020, Stone Mountain GA
Lola Alston, 561-312-4401; alrich33404@yahoo.com
Facebook Groups: Winn Pittman
Womack & Gibbs Family Reunion
Aug 7-9, 2020, Hot Springs, AR
Contact Kimberly Gibbs 210-279-4710;
Stephanie Williams 214-514.9621;
Chandra Watson-Ashley 318-372.8942
Fatishia Buchanan 615-517.0942;
Latesha Hawkins, 501-414-4299; gwfamilyreunion@gmail.com
https://www.facebook.com/gibbs.womack
Woods Family Reunion
Jeff Rainey, 909-225-7837; s13086@netzero.net
https://www.facebook.com/Woods-Family-Reunion-2019-334411977213708/?modal=admin_todo_tour
Woodworth Family Reunion
www.woodworthfamily.org/
Woodworth Family Reunion
Joanie Hamilton, 972-679-3600; Paul Woodworth, 217-964-2165; or Jan Woodworth Marks, 217-593-6000; jan1693@adams.net
Woodworth Family Reunion
Carl Webb; carlwebb3@gmail.com
Wooten Family Reunion
Melissa Hall, msh240@gmail.com, PO Box 88, Lemont Furnace, PA 15456
Wright Family Reunion, Descendants of Simon and Erma Wright
Donna Johnson,972-824-8158; dejsabre@gmail.com;
2506 Channel Isle Drive, Garland TX 75043
Wright Family Reunion 20/20
June 12, 2020, Huntington, WV
Deidra N. Wright, 571-244-1079; deidra.nicole.wright@gmail.com
Facebook: Wright Family Reunion 2020
Wrispus Family Reunion
Gloria Cole 248-821-6496, Clarice Shepherd 313-434-8670
Wrispusfamilyreunion.myevent.com
wrispusfamilyreunion@yahoo.com
Wynn Family Reunion
Patricia Gaynor-Lesley, shyne4p17@gmail.com
Yancy Family Reunion
Trifari Crawford, 214-507-6873; tricraw@aol.com
Yancy Family Reunion

September 2021, Karnack TX
Contact Glenda Brown, 469-644-5365,
brown_glenda@att.net
Yandeau-Guindon Family Reunion
Laverne Aitchison, calreunion2018@gmail.com
http://www.guindon.myevent.com/
Yarborough Family Reunion
Robin Andrews, rdatwo@gmail.com
Young Family Reunion
Karen Johnson, 5501 Purington Avenue , Fort Worth, TX 76112,
817-655-2736; Advisor1055@gmail.com; Shandimi@yahoo.com
Young and Stradford Family Reunion
Jessica Young, 704-451-7180; youngjs2229@gmail.com
Facebook The Young and Stradford Family
---