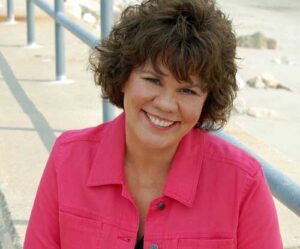 by Claire Cook
Time Flies, my latest novel, is the story of two Boomer friends who take a road trip to their high school class reunion. Hands down, the most fun part of the stroll down memory lane, for my characters and for me, was the music. Crank up these old songs at your next reunion and it will all come back.
Stairway to Heaven/Led Zeppelin
You're at a pajama party and decide to see how many times in a row you can listen to all eight minutes and two seconds of the long version. You doze off somewhere around number thirty, and when you wake up, one of your friends swears up and down she hadn't missed a note and that "Stairway to Heaven" is now on its 387th spin on the turntable.
Born to Be Wild/Steppenwolf
The wildest thing you've done is yet to come, but this song makes you feel it. Work it. Own it. And by the time the instrumental part comes around, you really are nature's child flying down the highway of your life.
When Will I Be Loved/Linda Rondstadt version
You sing this song to yourself in the mirror, in the key of high drama, making big Linda Ronstadt eyes while putting on your blue eye shadow. And your white frosted lipstick.
Nights in White Satin/The Moody Blues
It's the last dance of the night and it's a slow one. He's looking at you. Yikes, here he comes.
A Whiter Shade of Pale/ Procol Harum
You're not exactly sure what the words mean, but your friends seem to, and even if they don't really, those lyrics are definitely H-E-A-V-Y. Plus it's another slow one, so who really cares what they're singing?
Brand New Key/Melanie
Your friends make fun of this song, but you secretly like it. And you're pretty sure that once you manage to survive final exams, your life will finally be this upbeat and simple.
Some Kind of Wonderful/Grand Funk Railroad
The ultimate gratitude song, with an awesome beat to boot. It reminds you that you were some kind of wonderful back then. You still are. And so is this song.
These Boots Are Made For Walking/Nancy Sinatra
You've polished those white go-go boots to within an inch of their life, so he'd better treat you right if he knows what's good for him. You're tough and you're not going to take it anymore. And even though you don't actually have a boyfriend yet, when you hear this song, you're ready to walk.
You Are So Beautiful/Joe Cocker
Well, maybe not. Especially after your best friend scorched your hair trying to iron it straight, the stress causing a major breakout that multiple coats of Clearasil somehow only manages to accentuate. But Joe Cocker's raspy voice makes you feel like you could be beautiful one day.
Midnight at the Oasis/Maria Muldaur
You get the line about the romance in your head, but you're not too sure what to make of the one about sending your camel to bed. Still, the idea of a big exotic world out there somewhere is intriguing.
You've Got a Friend/Carole King
This is the kind of friend you want to have. Want to be. And years later, so many years later than you can even imagine, you'll realize that you do have friends like this – and you can't wait to see them at the reunion.
About the author
Claire Cook wrote her first novel in her minivan when she was 45. At 50, she walked the red carpet at the Hollywood premiere of the adaptation of her second novel, Must Love Dogs, starring Diane Lane and John Cusack. She is now the bestselling and award-winning author of 10 novels, including Wallflower in Bloom and the latest, Time Flies. Visit ClaireCook.com.