Don't ya love it when someone does it right? Whether it's the President of the United States or a cleaning lady, your child's teacher or a brain surgeon (especially your brain surgeon), a job well done makes the sun shine a little brighter and gives us hope for humanity. What sets the excellent apart from the average is, frankly, smarts and experience. When you're comparing Convention and Visitors Bureaus (CVB) there are a few that have a gift for this thing called accomplishment and the San Antonio, Texas, CVB snags the crown.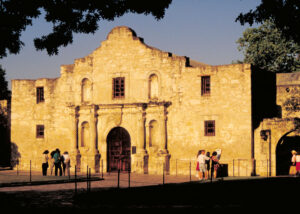 Could it be that San Antonio's CVB hosts eight million visitors every year? To be completely fair, however, let's not forget the city is an easy sell: rich with history from the Alamo to the high-tech military of today. It has the famous River Walk and eateries and lively nightspots; theme parks like Six Flags Fiesta Texas and SeaWorld; pro-sports and top-flight entertainment in the Alamodome. All that and over 300 days of sunshine annually, an average temperature of 68.8 degrees, distinctive museums, golf galore, fantastic shopping and a multitude of festivals.
Bob Karre, organizer of the USAF OCS Classes 63A/B/C reunion, had an easy choice because San Antonio is where the group originated at Officer Candidate School. Nevertheless, Karre found CVB assistance impressive. "The San Antonio CVB is outstanding in searching for services and supply of convention materials. And well they might be — tourism is now the biggest economic generator in Bexar County exceeding even the military presence," Karre noted. During the May 24-26, 2003 meeting, members toured nearby military attractions such as Brooks Air Force Base, Lackland Air Force Base and Randolph Air Force Base.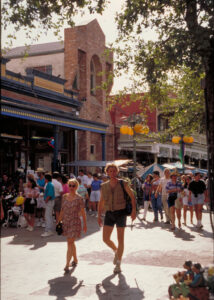 Bruce Shymanski's unit, 874th Aircraft Control & Warning Squadron: Inoges A.S, Spain, went through basic training in San Antonio, too. Then they were stationed together on a mountaintop in Spain in the early sixties. "Our group, like any such group, is very interesting. We have everything from a lobster fisherman to lawyers, from truck drivers to teachers," Shymanski explained.
"It's amazing to see one-time best friends reunited after 40-some years. Everyone wanted to see the River Walk again," Shymanski said. "We keep a suite open continuously and have a banquet on the third evening. I've collected five binders full of photos from the old days and previous reunions. These are a big hit, bringing back memories and generating a lot of discussion. Usually people group-off to do sightseeing."
San Antonio offers military reunions planeloads of free attractions. Brooks Air Force Base is headquarters for Hanger 9, the oldest in the Air Force. Exhibits explain base history, development of manned space flight and the evolution of aerospace medicine. Fort Sam Houston, established in 1845, is a "must-see" for vets and military buffs. Known as the birthplace of military aviation and site of the first flight of a military aircraft in 1910, today Fort Sam is headquarters of the Fifth US Army and Health Services Command and home of Fort Sam Houston Museum and US Army Medical Department Museum. Military icons like Pershing, Stilwell, Krueger and Eisenhower all served at Fort Sam. Lackland Air Force Base is a basic military training center for Air Force recruits nationwide and its History and Traditions Museum features exhibits about aviation history and a collection of rare airplanes, engines and weapons.
You must arrange tours in advance for Randolph Air Force Base, headquarters to the 12th Flying Training Wing, Air Education and Training Command and Air Force Military Personnel Center. The Base's Taj Mahal building is on the National Register of Historic Places.
If the San Antonio CVB wears the crown for group meeting expertise, the Bureau's website should ring up another award for its comprehensive information, links and planning tools. When you visit www.sanantoniocvb.com, you'll see a directory of services to enhance your meeting from audio/video to wheelchair rentals. Get ideas about caterers, child care services, florists, equipment rentals, entertainers, photographers, printing and duplicating, medical aid, restaurants, gifts, wellness programs, trophies, sports, speakers, sighs and even massage therapies. Just scroll down to "theme venues" and you can plan a Western show and chuck wagon supper/dance at a working cattle ranch. Packages include coach transportation, ranch tour, country western dance band, chuck wagon supper, western show, horseshoes, bull head roping and on request, hayrides and rodeo events.
The CVB arranges appointments with local ground operators and other suppliers. According to Frances Ortiz Schultschik at the San Antonio CVB, they help with hotel leads, images for newsletters, group planning and support with building and creating perfect itineraries.
The San Antonio CVB can assist in choosing accommodations that best meet your requirements. Accommodations span from budget motels to gleaming high rises and San Antonio's cuisine ranges from down-home barbeque and tacquerias to upscale fine dining. Be sure to reserve a meal at the massive, family and group-friendly Mi Tierra Café and Bakery for authentic Tex-Mex food, year-round Christmas lights and a warmhearted Texas welcome. The world famous landmark, located in colorful Market Square, is open 24-hours a day (www.mitierracafe.com.)
Families love San Antonio for the wealth of attractions engaging all ages. In addition to the shrine and museum known as the Alamo, located in the heart of downtown, San Antonio is home to historic missions that are active parish churches. Four missions located in San Antonio National Missions Park provide Park interpreters to explain one or more mission aspects.
You'll be enthralled by the Paseo del Rio, or River Walk. It's sequestered 20 feet below street level with cobblestone paths bordering both sides of the San Antonio River as it snakes through the middle of the business district. Sidewalk cafes, funky shops, nightclubs and hotels ring the two and a half mile stretch. Be sure to book a dinner-cruise for your reunion aboard one of the river's Yanaguana Cruises.
The Westin La Cantera Resort and Golf Club features 36 holes of championship golf, a golf academy and six outdoor pools. San Antonio boasts six municipal courses, three resort courses, 13 public daily fee courses, five military courses and a plethora of driving ranges and practice facilities.
All this and theme parks, too? You bet. Texas-sized Fun San Antonio is home to two major theme parks; Sea World San Antonio, the world's largest marine life park, and Six Flags Fiesta Texas. In addition to rides, exhibits and 25 shows, Sea World San Antonio opens the 4-D Sea Star theater in 2003. Six Flags Fiesta Texas Theme Park Antonio is created around four themed areas: a Mexican town, a German village, a 1920 cowboy boom town and the small Texas town of Rockville during rock 'n' roll's golden age.
Everyone feels at home in Alamo city. If the US is a colossal melting pot of cultures and ethnicity, San Antonio is the poster city of diversity that works. Whereas, many North Americans think of the nation's 9th largest city as essentially Hispanic, it is that, but also German, Polish, Czech, French, English, Indian, Irish, Jewish, Italian, Japanese and Chinese.
San Antonio was a training site of the famed Buffalo Soldiers, African-American cavalry fighters who helped bring peace to the Western Frontier a century ago. Pencil in a stop at the University of Texas Institute of Texan Cultures which has exhibits depicting the lives and contributions of more than 25 cultural groups.
About the author
Journalist/Editor Jacky Runice has penned a weekly travel column for Chicago's Daily Herald since 1994 and writes about travel and dining for USAToday.com; CBS Local Chicago; and Examiner.com. She expands her repertoire at Kane, Lake and McHenry County (IL) Magazines with articles about everything from healthy living to technology. A former Chicago radio talk show host, Jacky has three grown children who have inherited her love of sampling new cultures, countries and cuisine.