Consider some of these ideas as you plan your reunion's golf outing.
Let members list with whom they want to play on the registration form (instead of compiling handicaps to pair up players). Use handicaps to fill in the last open spots, for the people who register on-site.
Remind members to let groups behind them play through, if necessary to keep up the pace of play.
Shotgun start: Everyone tees off at the same time, each foursome on a different hole.
Scramble tournament: Everyone hits from the spot of their foursome's best shot (play moves quickly).
Contests
Longest drive (men's and women's)
Closest to the pin (men's and women's)
Make sure use of the golf course is written into your reunion contract. Usually, the golf course won't commit its space to you any earlier than a year beforehand. If the course backs out within the year, it must find a comparable course nearby and offer some compensation, like free transportation from the resort to the course.
Include disabled members
Choose a club or resort that is friendly to your disabled members. Make sure tee boxes are easy to get to or the course has no "cart path only" rule, forbidding players from driving carts on the fairways.
Ask "Do you require any special accommodations to play?" A person who uses a wheelchair might want a single-rider cart, a blind person may need a guide, a deaf person may need an interpreter.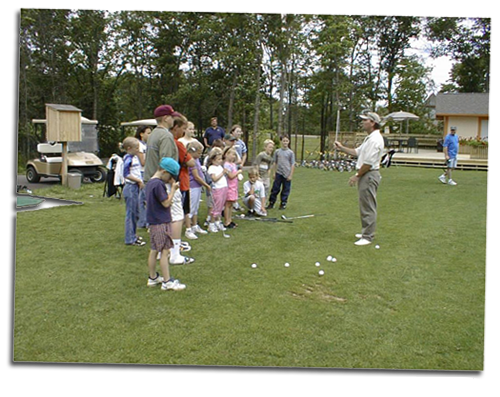 ---
Splendor in the Grass – a reunion golf primer
by Jeffrey P. Wallman
I learned some of life's most valuable lessons on the golf course from my dad who forced us to play by a strict interpretation of the rules. He taught us that if you got a bad break you've had to take your medicine. Take your medicine, stand tall, and by all means, "Let 'em know you came to the party."
Needless to say, the second my own boys were old enough to swing a club they joined our family golf outings. They always wanted to play with Gramps. They'd grab a club and run to the ball. "Did you see that one, Gramps?" They'd puff up and feel the thrill of a good shot. But after a bad break, well, there was Dad telling them to take their medicine, stand tall and "Let 'em know you came to the party."
You can tell a lot about a person by how they react to problems that arise during a round of golf. Of course, the grand game is a great stress reliever, invigorating each participant in a way that few games can. Plus, it's a great excuse for getting people together. But most important, golf is a sport that builds character by teaching good values, like perseverance and patience. How many other sports force the participant to call a penalty on oneself?
No one is immune to bad breaks. Once when the great Walter Hagen was playing in a exhibition and after playing into a bad lie, his caddy remarked, "Gee, sir, I'm sorry that you've had such a stroke of bad luck." The great one replied, "That's true, son, but it is there that my ball lies, and it is there that I will have to play it." In the face of adversity, Hagan stood tall.
Golfers bond in a way that few sports allow. Plus, with handicapping it's one of the few games that anyone can truly win. Perfect for reunions. Grandparents, women and children, when properly handicapped, have an equal chance of winning, even against a seasoned veteran. So as part of our annual review, here are some tips for organizing your reunion golf event.
Budget
First, know your budget and number of participants. This can significantly narrow your search. It's not necessary to play on the most expensive course. Just make sure that it is well-kept and provides appropriate facilities for your group. The emphasis should be on fun and socializing.
Pick a course that matches your group's expertise. This requires you to know each participant's skill level. For more experienced golfers provide a challenging course. For the uninitiated, easier is better. When in doubt, pick a course that is, shall we say, forgiving; on the easy side.
Try to be flexible on dates and times. The cost of playing on Saturday morning can be prohibitive. As a general rule, you can get on a decent public course for about $50 including green fees and carts. Budget another $25 if you plan to provide food, beverages and souvenirs. Some hotels, like Hyatt, have a Kids Play Free Program, so resort courses can be affordable, too.
Golf do's and don'ts
Do watch every shot.
Do dress appropriately.
Do know the contest and rules of the day.
Do stand tall after a bad shot.
Don't use a cell phone.
Don't lose your temper.
Don't throw clubs.
Don't swear, brag or complain.
Facility Staff
Screen staff at each course that passes preliminary inspection. They'll be happy to help set up your event. You'll probably include golfers of different skill levels so use staff to structure an event that allows everyone an equal opportunity to have fun. They can also help you set up group lessons for beginners — a great way to get everyone involved without the pressure of a big match.
The staff will also be able to help you understand the course's policies. These may include a payment schedule, cancellation policy, last minute changes, additional fees, minimum group requirements, provisions for walkers, dress code, rainchecks, and, whew, spike requirements. Don't forget to ask about food and beverage service, cart availability and locker facilities. Use the staff. You don't want any unpleasant surprises on the day of your golf event.
Travel time and payment policies
Pick a course that doesn't require more than an hour travel time. If you use group transportation, plan a trivia contest or provide golf tips during the trip. Set a starting time so that participants can leisurely check in and warm up.
Payment policies vary from course to course. Usually you can set up a master account. Ask for discounts! And, remember, you'll probably have to make a deposit. It is not unusual to pay 10% at the time of the reservation and 50% thirty days prior to the event.
---
Where the golf is exciting
Avid golfers may already know the US "golf coast" is Massachusetts. The name fits Cape Cod to a tee because it's a golfer's dream destination. This year round paradise adds incentive to visit by slicing the Cape Cod Golf Passport price to $39. If used to the maximum, the passport saves $1,500 at 25 Cape courses. Discounts vary by course, including 2 for 1 play, discounted or waived green fees with golf car rental and special "play and ride" packages. Passports are good until December 31, 2002. Contact Cape Cod Chamber of Commerce, PO Box 790, Hyannis MA 02601, 508-862-0700; 888-33-CAPECOD; [email protected]; www.capecodchamber.org.
If you prefer desert golf, Scottsdale, Arizona, has you covered. The Scottsdale Golf Guide is free to southwest travelers looking to play a couple rounds. The 40-page resource includes course profiles (stats and contact and fee info), area golf schools, private course information, and a map highlighting Scottsdale links. If you're anxious to get started, download a copy online. Contact Scottsdale CVB, 800-805-0471; www.experiencescottsdale.com.
Diff'rent Strokes
Golf hotspots are aplenty in Maryland. With more than 120 daily-fee and 16 year-round courses, you will likely have many more options than time.
Many of these courses have received recognition in national publications for course play along with great scenery. So even if your golf game isn't up to par, at least the view is relaxing. Contact Maryland Office of Tourism, 217 E. Redwood St, Baltimore MD 21202.
Central Missouri has game
Can't get enough warm weather or golf? Central Missouri's lowest average temperature in a month 43.7 degrees (January) and the highest is 91.8 (July). Pair that with fourteen golf courses and you've got a winner. For those who wouldn't know where to begin planning, there's the Central Missouri Lake of the Ozarks 2002 Golf Guide. It helps save money, find accommodations and plan your trips to the links.
Contact Lake of the Ozarks Golf Council, 330B East High Street, Jefferson City MO 65101; 800-490-8474; www. Golfingmissouri.com. Lake of the Ozarks Convention and Visitor Bureau, 800-FUN-LAKE; www.funlake.com.
Also see Reunion Gs: Genealogy and Golf by Edith Wagner