"Newport News is a reunion-friendly city with a rich military heritage," according to Cheryl Morales, marketing manager for the city's tourism office and, obviously, the lady you'll want to contact ([email protected]; 757-926-1400).
Newport News is a natural military reunion place for many reasons, most prominent of which is the desire of veterans to visit an area where they were once stationed. And while I was there to speak at a reunion planning workshop, I could easily understand that families, especially those with military connections, could entertain all ages with the many attractions.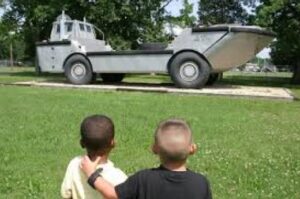 Two intimate military museums deserve your attention. Fort Eustis (www.eustis.army.mil) is home of the US Army Transportation Corps and the US Army Transportation Museum (transchool.lee.army.mil).  The Museum, inside and out, is a showcase of military land vehicles, watercraft and rolling stock, including Fort Eustis Military Railroad. Exhibits cover Army transportation from the American Revolutionary War through operations in Afghanistan. For nearly 90 years The Virginia War Museum's (warmeseum.org) collections make American military history unfold. Collections trace the development of the US military from 1775 through the present.
Another museum that will get you away from the military theme is the Virginia Living Museum (thevlm.org). This is a wildlife park, botanical garden, aviary, planetarium and aquarium, all wrapped up in one and all native to Virginia from the mountains to the sea. It is a fascinating place with many up-close and accessible exhibits that kids and adults alike love to touch. Group rates and group tours available.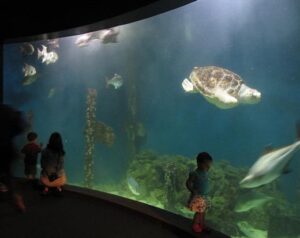 I was totally taken by The Mariners' Museum and the USS Monitor Center a fascinating stop for all ages. The museum has over 35,000 maritime artifacts from around the globe and is home to a full-scale replica of USS Monitor, made famous when it was sunk in 1862 in the Battle of Hampton Roads during the  Civil War. The original recovered turret from the Monitor is on display.  The new International Small Craft Center, one of the world's premier boat collections, features 150 boats from 36 countries, diverse cultures and waterways to demonstrate the great varieties of watercraft in the world.  Nearby there is an "All Hands!" area for kids of all ages to play on a real boat.
Since picnics are a highlight of many reunions, it bears mentioning that you'll want to go to the 8,065-acre Newport News Park (one of the largest city-run parks in the US) for camping, boating, biking, fishing, hiking, picnic shelters and playgrounds.
Stop at Endview Plantation and Lee Hall Mansion (www.leehall.org), one of the last remaining antebellum homes on the Virginia Peninsula built between 1851 and 1859. Drive by the impressive Newport News Shipbuilding to the Victory Arch where, in 1919, returning WWI troops disembarked from ships and marched through the arch in victory parades.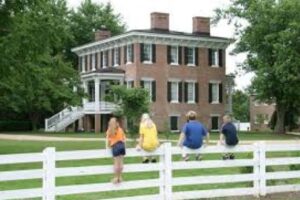 Where to Stay in Newport New
Newport News Marriott at City Center is ideally located in the upscale, trendy City Center at Oyster Point, which features shopping and entertainment. Also nearby are Omni Newport News Hotel Plaza Suites at City Center and Holiday Inn Hotel & Suites. Boxwood Inn Bed and Breakfast (boxwoodinn.com) is a family affair; your hosts are innkeepers Kathy and Derek Hulick, their son, Josh (the Chef) and his wife, Bekki, who handles "the web" (and takes care of a new baby).