My grandmother, from the Old Country, had it so right. "Too much – no good" was her uncomplicated advice for a host of things, from food to television watching. It works for reunions, too. Sensory overload destinations such as Orlando, Gatlinburg and Branson have so much to offer, and visitors often feel they must do it all to get the most value out of the trip. A nice alternative is to build a reunion around a single attraction that members can enjoy together or separately, allowing plenty of time to reconnect back at the ranch. You'll have leisurely opportunities to bond and also benefit from a mini-vacation experience.
WindDancers Lodge & Llama Treks
WindDancers Lodge & Llama Treks, located in a serene, secluded 270-acre cove of wilderness and mountains in western North Carolina, has hosted many reunions in their five years in business. Visitors have options. You can take it easy and catch up on a meandering short hike with family members. Or you can do a llama trek, a popular group activity. The sturdy, good-natured llamas haul gear and goodies so hikers can enjoy the views and each other's company.
Susan, Gregg, Donna and Gale Livengood
Your hosts – Susan, Gregg, Donna and Gale Livengood–offer lunch and dinner treks for creating perfect reunion memories. You'll hike about a mile along a mountain stream, catching sight of various birds, butterflies, flora and fauna. Feel free to take a breather whenever you or your llama need one. Using country-fresh ingredients, guides prepare delicious three-course meals that hikers enjoy on a comfortable deck.
WindDancers' log lodges are ideal lodging for reunions, too. The Hickory Lodge, for example, offers two suites, each with a master bedroom and loft with either two twin beds or a king size bed; a full kitchen, dining and sitting area; a gas barbeque grill on the front deck; a kid-favorite "tree house" loft with a spiral staircase; deluxe continental breakfast and magnificent views.
Barent and Linda Parslow, from Staunton, Virginia, visited WindDancers with their daughter. "We had a wonderful time. The rooms, the food, the local area, the views were all wonderful," the Parslows said.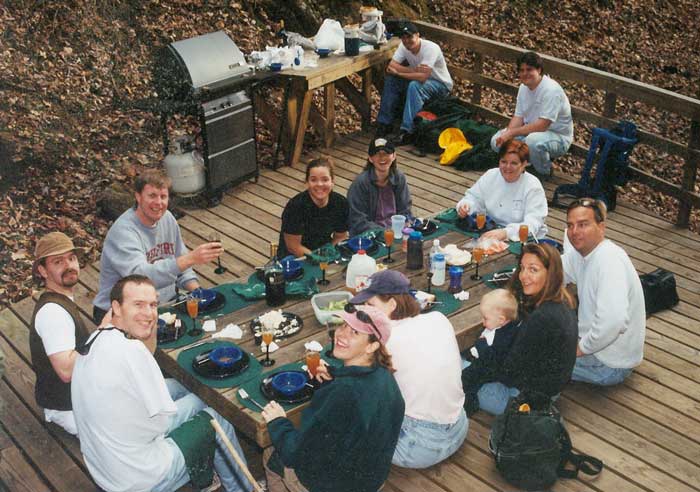 Since the extended Parslow family is from the Florida panhandle and enjoy the mountains, the couple thought a larger family get-together at WindDancers would be ideal and settled on a Thanksgiving reunion. "My brother and two sisters attended with their spouses and three grandchildren," Linda Parslow explained. "My father was ill at the time and his mobility wasn't so good, and the Livengoods were very accommodating and even gave us an additional room at discount. Susan was able to arrange for our Thanksgiving dinner to be catered and it was wonderful.
The caterer was wonderful. I know that I may overuse 'wonderful' in this case but I am not bereft of adjectives – it was simply wonderful," she said. Although the group did not trek with the llamas, they visited Waynesville, Maggie Valley (where they saw the Christmas parade), Cherokee, Gatlinburg and the Biltmore at Asheville. Of course, as if by magic, the Florida family experienced a nearly perfect snowfall – playable for the kids, yet drivable, too. "The lodge is easy to access, easy to find, and suitably remote while still close to the local attractions," Parslow concluded.
Radha Selvester's turn to organize a family reunion
When it was Radha Selvester's turn to organize a family reconnect, so she researched various accommodations and determined that Wind Dancers was the most interesting, unique and well situated for easy access to myriad activities. The family's reunions consist of the three Warshavsky sisters (Selvester's mother and aunts) and everyone's brood. "Wind Dancers has a variety of rooms," Selvester explained. "I needed one of the little cottages in the back with two bedrooms for myself and kids; my brother took a small loft accommodation out back; my sister and her husband also took a loft apartment; aunt Judy stayed in one of the rooms inside the main building – she can't walk on rough terrain and has a hard time with steps; my cousin with baby also stayed within the building on the ground floor; and other relatives stayed upstairs in main building."
Selvester loved the airy, spacious rooms, gorgeously decorated in themes of places around the world. "The big lounge area in the main building was super for just hanging out and talking," she added. "We had three full days to explore the area. One day the elders took the little girls to Santa Land while the more adventurous folks went to Tennessee's Pigeon River for white water rafting – totally cool!"
Then, they did the llama trek for dinner. "Wow," Selvester exclaimed, "that is something no one had ever done before and my daughter fell in love with Beeper, her llama. Each person got a llama to hike with and we went up the mountain and there were two tables built into the side of the mountain inside the woods, shady and cool. A jeep brought my aunt to this place where Judy could not possibly walk. The Wind Dancers folks served us a fancy meal with wine and real dishes. It was a phenomenal experience. My relatives kept remarking 'How did you find this place?'"
Located in Fines Creek, North Carolina, WindDancers Lodge & Llama Treks is convenient to Asheville, the Great Smoky Mountains National Park, the Appalachian Trail, Pisgah National Forest and about 30 minutes from the Blue Ridge Parkway. Contact Innkeeper Susan Livengood, toll free 877-627 3330; or visit the website.
Take your reunion out west
Out west, Colorado offers such an absurd amount of breathtaking scenery, it's difficult for groups to decide where to meet. But once you see it, out in the middle of the tranquil mountainous landscape, you'll know you have to cross The Royal Gorge Bridge for your next reunion.
Spanning the famous granite gorge and the Arkansas River, The Royal Gorge Bridge & Park, is the most visited wildlife park in the Pikes Peak Region. The attraction offers visitors awesome Colorado scenery as well as entertainment and family adventures in a historic setting. "Tourism statistics show visitors want a place to create memories for a lifetime, and I can think of no better way than to take a family picture with our backdrop of the Royal Gorge, the Rocky Mountains, and the world's highest suspension bridge," said Mike Bandera, General Manager.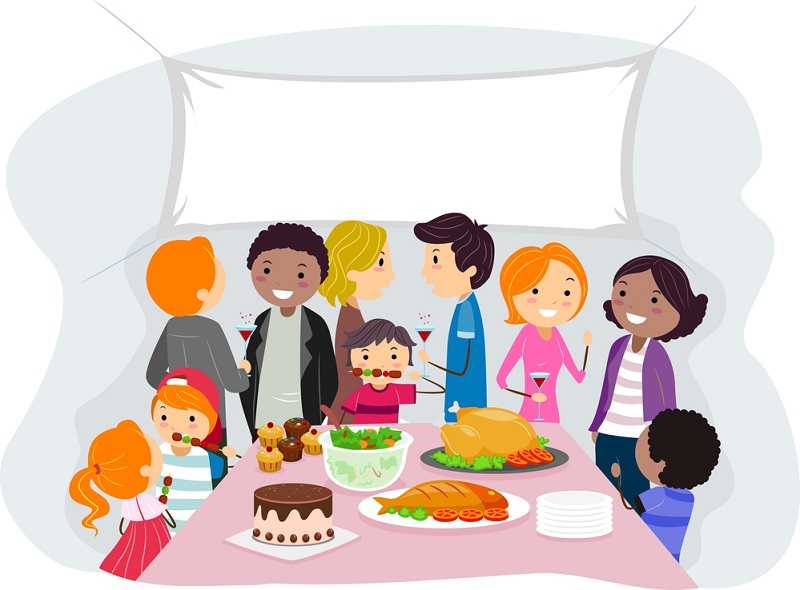 You can walk or drive your car across the bridge, descend to the Arkansas River via the world's steepest Incline Railway between glorious granite formations, or navigate 2,200 feet across the Royal Gorge in the world's longest single-span Aerial Tram. "No other outdoor family attraction offers the spectacular scenery or the adrenaline rush of standing in the middle of a bridge, 1,053 feet high, where you can see for miles," Bandera said. "You could touch the top story of the Empire State building if it stood side by side."
The Royal Gorge
Even though The Royal Gorge area has been a popular American attraction for over 100 years (President Teddy Roosevelt was a fan), there are spiffed-up facades and newly added attractions as a part of a $1.3 million, 5-year improvement plan to the 360-acre park. The Park offers gentle rides like an antique carousel and Silver Rock railway and the heart-stopping Royal Rush Skycoaster which drops riders from a 100-foot tower to swing out over the Royal Gorge. Visit the Wapiti Western Wildlife Park, which debuted in 2003 and features Colorado Elk, Bighorn Sheep, and White Buffalo; or explore the Mountain Man Encampment, where you can take a ride up to the Petting Zoo aboard a wagon pulled by a team of matched draft mules.
Park and Royal Gorge Bridge
Although the Park and Royal Gorge Bridge are open year-round, April 30th is the official start of tourist season when the park is fully operational each day, offering over 20 rides, shows and attractions. You might want to schedule your gathering around one of the special event weekends held from Spring through Fall—like Blue Grass Weekend or Octoberfest. A small group (up to eight persons) can stay on-site at The Big Horn Mountaintop Lodge.
The Royal Gorge Bridge and Park is about a two-hour drive south from Denver, an hour from Colorado Springs or Pueblo, and a few hours from several mountain resorts such as Breckenridge or Vail and just outside Cañon City, Colorado. The group sales team welcomes reunions and offers special amenities such as special rates, parking, shuttle service, hospitality cottage and more. Call 888-333-5597 or visit www.royalgorgebridge.com.
Ripley's Aquarium draws people like a school of fish to its aquarium.
When there's any discussion about great reunion locations, inevitably, Myrtle Beach, South Carolina, comes into the conversation. Imagine taking advantage of the golf and scenic shores of Myrtle Beach and getting the group to visit one of the top aquariums in the US, a state-of-the-art entertainment facility created to transport visitors through numerous unique and multi-sensory aquatic environments. Kodak moments appear by the minute as your group is engulfed in a watery world of brightly colored fish, eels and menacing sharks—petting stingrays, holding horseshoe crabs, taking in an hourly dive shows or traveling through the 330-foot underwater tunnel on a moving glide path.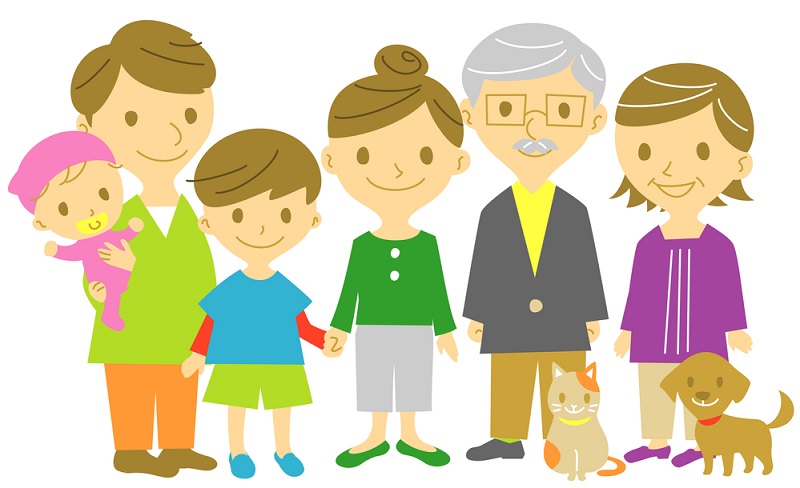 Reunion event at Ripley's Aquarium
Now, imagine holding a piece de resistance reunion event at Ripley's Aquarium. "We have a full-service catering facility, which can host groups from 40 to 1000 persons," explained Jennifer Willard. "A catered event at Ripley's Aquarium provides guests with a rare opportunity to experience the wonders of the aquatic world and sample some of the best catering on the Grand Strand. Reunions and celebrations can be customized by our Executive Chef. Our experienced special event managers are fully qualified to tailor extraordinary celebrations and assist with every detail from menu planning to entertainment and decorations," Willard said. All group menu prices include admission to the Aquarium whether you choose a "Broadway Deck Cook Out," "Grits, Gravy and Ghost Stories," an "Afternoon High Tea Party," a "Murder Mystery Dinner," "Taste of the Islands" affair or a "Beach Creature Bingo Luncheon." Take a good look at www.ripleysaquarium.com or ring 800-734-8888.
CNN Studio Tour
In the last decade or so, the media have become as much of the story as the news itself, making Americans keenly aware of news as entertainment and business. Your group can get right into the thick of it at an "Inside CNN Studio Tour" in the reunion-friendly city of Atlanta, Georgia.
Inside CNN Atlanta is a 50-minute guided walking tour which has hosted millions of visitors, even during completion of more than $5.5 million in new additions and upgrades. "Inside CNN Atlanta invites you to experience the deadline-driven drama that makes the 24-hour news cycle a reality," explained spokesperson Nicholas Wolaver. "Guests see the live, fast-paced working newsrooms of CNN's global headquarters and the main studios for CNN International, CNN Headline News and CNN en Español. New tour additions include a stroll through a 48-foot interactive globe, lessons about keyhole satellite technology (used to zoom in on any breaking news location worldwide), and video feature stories profiling top CNN anchors and correspondents.
Updated tour favorites include guests testing their skills with TelePrompTer and ChromaKey technology, a look at an ultramodern broadcast control room and barco wall, and creating a DVD or VHS souvenir from their own CNN Interactive News Desk report starring the guest reading news." The CNN Studio Tour in Atlanta, opened in 1987, was the inspiration for Inside CNN New York, which debuted at Time Warner Center on Columbus Circle last September, offering guests a look behind the scenes of news making, television broadcast innovations, the 24-hour news cycle and the technology that makes global news gathering possible. Make reservations for group tickets at 877-4-CNN-TOUR (877-426-6868).
Want more? Stay at the Omni Hotel at CNN Center, shop in the CNN Center atrium, visit Philips Arena, the Georgia World Congress Center, Georgia Dome and the adjacent Centennial Olympic Park. CNN Center is walking distance from most downtown Atlanta hotels, the Atlanta Children's Museum, Underground Atlanta, the Georgia Aquarium, new World of Coca-Cola and Georgia Tech.
If a New York City reunion is on your agenda, consider Inside CNN, a 45-minute guided walking experience at CNN Studios NYC. For details, call 866-4CNN-NYC or research www.cnn.com/insidecnn.
National Underground Railroad Freedom Center visitors view the largest artifact in the Freedom Center, the slave pen.
Politicians have bandied about the topic of "freedom" so much in the past few years that many of us think of it as a buzzword for taking sides in various issues from war to Paris Hilton's private videotapes. Visiting the National Underground Railroad Freedom Center in Cincinnati, Ohio, should get everyone's head on straight about the personal sacrifices many have endured for freedom. The Freedom Center aims to inspire people to speak up in the face of injustice, just as many people of all backgrounds did during the era of the Underground Railroad.
Consisting of three buildings that symbolize the cornerstones of freedom—courage, cooperation, and perseverance—the Freedom Center's location in Cincinnati is symbolic as well. The city's location on the Ohio River served as a hub of the Underground Railroad.
History exhibits include a Slave Pen, rescued and preserved as the defining artifact of the Center and ESCAPE! a specially designed exhibit for children grades three through eight within the context of escape and rescue covering 1830 to 1861. WebQuests inquiry-oriented activities for students from 5th to 12th grades, can be accessed at www.freedomcenter.org.
From Slavery to Freedom provides historical context to understand how slavery could coexist in the land of the Declaration of Independence and how this gave rise to the Underground Railroad, from 1776 to 1865. Brothers of the Borderland, The Hall of Everyday Freedom Heroes and The Struggle Continues are other exhibits. Storytelling, visual art, interpretation, film, theater, dance, music and literature are all used to inspire visitors.
If your clan is meeting in or near Cincinnati, don't miss it. The National Underground Railroad Freedom Center is at 50 East Freedom Way, Cincinnati OH; 513-333-7500; www.freedomcenter.org. Group visits Tuesday through Sunday, 10AM to 3:30PM. Call 877-648-4838 for details and reservations.
About the author
Journalist Jacky Runice pens the "Family Travel" column for Chicago's Daily Herald, as well as hotel/spa and restaurant reviews for AOL. She is a member of the Midwest Travel Writers Association and mother of three young adventurers who love travel as much as she does.