Reunions are about nothing if they're not about history. They're about family trees that took root overseas or here in the US and have grown, flowered and, perhaps, traveled like kudzu across the country. They're about the memories, camaraderie and solidarity particular to veterans who have a distinct place in history or old friends and classmates who weathered the chaotic 1960s or big hair and bigger shoulder pads in the 1980s. Consider a historic meeting site as extraordinary as your ancestors, military buddies or chums?
Add extraordinarily gorgeous to the adjectives about Shenandoah National Park in Virginia's Blue Ridge Mountains (www.visitshenandoah.com). Just 90 minutes from Dulles Airport and 72 miles west of Washington, DC, Shenandoah is an ideal historic location for any reunion. The 196,000 acre park offers scenic mountains, clear rushing streams, numerous waterfalls, abundant wildlife, wildflowers, birds and some of Virginia's best lodging: Skyland Resort, Big Meadows Lodge and Lewis Mountain Cabins.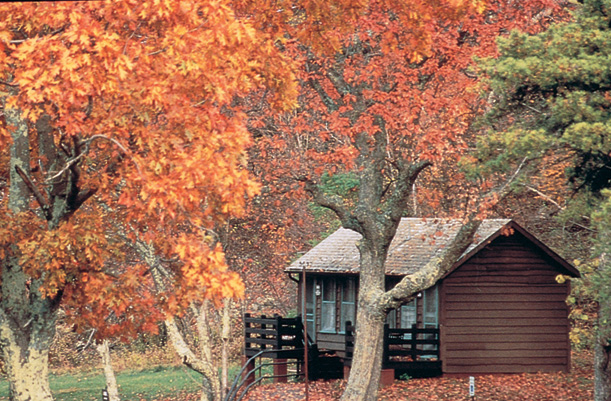 The geologic story of Shenandoah National Park began one billion years ago and the ensuing eons of powerful winds, water, and frost still create and refine the areas spectacular scenery. Mountain geology played a part in the Civil War, particularly during General Stonewall Jackson's valley campaign. In September 1997, the park celebrated the inclusion of the Skyline Drive Historic District in the National Register of Historic Places. Over 400 buildings, structures and features along the drive are listed in the register as representative of the "best of the 1930s." Designated a national park in 1926, Shenandoah has a rich history and was Herbert Hoover's summertime retreat throughout his presidency.
Groups can stay at reduced rates and there are packages including accommodations and meals at the Skyland Resort on Skyline Drive's peak. This historic retreat was built in the late 1800s and offers more than 177 rooms, suites and cabins with a special meeting conference hall across from the main lodge. Big Meadows Lodge, another historic resort built in the late 1930s, features period furniture in rooms, cabins and suites. Both lodges offer full restaurants with a wide selection of local specialties from Virginia ham to their famous blackberry ice cream pie.
Reunion groups at Shenandoah enjoy many activities such as horseback riding along many park trails, hikes, fishing, bird-watching and other outdoor pastimes. In the evening both lodges offer entertainment and libations at the Mountain Taproom.
Barbara Ramey, Shenandoah's sales coordinator, has helped plan many gatherings and thinks the park's amenities are ideal for groups. "There's complementary entertainment at night in the tap room," she explained. "Fridays are country music shows, Tuesdays we have the Shenandoah Valley Cloggers. Or, it might be music of the 30s and 40s. We offer everything from basket making workshops to apple butter and roaring 20s festivals. Some people build their reunion around these free activities." The area's historic aspect and lodging attracts many guests according to Ramey. "Skyland was established in 1894 as a summer camp on the ridge of the Blue Ridge mountains. Big Meadows Lodge, built in 1939, is pretty much the way it was in the 30s, paneled with native chestnut and gorgeous valley views. Now it's handicap accessible, too. We're close to Charlottesville, Ashlong — James Monroe's home, Monticello and Civil War battlefields such as Manassas and Fredericksburg — an hour's drive."
Martha Murphy's clan had their recent reunion at Big Meadows Lodge, part of the family's 42-year history with the Park. "My family and my uncle's family decided a reunion would be nice and then there were 10 of us. The lodge was chosen for it's beauty and rugged accommodations. At that time, we kids wanted to go camping. My mother refused, so we've been going to Big Meadows for 42 years and are now a party of 36 — sometimes more!" she explained. Last year, 37 family members, ranging in age from one to 84, split up and some did a big hike and others tried the Bolt Hike (aka baby hike) and we enjoyed breakfast and dinner together. "On Sunday, we go our separate ways with plenty of places to go, ranging from historic to caverns to festivals. It can be a very interesting day for the return trip," Murphy said. Her favorite part of Shenandoah reunions?  "It's very relaxing, no phones or TVs in the rooms. It's beautiful, and you might see some wild life. The food is delicious and the staff considerate."
Reunion groups may want to use the Skyland Conference Center at scenic Skyline Drive's crest. The facility accommodates groups of 20 to 100 and features two magnificent stone chimneys, with four fireplaces, restored oak floors, chestnut paneling, French doors and plenty of wide-open space for a banquet or talent show plus two breakout rooms where participants can catch up in peace and quiet.
Barbara Ramey receives reunion inquiries for this year, next year or even a couple years out. "The majority have a block of rooms held, then 98% of members book individually so each family can choose accommodations, views and price. We just give them a booking deadline." Shenandoah offers reasonably priced group tour packages including accommodations, some meals and baggage service. Rates vary depending upon season and days of the week. Call 800-778-2851 or hike to www.visitshenandoah.com.
On a deeply historic note, America's greatest memorial to black and female soldiers, The Fort Des Moines Memorial and Education Center, is set to open in July 2004. The center will honor the US Army's first officer candidate class open to African-American men in 1917 during World War I, and the establishment of the Women's Army Auxiliary Corps (WAAC) in 1942 during World War II. It will celebrate how, through these actions, the Armed Forces led American society toward racial and gender equality. It may be a wonderful site for your next reunion as military, minority and women's groups are expected to be part of the mix of events hosted at the center.
The base of a stunning abstract monument will include names and hometowns of 639 graduate captains and lieutenants from 1917 and the first 436 WAAC officers from 1942. Clayton Hall, the former visiting officer's quarters, will be a military and historical museum with artifacts, archival photos, period art, library, interactive video/film displays and a café and later, a reflecting pool surrounded by the inscribed bricks of the Walk Of Honor, Tank Alley and other outdoor exhibits.
There are 11 hotels and motels near the Fort on Des Moines' south side and many in downtown Des Moines, a short drive from the center. The Greater Des Moines CVB will gladly negotiate lodging packages for visiting groups. Call 800-451-2625 or email [email protected] learn more about The Fort Des Moines Memorial and Education Center, the birthplace of the black and female officer corps leading our Armed Forces, visit www.fortdesmoines.org or call 888-828-FORT. To get a handle on lodging, visit www.seedesmoines.com.
About the author
Journalist Jacky Runice pens the "Family Travel" column for Chicago's Daily Herald as well as hotel/spa and restaurant reviews for AOL. She is a member of the Midwest Travel Writers Association and mother of three young adventurers who love travel as much as she does.