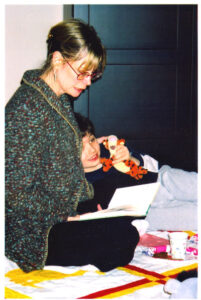 Meg Cox's Ritual Newsletter suggested organizing a family poetry slam. All family members who want to can "perform" favorite poems, written by themselves or others.
Considering how popular rap is now, why not write a family rap together? Be sure to add hand motions and maybe even dance steps for the kids. It might turn out to be a family anthem.
You don't have to create from scratch when there are great templates to copy, like the late Ogden Nash. In a pinch, you can always do your own version of Roses are Red …
There are lots of resources to help find poems kids will love. The Academy of American Poets, www.poets.org, is stuffed with fun ideas and activities. The website's "poetry store" has a CD compilation of famous poets reading their stuff or the book and companion CD called Poetry Speaks to Children.
Of the many poetry anthologies for kids, I recommend two recent books. Talking Like the Rain: A Read-To-Me Book of Poems is a paperback with 120 poems pegged for kindergarten to fourth grade. Caroline Kennedy compiled A Family of Poems: My Favorite Poems for Children, which covers a wide range of celebrated poets and includes The Lord's Prayer. Check with the children's librarian at your local library.
If your kids are slightly older, 8 or so, I can't say enough about Sharon Creech's unusual book Love That Dog, a short novel composed entirely of poems. It's about a little boy who doesn't want to write poetry at school because he thinks it's a girl thing, but then he gets carried away writing a poem about his dog. PG warning: the dog died, and the boy has taken it hard.
These ideas are from a free e-newsletter written by author and traditions expert Meg Cox. Her latest book, The Book of New Family Traditions, is available from Amazon.com. Write [email protected] to subscribe to the newsletter.