Happy campers take note: reservations for the twenty-two most popular camping areas in the National Park System may now be made up to five months in advance.
Reservation days are staggered over three dates of each month: the 5th, the 15th and the 25th.
For Yosemite in California, reservations open on the 15th of each month for camping dates up to five months later. For tours of Carlsbad Caverns in New Mexico, Mammoth Cave in Kentucky and Frederick Douglass Historic Site in the District of Columbia, reservations open on the 25th of each month for tours up to five months later.
Campers can also surf the Internet to gather recreation information about national parks and public lands. At www.recreation.gov vacationers can learn about use permits, reservations and what's available, all listed by state, activity or government agency.
Preparation is Key
Camping: Preparation is key
(ARA) – Camping is a reunion option that allows members to spend time relaxing and enjoying the outdoors. It takes a little preparation, but the rewards outweigh the work. The following tips from camping experts, Kampgrounds of America (KOA), will ensure you'll spend more time unwinding than hunting for forgotten items.
Before you hit the road, remember to fully check your vehicle. Walk around and look for leaks, flat tires, or anything that may cause a problem. It's not a bad idea to check the oil or test your battery. A routine check now can save you from being stranded later.
Lay out everything you're taking before you begin packing your vehicle to anticipate how to make it all fit. If you don't own camping equipment, try renting before buying. That way you will know what you need next time.
Make a list of things you'll need during your reunion
If you plan to cook at your campsite, bring charcoal or a gas stove, cookware, plates, silverware, cups, napkins and extra garbage sacks for trash.
Keep perishable items in airtight containers out of the reach of nature's critters.
Bring something to hold water for cleaning.
Essentials include a can opener, waterproof matches and duct tape for repairs.
Stock up on plastic-lock bags to repackage food from bulky containers, store dirty silverware, transport wet swimsuits or loose items.
Use bags to store pre-measured portions of laundry detergent or separate toiletries from clothing items in your luggage.
Roll fragile items in a sleeping bag to transport them.
Plastic shower curtains or a tarp are great in case it rains or the ground is wet. Both can be used as ground cover under a tent. Carpet remnants make great sleeping pads. Bring extra sheets to line sleeping bags to keep bags clean. And for sticky zippers, silicone or wax can help get them unstuck.
If you are staying at a campground, make reservations ahead of time. KOA site's are great for new campers and those who enjoy extra amenities such as hot showers.
Arrive at your campground as early in the day as possible to allow enough daylight for settling in, exploring and getting to know your neighbors. Keep campfires small and trade fireside tales. Remember to extinguish all fires before turning in.
Finally, before you leave take a few minutes to double check that your area is garbage free and nothing is left behind.
More great travel tips can be found in the KOA Directory Road Atlas and Kampground Guide, available at any KOA Kampground, or on-line at www.koa.com.
Courtesy of ARA Content, www.aracontent.com; [email protected]
Copyright 1996-2001, ARA Content
---
Let's Move Outside
The National Park Service and the President's Council on Fitness, Sports and Nutrition encourage American families to add outdoor activity to their days.
Kids can earn Let's Move Outside Junior Ranger designation.
Let's Move Outside Junior Ranger and the PALA activity log are available at 52 national parks. Following is a partial list of participating parks:
Let's Move Outside is part of Former First Lady Michelle Obama's nationwide campaign to end childhood obesity within a generation.
National Park Service, Office of Communications
1849 C Street NW, Washington, DC 20240 United States
---
Fancy Camping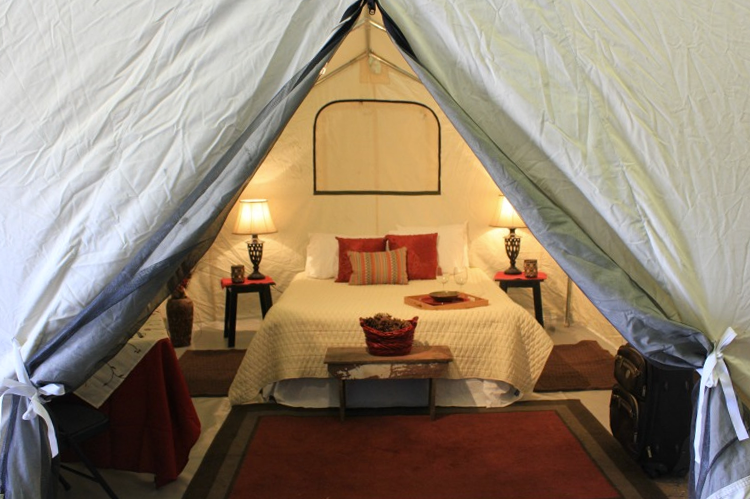 For your reunion if you are looking for something extra to attract participants and make the reunion experience memorable, then consider fancy camping.
Also known as glamor camping or "glamping" fancy camping utilizes white canvas safari-style tents. Decorated like a hotel room, it consists of a regular bed up to queen size…and with clean linens, too — chest of drawers, night stand, carpeted floors, heating and even electricity and lights.
Outdoorsgeek.com is the nation's leader in fancy camping. We routinely offer this great experience for wedding parties, corporate events and at music festivals.
A typical tent is 12′ x 14′ with 8′ ceilings. There are a variety of other sizes to choose from. You can set up yourself or have our professional staff do it.
Our tents have zippered windows and doors and can standup to tough weather conditions. If the bugs are out or the weather is unpleasant you can even cook inside on a two burner stove. Check out the Outdoors Geek website for more information or call us at (303) 699-6944 to speak with one of our knowledgeable and friendly representatives.
---
Basic Tips for Ultralight Backpacking
from an article on Under the Open Sky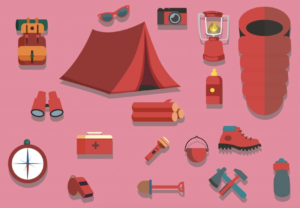 Ultralight backpacking is a method used for arranging the contents of a backpack to significantly reduce the amount of needless weight. An excess load usually comes from packing too much gear. Ultralight backpacking focuses on measures that will minimize the weight of your gear. Selecting and categorizing the important item can be a challenge.
The following is the general classification of Base Weights (B.W.);
Regular — 30 pounds B.W.
Lightweight — 20 pounds B.W.
Ultralight — 10 pounds B.W.
Hyperlight — 5 pounds B.W.
The Base Weight must first be calculated to be able to determine acceptable amount of gear.
Click here to continue reading.